Coronavirus has put state budgets in shambles...
USA Cannabis
Desperate for tax revenue, all 50 states will legalize cannabis — unleashing billions of dollars and creating 1 million+ jobs...
Get Ready: Because the Second Cannabis Boom Is Coming. And Soon.
I Made 3,220% the Last Time Around... And Now My 'Grown in the USA Boom' Plan Is Set to Do It Again (And Save Our Country from Ruin)
Fellow investor,
Hi, my name is Jimmy Mengel.
And we don't have much time...
As I'm about to explain, cannabis could be legal in all 50 states just a few short months from now — and you have only weeks, if not days, to get in before the crowd.
Make no mistake: the second cannabis boom is coming, and this time it's not happening in Canada. Or the Netherlands. It'll happen right here in America.
(I helped several thousand investors make 570%, 582%, and even 3,220% last time around. Many became millionaires. It's happening again, and this may be your only chance to be part of it...)
I've found the perfect All-American boom stock... and any investors who join me in time could make an absolute fortune.
Now, I'll be honest, if you'd said just a few months back that I'd be talking to you today about the possibility of all 50 U.S. states legalizing cannabis in one massive wave...
Well, I would have said: "you're crazy!"
But times have changed, and quite suddenly.
As I'm sure you know all too well, COVID-19 has done an incredible amount of damage to this country.
Countless lives. Millions of jobs. Trillions in economic impact.
States have been hit especially hard.
They're hemorrhaging money.
And the outlook for state tax revenue continues to only get worse.
This is where cannabis comes in: with the stroke of a pen, states can legalize cannabis and create a brand-new stream of tax revenue — instantly.
States aren't the Federal government. They can't print money to get themselves out of the hole they're in.
For states, new streams of tax revenue are the only way out.
And the tax revenue that would come from a high-demand product like cannabis is the closest thing to free money there is.
The only thing preventing this massive, multibillion-dollar industry from thriving in the U.S. is a few laws.
Here's what cannabis could bring to each and every state:
Billions of dollars in tax revenue (for years to come)
1 million+ high-paying, disaster-proof jobs
An entirely new production chain that helps everyone — from depressed rural areas to urban city centers
And it could happen overnight... dozens of cannabis companies are standing by, just waiting to hire a million workers and ramp up production.
In short: it's the miracle we need.
With a stroke of the pen, America could have a booming new industry.
Cannabis is uniquely situated to bring billions to the table and replace some of what's been lost to the ravages of COVID-19.
In fact, this opportunity is so powerful that we'll have a boom even if it's just a few states that make the change.
Illinois is already most of the way there. And New York, New Jersey, and Pennsylvania were already considering major legislation even before coronavirus struck.
These large, powerful, populous states all by themselves would be enough to start a boom.
But I'm thinking it'll be even bigger than that...
I'm now thinking it'll be total.
Given everything in all the reports I've been reading, I now think it's within the realm of possibility that all 50 states will legalize in the months ahead.
Because even if there are a few holdouts at first, once those states see the revenue and jobs that are possible, they'll change their minds.
While many states have been hesitant about the full legalization of cannabis (and you might be, too), nobody is hesitant about more jobs and the much-needed expansion of U.S. industry.
You may not love the idea of more marijuana — but it's hard to argue with honest, high-paying jobs (as opposed to unemployment and handouts).
Think what you will about cannabis, but it's truly a revenue stream that'll save the universities, schools, parks, recreation centers, and community centers that make America the productive and prosperous place that it is.
This isn't a devil's bargain, it's an angel's rescue.
Plus, if you think this is just about legalizing rolled joints, think again.
Hemp and CBD and completely new agricultural products will be a large part of it.
The second cannabis boom will finally put farmers first again in this country.
It's an agricultural revolution: the ailing coal mines of Kentucky and West Virginia will be turned to hillsides of hemp (I'll note here that the first Appalachian settlers grew hemp long before they dug for coal, so in that sense this isn't a "new" change).
Which in turn supports an urban revolution: dispensaries, medical production, sales jobs.
Cannabis can restore order and hope to America's states.
DataTrek notes that Colorado, which only has 6 million people, was still able to pull in more than $300 million last year in cannabis tax revenue.
The full legalization of cannabis in just four U.S. states has already created 243,700 jobs.
That's almost a quarter million!
As more states legalize, that number will grow to at least a million+, and that's just for starters.
I Made 3,220% and 6,092% On the Canadian Cannabis Boom — Now I'll Do It Again, This Time in the USA
I've been to Canada countless times to visit cannabis growers.
And as the years have ticked by, the investors who follow my research have clocked millions in cannabis profits from a host of Canadian companies.
All told, I've made money on 88 cannabis stocks that have scored in the double digits or higher.
Some of those big winners include:
266% on a medicinal cannabis company
269% on a cannabis hydroponics grower
871% on a cannabis research firm
And of course the whopping 3,220% I made on Canopy Growth.
And then, when nobody thought it was possible for me to repeat my success, I made an incredible 6,092% on Cronos.
Outstanding gains like this can change your entire life.
Here's how much you would have made if you'd been with me through the first cannabis boom.
As you can see, Canada has been good to me.
Now, for sure, it's not like I haven't been able to find winners in America before.
Two years ago I made these wins on these companies, thanks to cannabis legalization in California and Colorado...
218% on a California-based cannabis beverage company
220% on a Colorado-based medical marijuana provider
842% on a California-based greenhouse company
Those are rock-solid triple-digit gains and the investors who follow my work were overjoyed.
But it's just that until now there have only been a handful of U.S. companies I've had enough confidence in to recommend (and if I don't find the right opportunity, I don't buy. I'm very selective, and that's why my track record is so solid.)
And I'll be honest: over the past year the U.S. cannabis market has been choppy, and gains like this haven't really been realistic here in America, so I haven't taken the risk.
But now we're on the eve of a sea change.
It's been a long, hard road to get here — and it's finally time.
In fact... it's the perfect time.
Prices are a steal right now, and as the wave of legalization starts, U.S. stocks are going to skyrocket up and away.
(And one cannabis boom stock will lead the way. More on this in just a moment.)
It's Time to Keep All the Billions of Cannabis Dollars From Leaving America
CNBC recently published an article that shows how the worldwide cannabis industry will hit more than $200 billion by 2030.
But what's missing in that headline is just how far behind the U.S. has been in contributing to all this production.
So far we've been much further behind than you might expect.
Which is a rip off...
Because America is already the world's top consumer.
That's right: we buy more legal cannabis, CBD, and hemp than any other country in the world.
But the problem is that we haven't been the ones producing most of it!
America spent more than $46 billion on cannabis in 2019 — but all that money went straight across the border to Canada, the Netherlands, and the UK. And to Mexico, Colombia, and Paraguay.
It's time to keep those dollars from leaving the country.
It's our money, and we've been giving it away because of our restrictive laws.
It's time to put that money to work saving American jobs.
It's time to use those dollars to save our universities, schools, and parks.
I hope you're paying attention, because the U.S. is finally ramping up production, and it's going to happen fast.
This is your last chance to get in while you still can...
I've found the U.S. companies that are in the perfect spot to benefit.
At the top of my list is a cannabis firm that I believe will be the leader of the Second Cannabis Boom.
It's large enough to be stable and productive — and yet still small enough to grow exponentially.
I believe it's going to be the first in line for the biggest profits.
It's led by a U.S. Army veteran who's been preparing for the last year for the largest expansion America will see yet.
He was already a promising pick.
But now with this new, sudden change in the possibility of more legalization, I believe he'll lead the way during this second cannabis boom.
This Army Veteran is Going to Whip the U.S. Cannabis Industry Into Shape...
The leader of this cannabis company is disciplined, scientific, and no-nonsense.
He's not at all what most people imagine when they think of a marijuana guru and cannabis grower.
And he's armed with an incredible $300 million in funding!
(You heard that right — he has more than a quarter-billion set aside to put into cannabis production growth.)
His mission is simple: he wants to make America #1 in cannabis production.
In fact, I first interviewed him and heard of his plans long before all this coronavirus madness.
And now he's more motivated than ever.
I can promise you this is one cannabis story you've never heard before — and it's happening right as we speak.
This army veteran is taking a completely different approach to producing cannabis.
You may wonder — how did a guy like this get started as a cannabis grower?
It's because he believes it has the power to improve the lives of those suffering from medical conditions... and most especially, our veterans suffering from PTSD.
He points to the fact that medical cannabis is supported by veterans themselves.
"The use of medical cannabis is widely supported among veterans, with 83 percent supporting access to medical cannabis, and 89 percent saying they would pursue the option if it was made available to them." — The Military Times
I, for one, am all for trusting our veterans when they say they need something.
It's what gets this army veteran out of bed in the morning.
But he doesn't stop there...
He also believes that America is capable of taking its rightful place as the #1 producer in the world.
He's on a mission to do things differently — and his timing couldn't be better, because there's a lot to do.
This is the cannabis story you've been waiting for.
(And it can change your life, too. As I'll explain in detail, this opportunity has the power to completely transform your financial future).
I found his company through my boots-on-the-ground research... because I, too, take a completely different approach to cannabis.
If you've tried investing in cannabis before and it didn't work out, it's not your fault.
You haven't had my insider-level access to this tricky but extremely profitable industry...
I was the very first to visit and predict the rise of Canopy Growth — which has now become the largest cannabis company in the world. (That one prediction alone made me and my readers 3,220%. That's 33x your money!)
I was the very first to see the potential for not just cannabis, but also hemp and CBD — scoring triple-digit profits on these early winners:
163% on a cannabis beverage producer
266% on a medicinal cannabis company
269% on a cannabis hydroponics grower
570% on a cannabis research firm
582% on a cannabis greenhouse company
I was the very first to introduce thousands of investors to cannabis investing (and help many of them become millionaires).
Like investor John V:
I was worried about marijuana stocks, but you have shown me the way. Thank you, Captain!
— John V.
So even if you've never invested in cannabis before, I'll have you making money in this fast-moving industry in no time at all.
I'm here to keep you from getting burned.
Every year I spend tens of thousands of dollars traveling tens of thousands of miles to do completely original boots-on-the-ground research.
It's paid off big time! I've scored dozens of triple-digit winners.
There's no bragging involved.
Because honestly, most of it is unglamorous grunt work... it's a lot of time spent in airplanes and greenhouses.
I'm not pretending to be Nostradamus, either — I'm a research guy who puts the time and effort into finding the facts that matter.
(And not that it matters, but I'm not even a regular cannabis user myself. My friends and colleagues who've used it medically made me an early believer in its therapeutic potential. And I've since become an expert on its growth, cultivation, sales... and most important of all, its investment potential.)
Let me show you exactly what I mean...
Here I am in Copenhagen, Denmark, at an invitation-only cannabis conference. It's the only time of the year all the heads of the cannabis industry are all in the same place.
And here I am in Colombia, visiting an up-and-coming weed grower.
Here I am in Ottawa, Canada, visiting the national Capital and arranging meetings.
And here I am in Ontario, visiting a Who's-Who of the world's largest cannabis facilities.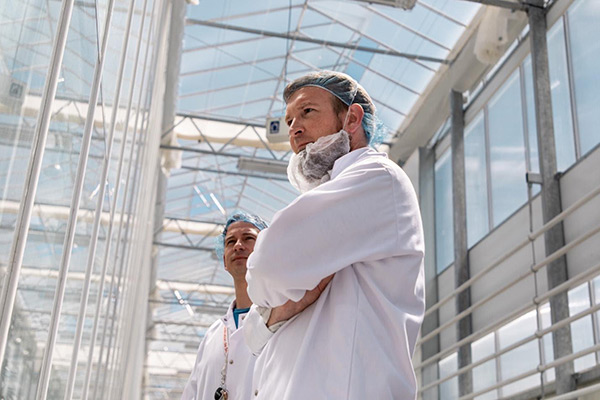 And Vancouver, BC.
I've been doing this for years.
I put on clean suits, shoe covers, and itchy hairnets to bring you the full story.
I've trotted the globe several times over.
But... my travels around the world aren't why I'm writing to you today....
The reason I've put together this presentation is to show you why the second cannabis boom is going to happen right here in the good ol' U.S. of A.
It's all part of my 'Grown in the USA Boom' Stock Plan.
It's unstoppably big, undeniably profitable, and unapologetically All-American.
And I've found the guy who's leading the way.
This army veteran is going to whip the U.S. industry into shape.
His company is out ahead of everyone else...
As America Lags Behind — This U.S. Company Is on Its Way to Becoming a Boom Stock
Forbes has run the numbers, and according to all estimates, the worldwide cannabis industry was already on track to hit $146.4 billion by the end of 2025.
And then from there climb to more than $200 billion by 2030.
But I think that those numbers will actually be even higher...
And that the U.S. can finally join on the production side.
Forbes puts it this way:
"As U.S. companies sit on the sidelines, foreign companies are securing global distribution rights, creating supply chains and establishing subsidiaries that entirely bypass the U.S."
I can't help but feel some embarrassment... all this time we've been letting the golden goose get away.
And having toured the globe myself, I have to admit that most of America's greenhouses so far have lacked the sophistication I've seen elsewhere.
BUT...
All of this is about to change.
Which brings us back to this one company, and the one man behind it.
I hope you'll appreciate it when I tell you they're growing not 3x...
Not 5x...
Not 10x...
But 20x in size.
This army veteran is dead serious when it comes to measured, meaningful growth.
In the last six months he's amassed an incredible $300 million in funding (I'll say it again... that's more than a quarter billion of funding!) and he's out to sweep up the cannabis companies that fit into his mission plan.
And that was BEFORE COVID-19. He's now more motivated than ever.
There seems to be very little stopping him...
He's bought three companies so far and has immediately turned the operations of each one around.
Gone are the lazy production days, slacking staff, and inconsistent products.
In mere months he's hit production goals that are literally changing the state of the entire U.S. cannabis industry.
THIS is the growth story you've been waiting for!
And if 20x growth sounds hard to believe, I assure you it isn't.
I've made massive returns like this before...
As I mentioned earlier, during the early days of cannabis investing, I made a total return of 3,220% on the Canadian company Canopy Growth.
That's 33x your money... it turned every $5,000 I invested into $166,000!
This discovery made me and a lot of other investors wealthy, and it solidified my position as one of the top pot stock analysts in the country.
My email box was flooded with more messages:
I made out like a bandit with one tiny marijuana stock... I got in a little late at $2.12 per share. I can't believe it! My first stock in 20 years and it paid off big!
— Chris B.
Hi Jimmy!!! I recently pocketed $106,000 when I sold one of your recommendations, Canopy Growth!!!
— Garth G.
Ahoy Captain, I just needed to thank you for your recommendation to buy Canopy Growth... I read your article on the research you did on this company, and went with your suggestion that this could be a great company to invest in. You were so right!
— Anna M.
But even after this incredible win, I didn't rest on my laurels.
I went on to make a total of 6,092% on Cronos, the Toronto-based grower and distributor.
Nobody had even heard of it when I first gave my recommendation — but after extensive interviews with the CEO, I knew it was a company that was headed somewhere.
Now's your chance to write a success story of your own.
The U.S. cannabis market is ripe for the kind of growth I found in Canopy and Cronos, and this army veteran is leading the way.
After all, America's fields and farms have been the envy of the world for hundreds of years.
Now's our moment to use that agricultural might to grow cannabis...
The Rebirth of American Agriculture
As Forbes has noted many times, more than 100,000+ jobs were created in the U.S. in 2019 because of legalized cannabis.
And CNBC has dubbed cannabis "one of the fastest-growing job generators in the U.S."
Again, these numbers are BEFORE COVID-19... and so as new states legalize, we'll see growth in cannabis jobs like never before.
These jobs have remained stable through these tough times — and they'll get us through what's ahead.
It's also important to note that many of these jobs are in agriculture, America's original industry.
It's an industry that's been shrinking for decades and has desperately needed a boost.
Cannabis is a life raft for tens of thousands of Americans who would've been forced off the land and into factory jobs.
So let's not let all the cannabis jobs go to Mexico or Colombia.
Let's keep them right here.
We've already seen the collapse of auto manufacturing and the coal industry.
There are currently 52,300 jobs in coal — but that number continues to drop each year.
And only 268,000 people still work in America's steel and iron mills.
Cannabis will soon be large enough to completely cover what we're losing.
Thanks to double-digit growth in 2019, cannabis now employs 250,000 people.
And where there are jobs, the revenue follows.
In Colorado alone we're seeing record production numbers, growing billions of dollars of agricultural revenue that the state has never seen before.
It's America's time to shine.
This is your chance to be on the front lines of these developments.
The $300 Million Shopping Spree That'll Bring Us the Future of American Cannabis — And the Next Boom Stock
With record levels of funding locked down, this army veteran has already made his first three buys.
I think it's worth our time here to take a closer look at why he bought these companies... and how they fit into his larger plan.
Acquisition #1 was the recipient of Colorado's very first medical cannabis research license. Not only does it make the more commonly-known cannabis medical tinctures, it also has an entire line of cannabis creams. These topical treatments are making great strides at the FDA. This company has been growing for years with the rise of medical cannabis. But it wasn't until this army veteran became involved that it turned a profit. This now-profitable company is going to fully expand to the 33+ states where these therapies are legal.
Acquisition #2 is all about literal growth. It has 36,000 square feet of productive greenhouse space. But while expert growers, this company had a complete lack of distribution efficiency. This army veteran fixed that problem in less than a month.
Acquisition #3 is about medicine. But not just any medicine: bio-medicine. If the goal of medical cannabis is health, then this company is the world leader. Its proprietary extraction techniques are fully biodynamic. This means it requires no Co2, no alcohols, no butanes, and no additives of any kind to extract the cannabis oil. This division is also operated by this U.S. veteran, and is the champion of the purest extraction in the world.
My success is all due to a three-step strategy, which I outline for you in my 'Grown in the USA Boom' Stock Plan, which arms you with a three-step strategy to profit from the incredible rise in America's cannabis production.
You'll make money even if cannabis markets become fickle.
You'll make money even as other cannabis producers fail or fall by the wayside.
And above all, you'll make money on the success of America.
Does this sound like something you'd like to be a part of?
Then let me show you how I'll get us there...
How to Find A 'Grown in the USA Boom' Cannabis Boom Stock...
STEP #1:


Only Invest In the Few Stocks That Show Potential from the Inside Out

Now, I'm sure you're wondering: how is it possible to spot a cannabis boom stock while it's still small?

My first step is getting out of the office and into the greenhouse.

And then I set aside all the numbers and reports...

While I do my homework like everyone else — I've found that I can only get to the real, inside story through extensive interviews with management.

No other cannabis analysts are doing this.

But it's essential.
I put hundreds of hours of research into getting into the stock at the right moment.
It's how I made my money on Canopy Growth...
I made my first recommendation when shares were only $1.60.
It wasn't long before they doubled.
I immediately began to receive excited messages from my readers...
Hello Jimmy, Thanks for the heads up on Canopy. Up 106.5% so far and I agree it's got lots of room to run up even further!
— Dave M.
And then it tripled.
Then it took on even more speed, bringing investors like Dave M. to returns he'd never seen before.
It sailed past $10... and then past $20...
The stock took off and just kept going and going, eventually soaring above $50 a share.
Today Canopy is, hands down, the largest cannabis grower in the world.
But it certainly wasn't when I first visited.
This army veteran's company is in a similar position.
It's still a small company.
But it has the drive and determination (and dollars!) to grow into something much bigger.
I follow through — start to finish. If you've ever felt stranded in an investment, that's not going to happen on my watch.
But there's more to tell you about my approach...
STEP #2:


Let Legalization Bring the Profits to You

This isn't my first legalization rodeo.

I've made money from more than a dozen major legalizations now... including in Canada, Colombia, California, Colorado, and Copenhagen

And the idea is to get in well ahead of any legalization if you want to make the boom money.

This means starting early.

In this case, we'd already taken our profits long before the actual legalization even took place.

And then in 2016 I told my readers to buy into Cronos when shares were less than 40 cents each (back then it was called PharmaCan).

I also told them that a listing on one of the major stock exchanges was imminent.

Less than six months later Cronos was listed on the NASDAQ.

Now there's no denying that Cronos bounced around a bit as it found its footing (as I've said, America has been a tough place for cannabis companies up to now, and so I'm happy things are changing).

But the great news for us is that even with those headwinds we never needed to worry...

Because we had bought in before the listing announcement, so we were way up the entire time.
All we had to do was wait for our investment to pay off on our terms.
And payoff it did... by March of 2019 shares had climbed to $24.37!
That's a 6,092% climb — enough to turn every $5,000 you invested into more than $300,000!
Or 60x your money.
So when I say that we're hoping for 20x growth on this army veteran's company, I'm being conservative to what's possible
I know the cannabis market in America.
For example, I was following a company called Future Farm Technologies that was perfectly positioned for the legalization of medical cannabis in Florida.
As I'm sure you know, Florida has more retirees and elderly than anywhere else in the country — and I knew this law was going to be especially significant for this area.
We bought in at $.21 a share just before the announcement, and then sold out just a short time later for $1.11!
As you can see for yourself, that's a 428% gain in just six months!
I did the exact same thing with a cannabis warehouse company.
It had recently been added to the New York Stock Exchange, and I knew momentum would build from its presence on this big trading market.
By July of 2019 we were sitting on an 842% return!
I didn't wait around. I told investors who follow my work that it was time to start taking profits on both of these stocks.
This army veteran's company is ready to do all of this and more...
Remember, he's sitting on 20x company growth.
When you combine this with the potential of this coming U.S. legalization, it'll only climb higher from there.
Which brings us to the third and most important part of my operation's plan...
STEP #3:


Ride the Reinvention of America's Ailing Markets

Companies that can break into new markets (or bring new life to old ones) are what become boom stocks.

And this army veteran's company is ready to reap profits from breaking into five markets, both new and old.

Some of America's largest brands are getting ready for this transformation.

In fact, they're begging lawmakers for it: because sales of soft drinks, beer, liquor, and tobacco have all been on the decline.

Cannabis will bring new life to everyone from Coors... to Coca-Cola.

And the next boom stock will come from this revival.
This Boom Stock Will Change Soft Drinks...
Business Insider goes into detail about how this thirst for cannabis could soon be bigger than the entire soft-drink market.
In an official statement, Coca-Cola acknowledged: "The space is evolving quickly."
We all saw what happened when energy drinks like Monster and Red Bull stormed the soft-drink space...
It created one of the biggest investment opportunities in the history of the stock market.
Monster Beverage grew an unstoppable 75,188% over the 15-year rise of its namesake energy drink.
But energy drink sales have fallen off, and so soft drinks have lost their cash cow.
Cannabis has the potential to completely revitalize the energy drink market in a way we've never seen.
This Boom Stock Will Boost Beer Sales...
As a recent Wall Street Journal headline put it... "Molson Coors Turns to Marijuana as Beer Sales Drop."
An official statement from Molson Coors puts it this way: "We decided entering the cannabis space would provide us with a real growth opportunity."
Just think of what will happen when the weight of the $1.594 trillion worldwide beer and liquor industry starts to flow into cannabis!
In fact, a lot of the old beverage money is quite content to kick the alcohol altogether and move toward 100% cannabis.
Adolphus Busch V, one of the heirs to the massive Anheuser-Busch fortune, is launching a pot company.
He says that the future isn't beer or alcohol... it's cannabis. Just cannabis.
The heir to the Jim Beam whiskey fortune is in complete agreement, and that's why he's pouring his fortune into starting a cannabis venture of his own.
And one of the Wrigley Gum heirs is combining forces with pop-legend Jimmy Buffett to create their own specialty brand of weed products.
According to the CEO of Molson, his company is going to make a move soon, and it could be just a few weeks away from making its next buy.
This army veteran's stock is well-positioned to profit from this revolution.
This Boom Stock Is Breathing New Life Into Dying Tobacco
We've seen a lot of activity from Big Tobacco recently.
For example, major cigarette maker Imperial Brands PLC just poured tens of millions into an equity stake in the private company Oxford Cannabinoid Technologies.
Why?
Because tobacco is wheezing on its last gasp...
According to the CDC, the average number of cigarettes smoked per day has decreased from 17 down to 14.
And it's no coincidence that tobacco has been affected the most in California and Colorado — the places where cannabis is currently legal!
Cannabis flower and vapes have absorbed billions from the tobacco market... putting more money into your pocket as a cannabis investor.
And of Course, This Boom Stock Will Profit From the Invention of All-New Medicines...
And the FDA just approved an epilepsy drug that's derived completely from cannabis.
It's even been approved for patients as young as two years old!
That's right — the stodgy old U.S. Food and Drug Administration has officially declared that it's safe and legal to treat two-year-old epilepsy patients with a drug that comes 100% from cannabis.
The need for these cannabis treatments is great.
Just last year, doctors wrote over 300 million prescriptions in the U.S. for painkillers.
And the day is quickly coming when cannabis dominates this essential market.
As CNBC reported from one famous cannabis CEO:
"We're going to be very disruptive to the pharmaceutical industry, because there are a lot of [cannabis] ingredients that have not been harnessed [yet]..."
As an investor, this means everything — because fast-moving investment wins have followed each stage of the rise in medical cannabis.
The first cannabis boom created a lot of winners...
1,095% in 13 months – Emerald Health Therapeutics
1,105% in 10 months – GW Pharmaceuticals
2,125% in 11 months – Cannabis Sativa
And investors in Aurora Cannabis made a life-changing 5,305% in just 2.5 years.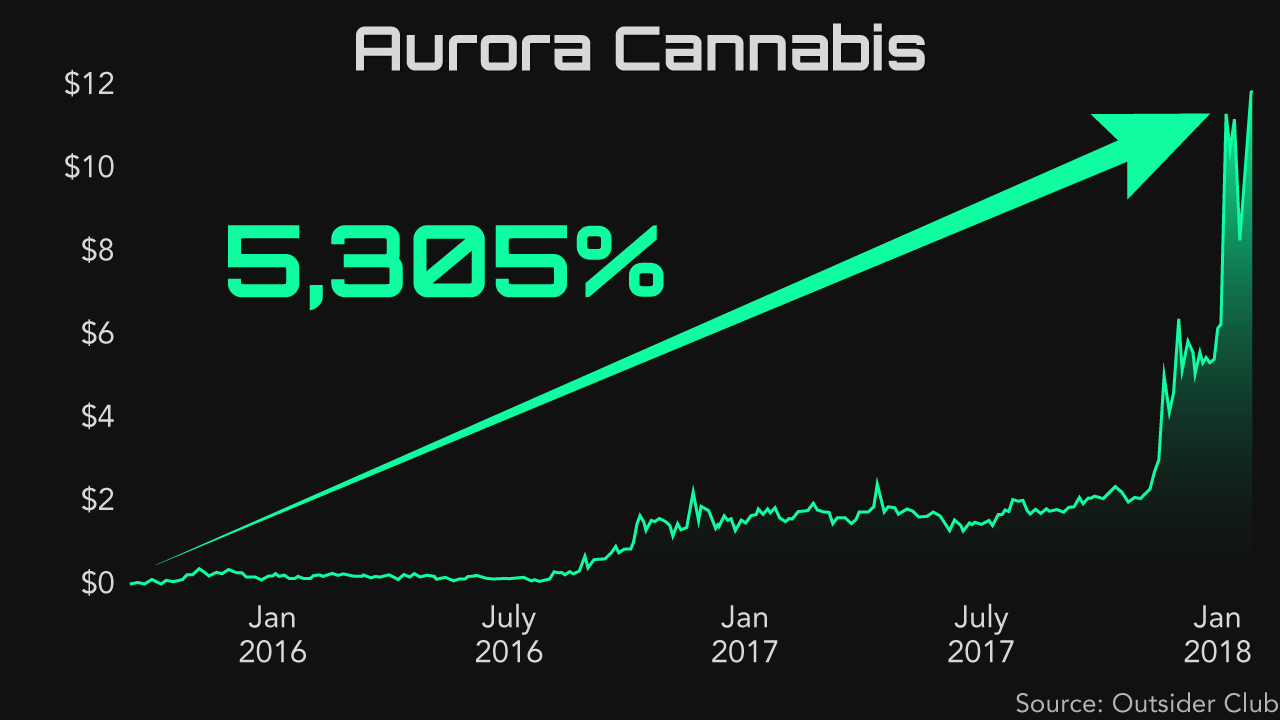 We will see winners like this again... but this time on an unprecedented scale.
I want to take you with me.
I'd like to show you all of the profitable details, which I reveal in my special report...
'Grown in the USA Boom' Report #1:
"The Boom Stock that Will Transform America's Cannabis Production"
This report will give you full access to...
My complete series of interviews with this army veteran — both video and the written transcript. You won't find exclusive access like this anywhere else, at any price.
An exclusive video tour of things I wasn't allowed to show you here — this cannabis grower insisted it be shown to my subscribers only, since it doesn't want any of its proprietary growing techniques to be shown on the public internet.
And you'll also find out...
Essential details with ticker symbol and precise "buy" recommendation
My overview of its $300 million expansion plan
My complete take on U.S. legalization — and the rise of American cannabis production
All you have to do is click the button below to get started.
But I have some great news — your report is actually part of an entire three-report package I've built around my 'Grown in the USA Boom' Plan.
As I mentioned earlier, I have an entire list of companies I want to tell you about.
I want you to profit from every part of the story.
Which brings me to...
'Grown in the USA Boom' Report #2:
"Score Big on the NFL's Demand for CBD Therapies"
It's an incredible moment in sports medicine: because the NFL has just decided to shell out millions for research into CBD.
And the NFL Player's Association has been putting time and money into CBD for more than a year.
We're living the heyday of new therapies that get players off of side-effect-heavy pharmaceuticals and onto potentially healthier (and more effective!) CBD treatments.
Let me share a few brief stories...
Former offensive lineman Eben Britton was prescribed opiate painkillers by his doctors to help manage the pain of his football injuries.
But the drugs made him moody, depressed, and he'd wake up at night with sweats and horrible dreams.
So he told his doctors "no more" and quit his pain medications altogether. Today he uses only cannabis and CBD to manage his pain, and his sunny attitude is back for good.
He's helped many other NFL players leave painkiller addiction behind and make the switch to a healthier lifestyle.
Patriots tight end Rob Gronkowski openly endorses CBD therapies.
Whether you love him or hate him for his scoring ability (as a Baltimore Ravens fan, I'm in the latter camp)... he's on a mission to help injured NFL players on the path to recovery.
Gronk believes CBD is an important sports therapy that could reduce the side-effect-heavy cocktail of pharmaceuticals most injured players are forced to endure.
And NFL Hall of Fame rusher Terrell Davis couldn't agree more. He is personally funding a line of CBD beverages.
He says, and I quote: "It's a beautiful thing. It's worked for me. It's worked for a lot of players."
The NFL has finally agreed to put millions into CBD research.
This is your chance to go where this money is heading... and to get there first.
I've put together a report on several U.S. companies that will benefit the most from this and many, many more CBD therapies coming through the pipeline.
(And it's not only the NFL... the NHL, MLB, and other major sports organizations are also putting tens of millions into CBD.)
I've made good money on CBD before... I've already cashed out returns of 76%, 92%, and 160%.
Getting into these U.S. companies now could earn you solid returns — and you'll be supporting the health and vitality of our top athletes.
But it's not just the rich and famous who will benefit.
I'd like to take you back to the heartland of America...
'Grown in the USA Boom' Report #3:
"Collect the Profit Harvest From America's Hemp Basket"
As an investor, it's important to not get caught up in hype.
That's why I'm including this report, which focuses on hemp CBD...
While it's not as sexy as the THC-bearing marijuana, hemp can still be every bit as profitable.
And it's revitalizing America's ailing farms.
You see, hemp can be grown in the field, and so it doesn't require an expensive greenhouse, making it a practical choice for farmers.
And just in time...
In the Southeast U.S., farm bankruptcies were up 31% in 2019.
So this new boom in the hemp industry comes as a blessed relief to this devastated agricultural landscape.
It'll be especially beneficial to states like Kentucky and Pennsylvania...
The coal basket will soon become the hemp basket.
Now, believe it or not, this isn't as new a development as you might think...
These areas have a long history of growing hemp, only it's been long-forgotten.
Our oldest navy ship, the USS Constitution, required 120,000 pounds of hemp fiber for the lines, rigging, and sails.
Hemp was even used as a form of currency for some time in my home state of Maryland.
And in 1619, Virginia passed a law that required farmers to grow the plant, which could then be used as currency not only in Maryland, but Virginia and Pennsylvania as well.
It was so popular and important that citizens could even pay their taxes with hemp.
But then Congress stepped in and ruined the whole party...
In 1937, it passed the Marihuana Tax Act, which basically banned hemp production out of fear of its close relative, marijuana.
But after almost a century of being banned in the United States — without any really good reason — hemp is now legal once again.
The 2018 Farm Bill called for the legalization of industrial hemp and has been passed by the Senate and House and has officially removed hemp from the federal list of controlled substances.
Now, I know hemp hasn't gotten much press compared to cannabis.
But that's a complete shame, because it offers unique benefits for CBD that scientists are just beginning to understand.
And even better, hemp can even be combined with the THC cannabis plant to create a super-plant that produces a special strain that creates a unique medicinal CBD and THC.
I've done all the groundbreaking research for you...
In fact, as you see in this flattering picture, I've even worked a day on a hemp farm.
(It's truly an honest day's hard work.)
My sweat has paid off...
I've found a company that's using a completely unique grafted plant to treat epilepsy.
No other cannabis or CBD product is as effective.
When it comes to medicine, getting the exact ratio is essential.
Thanks to the very latest in this kind of technology, cannabis has now been able to help patients with extreme forms of epilepsy, like Dravet syndrome.
One poor girl named Charlotte used to have 300 seizures a month.
Today, she only has two or three.
Here's what her parents said about the special blend of CBD and THC created by this company:
"It's helped everything. She has over 99% seizure control. She doesn't use her feeding tube anymore; she was 100 percent tube-fed before... She couldn't talk before, and now she's talking. It's been a totally life-changing event, totally life-changing medicine."
And this product is also changing the lives of the farmers who grew it.
Six months ago many of them were unemployed — today they all have stable, high-paying jobs.
If you agree that America's farmers are the backbone of what this country is all about, then this is the place where you need to be putting your investment dollars.
Hemp CBD is going to be one of the fastest growing industries we've seen in years...
The U.S. hemp CBD market could reach $22 billion by 2022.
No matter how you slice it, the CBD market is booming — I urge you to get in now.
I'm confident you'll be rewarded. It's a total win for everyone.
I'll give you all the details you need to get shares of this hemp-cannabis company... including exclusive interviews with the CEO and management.
You'll have the inside scoop nobody else has... and you'll be the first to profit.
All you need to do is click the button below to get started.
But I still have more to offer you...
Which brings me to something special.
I'd like to give you an entire year of access to the opportunities in my investment research service The Crow's Nest.
And at a price you can barely believe...
One Year of The Crow's Nest — FREE
That's right — I'd like to give you a completely FREE one-year subscription to The Crow's Nest.
No, I haven't lost my mind.
It's so you can try it out for yourself and see how valuable it is.
I've put all of my focus on this fast-moving cannabis report... it's moving so fast that it won't be available for long.
So that's the only thing I'm going to charge you for today.
This way you can make your move right away on this opportunity, but still have plenty of time to see what my research service is all about.
I guarantee you've never read anything quite like The Crow's Nest...
My latest investment research — You'll get complete access to my updates on the markets, breaking news, and world events
Exclusive 24/7 website access — You'll receive a private login to The Crow's Nest website, putting a wealth of articles, research tables, and videos right at your fingertips
Carefully chosen "insider" opportunities — I never stop searching for the next opportunity for sectors across the market
In short, The Crow's Nest will teach you how to take advantage of strategic opportunities from every corner of the market.
I'm here to ensure your success.
Just like I did for investor Roy F., who's been a loyal reader for several years now.
He gave me permission to share the following with you...
I am really happy to continue my association with Jimmy Mengel, I have over the last 30 years tried a lot of different financial newsletters and they have all lost me money. I started to read The Crow's Nest in March 2015 and now have stakes in 18 companies that — thanks to the Crow's Nest — show a very handsome profit!
— Roy F.
And investor John G. wrote to me:
Bought in... about a year ago and have almost doubled my money! I can only see it getting better. In for the long haul.
— John G.
This is your chance to join them.
Here's how this will work:
You'll pay just $99 for your 'Grown in the USA Boom' cannabis report package.
I'll rush you all three reports the moment you do, so you can act fast.
And then you'll receive a FREE subscription to The Crow's Nest for an entire year, so I can keep you up to date on this opportunity as it grows and develops.
You'll never be left wondering what to do.
PLUS — I'm also going to guarantee your satisfaction.
If you're not completely satisfied with everything I'm offering, then I'll give you your money back.
You have six full months to use these reports and my Crow's Nest recommendations without any risk at all!
This is America's Big Moment — You Need to Act Now or Be Left Out
In the past few years I've made 216%, 218%, 220%, 275%, 346%, 428%, and 429% on marijuana plays... and that's on top of the life-changing 3,220% and 6,092% I made on Canopy Growth and Cronos.
I'm looking to outdo all of these wins on the second cannabis boom.
We're only just now starting to see the impact of Florida's medical cannabis legalization.
And the widespread legalization in Illinois is going to have already boosted the bottom line — so this opportunity was already a promising place to make money even before.
But now with the possibility of full, widespread 50-state legalization in the air... we're talking about pure "blue sky" potential.
All the details are in your special report...
Just click the button below to get started.
Godspeed,

Jimmy Mengel
Investment Director, The Crow's Nest
You can also order over the phone... simply call our friendly member services staff (toll-free) at 1-855-496-0830 Monday through Friday from 9:00 a.m. to 5:00 p.m., EST.