An URGENT WARNING from Investing Advisory Legend Mr. James Dines:
"Historic GOLD SPIKE Ahead!"
Looming global events are creating an economic "Perfect Storm" — and for only the fourth time since 1896, Mr. Dines has discovered a proven indicator that points to a roaring bull market in gold. He'll share that with you in a moment, for the first time ever!
Buyers in previous gold bull markets made as much as 42 times their money. Quickly.
Fellow Investor,
Just once in your life, wouldn't you like to get into a bull market before the crowd?
This could be your chance.
Let me show you startling new evidence of a coming gold spike...
And why those who invest correctly right now could make many times their money in a matter of months!
Hi, my name is Nick Hodge.
Today I'd like to tell you about a proven indicator that — for only the fourth time since 1896 — points to a roaring bull market in gold and silver.
In the next few minutes I'll explain:
The five looming global events that are fueling an economic "Perfect Storm".
The reasons why this storm could push gold up to $5,000, and perhaps even $9,500 an ounce on a spike, depending on how governments react.
The 10 precious metals stocks that will perform even better than bullion, coins, or funds... and in past gold bull markets turned in profits as much as 42 times over. In fact, a $10,000 investment in ASA, for example, became $433,700 in 2010.
Gold will soar because it's the primary safe haven against the international storms ahead...
If you thought the financial meltdown of 2008-2009 was a bad time for the NYSE and NASDAQ, wait till you see what's coming!
Many signs point to the fact that we're on the verge of a global currency collapse. Sparked by that global currency collapse, an economic "Perfect Storm" will soon jeopardize scores of U.S. banks... topple hundreds of American and international corporations... and slash the values of many Americans' 401(k)s, IRAs, and savings.
Many stocks will get thrashed in this melee.
And yet, the financial media is still urging people to keep their money in traditional stocks. Don't listen to them!
You already know you can't trust your well-being to the financial media, Wall Street, or the Fed.
It's time to do something different.
As the crowd continues to put its hopes (and savings) into traditional stocks, I urge you to join a small group of investors who have already started down a better path...
I'm talking, of course, about gold.
These investors are led by legendary investment advisor Mr. James Dines.
He's spent decades predicting incredible profits on gold — right up until today.
Just take a look at some past wins…
194% on Freeport McMoRan
317% on Barrick Gold
560% on Iamgold
978% on Pan American Silver
1,553% on AngloGold Ashanti
1,596% on SSR Mining (formerly Silver Standard)
2,168% on Agnico Eagle Mines
2,618% on Industrias Peñoles
4,237% on ASA Gold
And more!
These are closed trades, and the profits are in the bank.
But Mr. Dines is more active than ever.
His current open trades include three gold stocks that were, in early 2019, sitting on unrealized profits of 239%, 413%, and 1,596%.
Just imagine if you already had a position in these open gold and silver stocks — you'd already be sitting on a small fortune!
A fortune that you could cash in any time you wanted.
Thankfully, it's not too late...
Because the truly huge gold profits are yet to come.
As I'll explain in detail, Mr. Dines has identified five unstoppable economic tidal waves that could drive gold to as high as $5,000 an ounce — giving his subscribers a chance to start making sky-high profits in a matter of months!
The overzealous financial media keeps insisting that the bull market is never going to end. Meanwhile, the economic "Perfect Storm" has already begun its path of destruction…
The Euro is teetering on the brink of a major pullback… and the ensuing currency crisis could erase the last decade of market gains.
In China, a real estate bubble continues to grow… it already exceeds the overbought levels we saw during the U.S. housing bubble leading up to 2008.
And across the globe, countries such as Italy, Argentina, Brazil, India, and Turkey all have worrisome loads of debt… if you so much as figuratively sneezed, their economies could topple.
Too few have learned their lesson from the last time around…
The world's total debt has now topped more than $247 trillion — that's much larger than at the height of the financial crisis in 2008.
And the International Monetary Fund has sounded an alarm about excessive global borrowing.
It's only a matter of time before these economic tidal waves sweep the globe and hit the U.S.
Don't Be Duped Again!
My goal today is to prove to you why gold is the only protection from this economic devastation (not even the U.S. dollar is going to hold).
Now, I recognize this might be the opposite of what you've been hearing all throughout this long bull market.
But that market is going to come to an end… and beware: it's going to happen a lot sooner and a lot faster than you might think.
Wall Street has gotten lazy — and Wall Street's so-called "experts" aren't ready for the economic storm that's just over the horizon.
We all saw in 2008 what could happen when Wall Street gets it wrong.
And not just a little wrong...
Dead wrong.
Remember how most analysts and advisors kept saying buy... buy... buy… even as stocks, especially in real estate and finance, kept tumbling down... down... down?
I'm sure you can still remember how painful it was to watch the world collapse around you.
Individual Americans lost trillions of dollars in 2008 — and it was all thanks to Wall Street's "experts."
And the "expert" economists were no better.
First, the Fed insisted that there'd be no recession.
Then, when it came, they denied it was here. In mid-2008 they said it was already gone. Wrong! And yet the public still believes them!
No one understands how wrong the experts can be better than James Dines.
As editor of one of the oldest and most respected financial newsletters, The Dines Letter, Mr. Dines has butted heads with the financial elite for decades — and been proven right time and again. Reaping, as a result, huge gains for his readers.
For example:
In early 2008, while most advisors told investors to stay invested, Mr. Dines led his readers safely out of housing-related stocks and into gold and silver stocks. While the overwhelming majority of Americans saw their nest eggs disappear, Mr. Dines' readers thrived.
And I do mean thrived.
In the aftermath of the largest financial disaster in modern history, all 10 of the gold stocks Mr. Dines recommended saw an average gain of 340%!
That's right: within three years of the financial collapse, Mr. Dines' subscribers more than quadrupled their money.
And please note that this giant gain of 340% is not cherry-picking his best-performing stocks…
It's the average profit Mr. Dines' subscribers enjoyed! That's outstanding performance.
But going against the crowd when the facts say so has nearly always paid off for Mr. Dines and his readers.
At $35 gold, the "experts" mocked gold as an investment — see his picture on the cover of New York magazine (below, right) with the antennae of "The Original Gold Bug"! Mr. Dines was the lone voice urging investors to buy the precious metals — which then soared 2,300% over the next nine years.
On June, 15 1982, when everyone was pessimistic about stocks and the Dow was at rock bottom at 796, Mr. Dines said "buy stocks" in what he foresaw as "The Mother of All Bull Markets." The experts scoffed. Yet the Dow subsequently raced up 1,376%.
In 1996, Mr. Dines was one of the very few who understood the potential of Internet stocks, which went on to deliver stunning, historic, and legendary profits to his loyal subscribers.
Prior to the Internet bust of 2000, The Dines Letter recommended the sale of its Internet stocks, having made "killings" in the previous years. To name a few prominent names, The Dines Letter sold VeriSign at a 454% profit, CNET at 463%, Security First Tech at 530%, Terayon at 720%, Checkpoint at 1,366%, and Exodus at a 2,433% profit.
No broker, consul, advisor, no editor or journalist about whom we know even comes close to matching his track record.
His solid-gold reputation has led to pervasive international media coverage in The Wall Street Journal, Time, Forbes, Barron's, Newsweek, to name just a few... as well as appearances on television's 60 Minutes (twice) and Bloomberg television (many times).
But even though he's gained some fame in his own right, Mr. Dines still prefers to stick to his own path — far from the Wall Street pundits who always talk and never listen.
Now, you're probably wondering: how does Mr. Dines stay so far ahead?
By focusing on three crucial investment tools, whereas the vast majority of advisors look at only one or two. (In fact, they aren't even aware that there are three key factors.) But more on these tools in a moment. First...
Hold Onto Your Savings!

Because America is about to be rocked by five economic tidal waves!
A chain of events is already in motion that will guarantee an economic storm sure to pulverize the savings accounts, mutual funds, and 401(k)s of unwary investors.
BUT this storm will also create some of the most remarkable profit opportunities of our lifetimes. Opportunities where you could possibly turn $10,000 into $70,000 or $100,000 (and make up for ALL the bum advice you've gotten in recent years!)
These economic tidal waves will rise in intensity, with each looming higher and dashing harder than the one before it.
ECONOMIC TIDAL WAVE #1:
A massive currency crisis has begun in "emerging markets," sweeping across the globe... and it's heading toward your door!
As I mentioned earlier, the world's total debt is now larger than at the height of the financial crisis in 2008...
In fact, it's now surpassed a record $247 trillion, as mentioned earlier.
Take a moment to let the enormity of that number sink in. How much is only one trillion dollars? If you spend only one million dollars a day, every day since the birth of Julius Caesar of the Roman Empire, you could not spend as much as one trillion dollars! This means America's debt will never be repaid — it can't even balance its budget much less pay back debts — bad news for those who own bonds!
As Vitor Gaspar, head of the IMF's fiscal affairs, told Bloomberg last April:
"When we talk about the risks looming on the horizon, one of the risks has to do with the high level of public and private debt."
And global debt has increased significantly since then. That's more than $32,000 of debt for every human on the planet... and as you know, more than half the world's population isn't even part of the banking system!
That's extremely troubling news for all of us here in the developed world.
We've all bitten off well more than we can chew — and the danger of choking is now at its highest in history.
As the world's nations grapple with mounting debt, their currencies are — once you consider the debt — worth less than the paper they're printed on.
And yet the printing continues!
Consider the Euro.
It's carrying Italy on its back, and the problems just keep getting worse. Italy is mired in piles of debt so large that, if it were a corporation, it would be well beyond saving. Moody's just punished the nation's banks with yet another negative rating. Not even counting Greece's enormous debts!
But EU politicians continue to kick the can down the road by continuing to print record amounts of money as if there were no problem at all.
(Sounds familiar, doesn't it?)
In short: The Euro is a sandcastle on a stormy beach.
And while the most prominent, it's not the only currency teetering on the brink of crisis.
Elsewhere in the world, we're seeing the same worrisome problems in Argentina, Brazil, India, Turkey, and Venezuela. Those economies are in comparably precarious fixes, to mention only a few.
It is a startling fact that, when Iran's currency collapsed in 2018, the price of gold rose to infinity! That's the truth, as gold owners spurned any amount of paper money for each ounce of gold!
Could it happen in other countries? Yes, even in America, imagining the enormous tidal wave of U.S. paper dollars sloshing around the world, if a ripple of fear triggered selling!
Yet the financial media continues to be in denial about how these undeniable realities will affect America's financial health.
Wall Street Is Ignoring the Volcanic Eruptions All Around It
Mr. Dines calls this behavior "The Vesuvian Tremor Principle". He's seen it often, yet it still never fails to amaze him. The Principle refers to the ancient people of Pompeii who refused to heed the sputtering eruptions of Mt. Vesuvius until they were consumed by its lava. And it concludes that most people will NOT pay attention to economic warning signs until the final blast — that is, until it's too late.
When Italy's banks finally do cave in (followed by those of Argentina, Brazil, India, Turkey, and many other countries), stand back — it will be a colossal tidal wave, and come crashing down on the shores of every country, including your own.
You won't want to be in most stocks when that happens.
Why Gold Is the Only Answer
In 2003, Mr. Dines warned his readers that the central banks of Japan, Argentina, and other countries were recklessly trying to print their way out of their financial woes.
This, of course, just devalued their currencies even more.
Take a look at how it worked out for them…
Mr. Dines called it perfectly.
As Mr. Dines likes to point out, all countries print money with almost no connection to real wealth. Many countries back their currencies — not with gold, but the paper money of other nations! He compares the world's currencies to a bunch of staggering drunks trying to hold each other up. When a key one falls, the whole group will go down.
So when the currency crisis hits, it could devastate the stocks and mutual funds you now own by 70% or more. And, if Argentina is an example, rob your IRAs and 401(k)s of their value — unless you take precautions now.
According to the Dines Theory of Gold Relativity (DITOGR), gold is the only true hitching post of the monetary universe — the only currency of real value, which commands different pieces of paper in each country, depending on how much they print!
That's why he's certain that when citizens and investors realize all this phony paper money is declining toward worthlessness, they'll make a mad dash into gold — as happened in Asia from 1997-1998!
Dines Letter investors saw gold quadruple by 2008 and grow 7.3 times by 2011.
We're about to see it again...
And we could likely see the price of bullion hit panic highs that could well reach $9,500 an ounce on a spike.
For only the fourth time since 1896, gold is going to soar far and above any market gains.
I'm sure you've noticed that gold stocks have already started to rise… and those who invest wisely before the stampede could become richer, plain and simple.
And the wisest way to invest, Mr. Dines believes, is not in gold bullion but in a selected few gold stocks — where you can leverage big moves to even greater gains.
Mr. Dines will tell you exactly how, and even give you the names of his favorite companies in the FREE SPECIAL REPORT: "10 Gold Stocks That Could Make You Rich."
But please don't wait to get this free report. Because events are going to unfold quickly...
ECONOMIC TIDAL WAVE #2:
The currency crisis will spark a rash of personal and business bankruptcies and send the global economy into a tailspin, putting the U.S. and other countries
in great danger.
On March 10, 2000 The Dines Letter flatly predicted that Americans would face a crushing recession — it took guts to do that at the very top of the boom!
Then Mr. Dines did it again in 2007, just before the financial meltdown that was waiting in 2008. On the international television show "Nightly Business Report" on 30 Jun 2006, Mr. Dines flatly predicted a real estate crash — which followed the next year!
As Susan Valenta of Idaho wrote:
You were the only person who stuck his neck out far enough to correctly predict 'The Coming Real Estate Crash...' For those of us who want to learn to fish and not just be fed dinner, please continue to write as much as possible in every issue of The Dines Letter. Thank you.
And now Mr. Dines is once again telling investors to be prepared...
Recently, he's even ratcheted up that concern to an urgent warning.
Why? Because debt has made everybody particularly vulnerable to the growing global chaos...
Over-indebted countries are at risk of getting into serious financial trouble.
Especially China. Mr. Dines has repeatedly predicted "Its bear market would begin in real estate and banking." Especially considering the scope of its "shadow banking," or banking outside traditional institutions, where there is less oversight.
Experts estimate that these transactions have at times been worth an astounding 87% of China's GDP!
One dark omen just emerged when Germany announced its growth slowed sharply in 2018, due to weaker exports to China and elsewhere, and softer demand at home. That Germany grew at the slowest annual rate since 2013 is an early ripple of weakness from China's economy.
China is also quietly desperate to stop its growing housing bubble…
House prices in large Chinese cities in 2018 were among the highest in the world in terms of price-to-income ratios, with speculative demand from Chinese investors — who see few other good places to park their savings. The result is a staggering 50 million empty homes!
Such a scale is hard to imagine, so let me illustrate the size of this problem for you…
That's more houses than those in London, Paris, Rome, Madrid, and Chicago combined. All sitting empty. All risky debt obligations just waiting to collapse.
China has levied a new housing tax to try and slow the spreading of the bubble. But even if the new tax manages to temper housing prices, it's certain to suck more cash from the already debt-laden population.
It's not difficult to imagine how this real estate crisis alone could easily trigger a 2008-level disaster that sweeps the globe.
And most Americans are unfortunately ill-equipped to ride out another recession.
Lessons have not been learned. For years, U.S. banks have recklessly loaned billions of dollars in credit card loans. Americans, who eat credit cards like candy, are dangerously overextended.
Get ready for mass liquidations and bankruptcies, sparking double-digit unemployment and comatose consumer spending.
Don't think that the Fed's "fixes" to the interest rate will make much difference on inflation — or on the stability of the dollar. The herky-jerky business of fiddling with the rate almost always results in short-term market chaos, followed by slow, marginal improvements years later (if ever).
And even when some of these Keynesian economic efforts finally bear a little fruit, history has proven that gold still outshines the dollar every single time.
There's also another problem that's been nagging at Mr. Dines... the largely unreported trend of Americans putting their rent on a credit card...
Why? Because debt has made everybody particularly vulnerable to the growing global chaos.
A New Way to Go Bust?
Convenient? Time saving? How about disastrous?
There are now 38 million renters in America (not including the millions of children, roommates, and dependents who live with them)...
And new payment processors are letting these renters charge their rent — at credit card rates as high as 18%, 25%, even 28% interest!
Could you think of a faster way to spark widespread bankruptcies?
You remember the housing meltdown of 2008, when millions of unqualified buyers bought homes they couldn't afford? Well, get ready for the "rent meltdown of 2020"... when renters default on their rents in record numbers. It's begun even as we speak.
Landlords can't evict those no-pay tenants for months, even years... and the markets will further implode on credit card defaults.
But landlords and credit card companies aren't the only ones holding a time bomb.
This same type of indiscriminate horror will topple companies, young and old, brash and respected, due to the staggering debt of corporate America.
As more and more companies begin sinking in their own debt, our economy will reel from the pain. Of course, once again, this prediction flies in the face of what all the money experts have been saying every year since 2010 about the "long bull market."
But Mr. Dines is not only used to being a contrarian, he's proud of it. It's what has made his readers money year after year, decade after decade.
In fact, The Dines Letter boasts many second-generation subscribers.
As Maria Holmes from California wrote:
My father subscribed to your letter and made a ton of money following your advice. So I'm a very happy second-generation subscriber! Thanks.
This is perhaps the greatest compliment anyone can offer you — when they turn around and pass along your advice to their children.
As a Dines Letter subscriber, you'll discover the three investment elements that lead Mr. Dines to see, with astounding accuracy, emerging bull and bear markets before the bandwagon catches on.
This "tripod" approach has worked enormously well for The Dines Letter subscribers.
For example: on June 15, 1982, in one of the most important moments in the entire history of The Dines Letter, Mr. Dines switched readers out of gold nearly 10 times higher than the price at which he first recommended it.
In the very same bulletin, he recommended using those proceeds to buy into the Dow at 796. It proved to have been a historic call.
Imagine — Mr. Dines' readers made 10 times their money in gold, and THEN got in at the very start of his "Mother of All Bull Markets" in stocks!
But it required getting there first.
In order to make real money, you have to act before the crowd. Or to put it another way: by the time you see a bandwagon on Wall Street, you're too late!
Which brings us to today...
ECONOMIC TIDAL WAVE #3:
Nearly all stocks (except for gold and silver stocks; also one other exception) are about to sink much lower.
As more and more companies begin drowning in their own debt, stock values will head south, big time.
That's why Mr. Dines has been doing his best to help smart investors counter the market with gold.
Three Crucial Forecasting Tools
Mr. Dines is frankly astounded that the financial analysts don't see this one coming. All three crucial forecasting tools he uses point inescapably to the conclusion that we're about to experience what he calls "the Father of All Bear Markets."
One tool that every financial expert studies is Fundamental Analysis. And it shows weakness — including that most stocks are way overvalued.
The NASDAQ for instance, has bloated average price-to-earnings ratios across the board.
A second tool, Visual (or Technical) Analysis, is even more revealing.
Lots of financial advisors still scratch their heads trying to understand stock charts. By contrast, Mr. Dines was one of the pioneers of the entire field.
Mr. Dines' highly reliable Point & Figure charts show that we've had several downside breakouts in a row. That's like hearing a fire alarm. It suggests stocks are losing their balance and are about to fall off a cliff.
Mr. Dines has been around long enough to know when a slide is coming... he saw the same downside breakouts before the dotcom crash of 1999, the same downside breakouts in 2008, and now he's seeing the same downside breakouts again.
No stocks are safe — this economic storm will take down the big blue-chip stocks, too. Like a general who turns and looks and discovers no troops are behind him, blue-chip stocks will finally stagger and fall with the rest of the market.
The Critical, Overlooked Third Tool
Mr. Dines' third investment tool might be the most crucial of all. Ironically, it's one most money experts have never even heard of, but in combination with Fundamental and Visual Analyses, it can be deadly accurate.
It's the tool of Mass Psychology. And without a complete understanding of how it works, you're destined to be blindsided time and again by market moves that don't otherwise make sense.
Mr. Dines was one of the pioneers of Visual Charting, and he was the first to link stock market movements with Mass Psychology.
In fact, he has prepared a special report: "The Gambler's Secret" — which he has agreed to give you for FREE with a paid subscription to The Dines Letter. Its pages will help you see today's financial headlines with new eyes.
For example, nearly 90% of Wall Street economists were bullish on stocks and mutual funds. In 2000, 2001, and 2002, people everywhere were talking about a new bull market.
To students of Mass Psychology, that was a clear warning to sell, and fast!
Market professionals know that when nearly everyone's stock market opinion is unanimous, investors should turn around and go the other way. It happened again in 2018, everyone overoptimistic, so stocks went down!
The famous financier Bernard Baruch understood this principle well. He remarked that on one occasion he got a "hot stock tip" from his cab driver, and immediately knew it was time to sell.
But while stocks drop in price...
ECONOMIC TIDAL WAVE #4:
Gold could reach $3,000 to $5,000 an ounce — or higher on a spike. Silver could shoot over $250 an ounce or higher.
In the late 90s, The Dines Letter subscribers enjoyed watching their Internet stocks more than double in value year after year.
Mr. Dines led them out of techs in early 2000. And now subscribers are already starting to have even more fun in the new gold bull market!
The coming currency collapse and economic panic could catapult gold skyward. All roads point to a gold bull market that might make the late 1970s gold run-up look like child's play.
James Dines was the first to recognize that both gold and silver together move in opposite directions to stocks (The Dines Rule of Gold Countertrend, DIGROC). But he also noticed something that analysts not tuned to Mass Psychology missed.
He noticed that all market movements reflect a fluctuation between two emotions: fear and greed. Almost all investments rise on waves of Mass Greed. Except precious metals.
Gold and silver are the only assets that climb on Mass Fear. And fear is a much more intense force than greed.


A Massive Stampede
Gold has always been the "safe haven" people rush to when they get panicky. When the dominos start to fall this time, the masses will become spooked and fall all over themselves to get into gold, just as they did in the late 1970s. And again in 2001 and 2008 right after market crashes.
This stampede could cause tremendous spikes of as high as $5,000, maybe $9,500 an ounce on a spike.
The impact on gold stock earnings would be spectacular because pre-tax profits from higher gold prices go right to their bottom lines at almost no increase in costs! What gold miners produce is not a commodity like other miners, it is money! Gold is money worldwide!
What's more, The Dines Letter's Gold & Silver Junior Stock Average (DIGSJUN) — the world's only such average going back as far as ours — has registered increasingly frequent upside breakouts in precious-metal shares.
In fact, the train is already leaving the station. Gold is already in the early stages of a bull market...
Let us send you this free report:
"10 Gold Stocks That Could Make You Rich"
Mr. Dines and his dedicated research staff have handpicked 10 gold and silver stocks that could be superstar performers.
Over time, these 10 companies have quietly been gathering lots of steam. Wall Streeters tend to ignore gold. But they will finally become hysterically bullish toward this group, just as they did in late 2008. At which they missed the first run-ups — they will clamor for unique gold, causing wildly-high price spikes. When it's too late for the Wall Street pros to be right, the public will finally catch gold fever and buy in droves. At which time, of course, The Dines Letter will try to flash a big "sell" signal while taking advantage of bargain-basement stock prices in another sector!
If you invest now, before the stampede, you could enjoy the ride of your life.
As investor Jim Morrissey from Pennsylvania wrote to tell us from the last time we saw a gold spike like this:
A modest investment in each stock in your 'package' has made me significant money...
Here is a brief preview of some of the amazing stock picks found in the FREE report I'd like to send to you: "10 Gold Stocks That Could Make You Rich."
Stock #1:
The Leader With Superb Management...
This Stock Has Both Gold Reserves and Silver Production. This company's CEO just won a prestigious mining award in 2018, and for good reason: this company has one of the finest management teams we've encountered in decades of analyzing this industry, and should be in every serious gold portfolio. It's paid a dividend every year since 1983, and its strict "no forward selling" policy means that investors get complete exposure to higher gold prices — making this a must-own stock during a gold spike.
Stock #2:
Own This Before They're Bought Out. As the world's 13th-largest gold producer, and second-largest palladium producer, this firm boasts competitive production costs and a strong balance sheet. As such, it's an attractive buyout target, which could send its price significantly higher.
Stock #3:
The Father & Son "Gold Rush" Exploration Team. This company mines out of one of the world's most promising new production regions in Mexico. Run by a renowned father and son leadership team, its gold production for the first six years is set at a 173,000-oz-per-year average out of 2.5M oz reserve. Its cash costs to produce gold are expected to be below $100 an ounce and the father and son team has consistently proven the ability to simultaneously run successful mines and find exciting new gold discoveries. As an investor, you profit every time they strike it rich at a new site — which is often.
AND BONUS SILVER PICK#1:
Bill Gates' favorite silver...
One of The Dines Letter's Eight Silver Picks. This stock has been a perennial favorite of both the Microsoft magnate and Mr. Dines. Best of all, this company just successfully completed the purchase of a new mine, making its prospects more attractive than ever.
These and seven more blockbusters are revealed in "10 Gold Stocks That Could Make You Rich," plus four bonus picks! This valuable report is FREE to new Dines Letter subscribers!
But that's not all. You should also know about one more economic tidal wave...
ECONOMIC TIDAL WAVE #5:
Brokers and financial analysts will continue to bash gold and silver — even while precious metals soar in front of their noses!
The money experts will continue to be in denial that gold is where the profits are. Even as they watch gold climb and climb, they'll maintain their historic bias against the precious metals. They did this in the last gold bull market and were dead wrong. They will do it again.
And they'll do the same for silver. I should note here that Mr. Dines was also the first "Silver Bug." He began to recommend silver when it was just $.92 an ounce...
Silver subsequently traded for $50 an oz!
And in addition to prescient calls on the commodity itself, The Dines Letter also made these gains on individual silver stocks...
978% on Pan American Silver
1,596% on SSR Mining
2,618% on Industrias Peñoles
But the best is yet to come.
Join the Investors Who've Tripled and Quadrupled Their Money in the Last Few Years
We've made arrangements for you to receive the Special Report: "10 Gold Stocks That Could Make You Rich," with your subscription to The Dines Letter.
For many years, Mr. Dines has zigged while Wall Street's leaders zagged, and as a result, delivered hefty, consistent profits to his subscribers.
Like Gilbert Turner from California, who wrote us to say:
And S. Fini from Iowa:
Thank you for all your hard work. Since subscribing, I'm up 300% in my portfolio.
And Mark Oney from California, who created life-changing wealth:
Your recommendations have provided me with some unbelievable returns since last November, which enabled us to buy our dream house. Keep 'em coming!
You don't know the meaning of the word "loyal" until you become a Dines Letter subscriber. Where else could you rely on spectacular predictions that have earned a regular feature in The Dines Letter called "Nostradinesus"? Where else do you see two generations of subscribers within the same family?
By using his exclusive "Investment Triumvirate" — Fundamental Analysis, Visual Analysis, and Mass Psychology — Mr. Dines has been able to detect market changes before most financial analysts. And way before many fund managers and the general public.
That's why, year after year, he's been able to successfully warn readers about dangerous markets and steer them to hidden profit opportunities — while many "experts" keep looking for profits in all the wrong places.
Each issue of The Dines Letter contains incredible profit-building benefits:
You get an "executive summary" of what's hot and what's not. Mr. Dines' general market commentary gives you the lowdown on what's happening in stocks, bonds, gold, interest rates, trade deficits, and so on. He never pulls punches, often has searing insights, and always includes his evidence so you can judge for yourself.
You get specific "buy" and "sell" advice. You'll get the buy price, current value, and also be guided by a system of proper stops that best suits your objectives and risk tolerance.
You watch for trends and the impact of current events. Mr. Dines examines the market for clues — patterns and cycles — over many decades and reports back to you each month. Being able to spot new trends gives you a huge advantage over others. And Mr. Dines uses his years of experience to sift through the noise of political events and find reliable profit opportunities.
You see how Mass Psychology is affecting the markets. Every issue provides an up-to-date Dines Greed/Fear Oscillator (DIGFOI). This net consensus of about 250 stock market Technical Indicators is your composite view of where the market's going. It has been spectacularly correct in its projections, and many believe it alone is worth the entire price of The Dines Letter.
You view Mr. Dines' uncannily accurate forecasting charts. They give the big-picture view, and constantly allow readers to see developments that the financial media has missed.
Now subscribe for a one-year "Fair Trial" for just $295!
You can put The Dines Letter's profit power to work for you for only $295 (plus all the FREE materials given to new subscribers). It's a small price to pay for one of the most enduring and successful financial newsletters in the entire profession!
And, of course, you will receive, absolutely FREE, what could be the greatest investment opportunity of your lifetime: "10 Gold Stocks That Could Make You Rich."
Remember, gold bullion is aiming to reach $5,000 an ounce, maybe $9,500 on a spike. These select gold stocks give you the very real chance to possibly quadruple your assets in the near future.
You'll also receive, FREE with your subscription, The Dines Wealth-Building Starter Kit, which includes:
How to "bulletproof" your portfolio
65 investment truths or "Dinesisms," on how you'll avoid costly mistakes
How visual analysis can help you spot trends and predict stock movements
How to avoid getting stuck holding a stock flameout
Why the "Holy" Investment Tripod is your key to reliable profits
Your own copy of Mr. Dines' Mass Psychology manifesto: "The Gambler's Secret"
And much more!
PLUS: If you act TODAY, you'll also receive your very own copy of "Goldbug!" — You'll receive an abridged version of Mr. Dines' original best-selling classic. Mr. Dines instructed us to create a special abridged version that we'll rush to you the moment you join (A $35 Value... Yours FREE)
Mr. Dines' market insights in this starter package contain everything you need to build life-changing wealth...
You could turn every $10,000 you invest into $100,000.
Just ask Florida resident and loyal The Dines Letter reader Emanuele, who took us up on our offer several years ago...
Today he's sitting on a pile of profits, all thanks to Mr. Dines.
Your insight and vision on equity investments and the future are superb... I have accumulated $100,000 in capital gains from an initial $10,000.
— Emanuele R. Cardaci, Florida
What will happen with FAANG stocks? Interest rates? Currencies? Real estate? Bioterrorism? Big government? It's all in this FREE REPORT.
And you can do the same — all you have to do is click right here or the button below to get started!

But that's not all...
I want to help you be fully equipped for the days ahead.
Prosper during the coming crisis:
Three More Ways to Protect Your Wealth and Profit From Gold
As I mentioned earlier, I'm Nick Hodge. I'm the founder of the Outsider Club.
We're a financial publication dedicated to showing investors how to take advantage of the system instead of getting beaten down by it.
We have hundreds of thousands of members who read our work every day — and that list is growing daily.
Beyond that, I personally do boots-on-the-ground research, examining investment opportunities across the world...
Such as Organovo Holdings, a small company with an innovative process that uses 3D "bioprinting" to create functional human tissue for surgery.
The stock was trading for just $4 a share when I recommended it. In a little less than a year, it soared over 567%.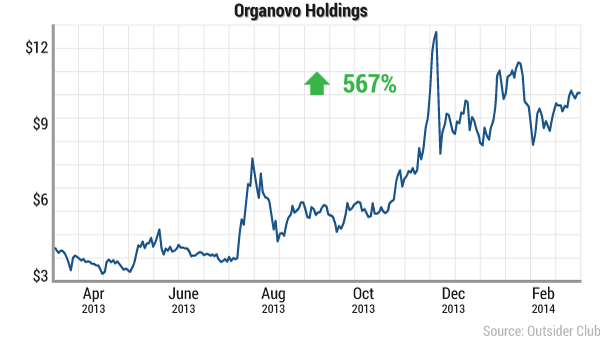 Or Alternate Energy Holdings, a nuclear power company.
I recommended it at $.19 a share...
Just three months later, the stock soared to $1.00, handing my readers 426% gains.
And I also made one-of-a-kind profits on the lithium used in batteries for iPhones and electric cars. I saw that lithium was undervalued and I was able to use my connections to get my readers in on a special deal not open to the public.
I recommended the $.15 lithium stock to my readers, and in just a little over four months we closed out a 1,480% winner.
If you'd put $10,000 into each of these investments, you'd have ended up with about $230,000!
The investors who follow my work haven't been shy about their results.
They enthusiastically let me share the following with you:
Nick — for what it's worth, Wall Street's Underground Profits is my #1 'Guiding Light' as I approach retirement age. Scores of 'competitors' have failed to pass muster with me, in contrast and comparison.
— Robert L.
Dear Nick, I enjoy your insight into market assessments... I have religiously followed your tips and recommendations and made lots of money!
— Warren S.
Now, I want to help you protect your assets...
This is your chance to try my work at no extra cost to you — I'd like to send you three research reports for FREE today.
You won't hear about them anywhere else. But you'll get them free, along with your paid subscription to The Dines Letter. Here are the research reports you'll have access to immediately...
"Your Personal Fort Knox: How to Buy and Safely Store Your Precious Metals": I'll get into the do's and don'ts of precious metals ownership — specifically where to safely store your precious metals in your home.
"Wealth Without Risk: Growing Rich Without the Stock Market": Get off the rollercoaster of the DOW — and open yourself to new avenues of profit. This special report reveals three investments that can make you money beyond the ups and downs of the stock market. A must-read for any serious investor.
"10,000% Gains on America's Biggest Gold Mine": This new gold mine is expected to produce 87,000 ounces of gold per year for the next eight years... You'll discover the firm's name and ticker symbol inside this special report.
So, when you claim a subscription to The Dines Letter, you'll also get a free 90-day trial to my monthly research newsletter, Wall Street's Underground Profits.
Every month, I point out flaws in the government and market systems. I'll show you how to exploit some of these flaws for big profits — and which ones to avoid at all costs.
Wall Street's Underground Profits will show you how to protect yourself and thrive in spite of the Fed's rash decisions.
With your 90-day FREE trial subscription to Wall Street's Underground Profits, you'll get the three special research reports I mentioned above, plus you'll get access to my archives and every recent recommendation I've made — 100% for FREE.
Join The Dines Letter today and start following its advice now so you could protect your savings, 401(k), IRA, and other assets from an imminent global currency upheaval. AND possibly quadruple your profits within 12 to 18 months in gold stocks!
Please Don't Delay – A Currency Collapse Has Already Begun in Several Countries
As I've explained today, looming global events are creating an economic "Perfect Storm" — and for only the fourth time since 1896, Mr. Dines' proven indicator points to a roaring bull market in gold.
Those who invest now could make many times their money in a matter of months...
Please don't delay in getting your copy of Mr. Dines' exclusive special report: "10 Gold Stocks That Could Make You Rich."
All you have to do is click right here or the button below to get started.

Call it like you see it,
Nick Hodge
Founder, Wall Street's Underground Profits