The #1 Industry Growing Faster Than Smartphones, IoT, Artificial Intelligence, and Professional Sports
654 Million People are Clamoring for More, Igniting This Industry That Could Be Worth More Than $1 Trillion Microsoft!
It's a phenomenon most in America don't know is happening right now as we speak.
But somewhere in your city…
Thousands of people are piling into places like this.

Quite a sight.
It looks like a rock n' roll concert... and it feels like it, too.
This picture is the norm for the #1 industry I see dominating the globe in the next decade.
If you're skeptical...
These spectacles are selling out Madison Square Garden, the Wells Fargo Center, and others in droves. The Staples Center sold out in just one hour for one of these shows.
One analyst on CNBC said this was "One of the best sporting events he'd ever been to."
Better than the NFL, MLB, NHL, NBA... or any professional sport or theatrical event you've ever seen.
Another analyst on ETF Edge called it a "global phenomenon."
Forbes reports this sector is expected to "grow substantially" in the coming months.
Millions of people...over 454 million to be exact... are screaming for more of this opportunity
That number is expected to jump to 654 million viewers in just two years.
Meaning, in the next two years…
More people will be involved in this craziness than the populations of the U.S., Canada, Japan, Germany, Great Britain COMBINED.
And I'm not just talking collectively over the year…
One event like this has drawn more eyeballs than the freakin' Super Bowl.
The 2018 Super Bowl drew about 111 million viewers worldwide.
One of these rock n' roll-like events pulled in 200 million people across the world.
And like I said... that number is expected to keep climbing at a rapid rate.
Last year, viewers watched over 6.6 billion hours of this new entertainment. That's up from over 1 billion hours in 2012... a 6X increase.
And that's why I believe you're staring at the biggest and fastest profit opportunity of the 2020 decade.
Because the industry hundreds of millions of people are tuning into is one you may have never believed would ever take off.
The industry... eSports.
eSports is the sport of gamers playing video games competitively for entertainment.
Now, I don't know about you, but the idea of people paying good money to sit around and watch others play video games sounds ludicrous.
But you're about to see how eSports is changing lives, changing schools, and, quite frankly, changing my views on how important eSports will be to the future.
According to Logitech's CEO, Bracken Darrell... head of a company that makes equipment for computers and gamers…
eSports Will Be "The Biggest Sport in the World" in the Next Decade
Darrell believes we are "in the early stages" still.
Daryl Morey, General Manager of the Houston Rockets in the NBA, agrees, believing "eSports" will be one of the "biggest sports" in the world.
That's a mighty bold claim... and the numbers are jaw-dropping for eSports when you compare apples to apples.
At the moment, according to CNBC, combined, all the NFL teams are worth about $82.2 billion.
Analysts have had a hard time pegging a value on eSports so far due to its rapid growth... but they still clock it in around $1 billion.
The NBA is valued around $57 billion.
The MLB at $49.3 billion…
And the NHL brings up the rear at $19.3 billion.
So if eSports is on track to become one of the biggest sports in the world... and it's sitting at $1 billion right now…
We're looking at a potential $81 billion runway to catch up to the NFL.
And, mind you, the NFL is mostly only popular in North America. eSports is a global phenomenon with viewership numbers stomping the Super Bowl.
With an $81 billion runway... that's an 8,200% increase coming down the pipeline within the next decade…
And if that sounds extreme…
Know that, according to Bloomberg, video game sales already top $150 billion.
That's bigger than the movie and music industries combined.
Plus...
Video games are raking in $25 billion more than what Microsoft generated last year…
And Microsoft is valued at $1.14 TRILLION.
eSports, a mere $1 billion valuation, is valued at less than 1% of that.
[INSERT CHART COMPARING MICROSOFT TO ESPORTS DESPITE VIDEO GAMES MAKING $25B MORE]
So I'm as confident as ever the first double up for early eSports investors should happen in the next 24 months… if not sooner.
And you could be in on that investment if you follow what I tell you to do today.
The runway is massive when you compare it to its direct competitors…
Professional sports.
Already, hundreds of millions of people are spending time watching eSports...much like we watch football or baseball.
And it's growing 5x as fast as these sports.
While the NFL grows at a 3.79% compound annualized growth rate…
The MLB at 4.76%... NBA at 2.58%... and NHL at 4.79%...
You already saw that eSports is running at a 22.3% clip... more than 5x the rate of growth as the four major professional sports.
But I'm not looking at those growth numbers as much as I'm studying the potential runway for eSports.
If eSports can catch up to the SIZE of the
market these major sports hit... early investors
could reap massive rewards.
Because at the moment, eSports topped about $1 billion in revenue in 2019. Within 2-3 years, that number is expected to double.
Already, eSports has raked in more than the PGA Tour, which boasts less than $1 billion per year.
But we're looking ahead right now.
Companies and the rich and powerful
are all scrambling to get into this space
as quickly as possible.
And it's a wide variety of sorts too…
There's Ikea… the furniture store.
Then, Coca-Cola... the drink company.
Followed by Toyota... the car company
Then, Dell, IBM, and Activision dropped millions…
The NBA even has its paws in it. The Heat, Cavaliers, 76ers... historic franchises here... are investing big time.
Mark Cuban, the billionaire owner of the Dallas Mavericks, is "banking" on this industry to bring in more fans and customers.
There's also Michael Jordan, Shaquille O'Neal, Magic Johnson... actors like Jennifer Lopez and early Uber and Spotify investor Ashton Kutcher... other stars like Alex Rodriguez.
All believe this industry is poised to dominate the globe in years to come.
This industry is growing faster than smartphones, Internet-of-things, streaming TV... almost every tech craze you hear about in the news lags behind this industry coming down the pipeline.
While this industry is expected to grow at a compound growth rate of 22.3%... check out how fast it's growing compared to others in big tech.
Internet-of-things is growing at 21%... and is still quite speculative.
TV streaming that is going wild right now is growing at a 15.6% pace.
Even smartphones... the necessity we all carry... is running at a 19% growth rate.
This industry is growing faster than any of them.
The time to get in early on eSports mania is right now before the massive growth takes off.
The time to get in early on eSports mania is right now before the massive growth takes off.
And I have an opportunity to directly invest in eSports so you can capitalize.
Meaning, you make money when eSports players
and venues make money.
No other major professional sport gives you this opportunity.
Think about it.
With the NFL, NHL, MLB, the NBA, you can't directly invest in teams, players, venues... really nothing.
You can invest in someone like Sumail Hassan. Sumail was named one of Time magazine's Top 30 most influential teens after earning over $1 million at age 16 thanks to eSports.
Sumail started playing video games at age 7 while in Pakistan. He didn't have his own computer, and so he would take a motorbike to a local internet cafe.
Even with these poor conditions, he became a dominant eSports player and was recruited to play for an American team at age 15.
His team would eventually win $6.6 million.
This is how eSports is changing individual lives. Much like you hear about a football player coming up from poverty and making it big in the NFL...
This is happening in eSports... except you can actually invest in the growth of the sport, unlike most professional leagues.
Sites like DraftKings allow you to bet on the outcomes of games... but that's more gambling than investing.
What's funny, though, is DraftKings CEO Jason Robins reports "fantasy eSports" is the fastest-growing sector of his business.
Only in eSports are you able to invest in the teams, invest in the game players compete over, and make money from the ticket sales to sold-out arenas like the Barclays Center.
Investing in eSports allows you to benefit
just like an owner of a team benefits when
their team value skyrockets.
Take Robert Kraft, the owner of the New England Patriots dynasty.
Kraft bought the Patriots for $171 million in 1994. Today, the Patriots are worth a whopping $4.1 billion and have amassed six Super Bowl wins under Kraft's watch.
That's a 2,290% increase in value in under 30 years.
Robert Kraft just dropped $20 million on an eSports team in Boston. If he expects a similar return on his investment, his eSports investment could be worth up to half a billion dollars for just one team.
Kraft claims: "We were blown away" by what he was seeing in eSports. He then gave us a glimpse into why he dropped $20 million "Wherever the market is going, we like to try and get there a little bit ahead."
Kraft isn't alone.
Stan Kroenke, the owner of the Los Angeles Rams, also dropped $20 million on one eSports team, and in 2019, bid over $30 million to acquire another team.
And the billionaire eSports reach has stretched outside of football... the owner of the New York Mets, the Wilpon family, also spent $20 million on an eSports team... on top of that, their investment fund launched AndBox, a company to launch more gaming events and sell eSports merchandise.
Here's the main point...
These professional sports team owners are throwing serious money at eSports as we speak. They know how fast sports can make you money... they've already lived it once, and they're looking for that big return again.
You could invest like them to pursue the same returns as they are.
Even professional leagues are trying to get in on this.
23 of 30 NBA teams back an eSports team for professionals competing in NBA 2k, a basketball video game.
It's the first official eSports league operated by an actual professional sport.
Sacramento Kings co-owner Andy Miller, who owns his own eSports team, the San Francisco Shock, claims eSports "are entering the mainstream fast."
He calls it NOT the sport of the future... but the "sport of now" because he sees how much eSports has grown.
And investors are throwing money at eSports at a rapid clip.
According to VentureBeat, "eSports is hot. A surge in eSports investment is expected to come primarily from private equity and venture capital firms and from traditional professional sports teams and leagues, athletes, and celebrities."
The reason is clear...
"Investors are betting on the opportunity here given the massive scale of the global competitive video gaming audience."
And of course it's not just investors...
Brands like Toyota and Ikea are increasing their spend by 30% year after year in eSports... and they'd only do that if they're seeing monster returns.
Ikea, for example, is partnering with a wearables company, UNYQ, to develop gaming accessories for the keyboard and mouse.
Toyota, in 2019, announced a partnership with BLAST Pro Series to support the broadcasting of eSports on television and streaming.
So, brands aren't just investing in teams or advertising... they're making long-term investing plays.
When we saw this rapid growth with traditional sports... there was no way to get in as an average investor.
You couldn't invest in the NFL before it became the mainstay in American households like it is today...
Couldn't with baseball, basketball, or football...
However, I'm about to show you an investment to give you a direct link to the eSports growth happening right now.
Meaning, as the industry moves from $1 billion up to potentially $82 billion... you'll have a chance at making a ton of money.
These are the kinds of opportunities I live for.
I Was One of the First in the Financial Publishing Industry to Uncover
the Massive Profits From Cannabis
This Past Decade...
And Now I'm Sharing With You the Biggest Opportunity of the Next Decade... eSports.
Hi, my name is Jimmy Mengel.
I've made a career out of finding triple-digit stock opportunities for my readers. Now, I know that sounds a bit like bragging, but let me show you what I mean.
I already showed you the 3,502% potential winner that subscribers had a shot at with my first marijuana recommendation... Canopy Growth.
That one pick proved to be one of the most popular and profitable stocks of the decade as cannabis took off.
But in no way was it a fluke.
My readers were also able to cash out:
429% profits on Future Farm Technologies
221% on Helix TCS
830% on another pot play
380% on Cronos Capital
126% on Liberty Health Sciences
And that's only the beginning. You could've also enjoyed...
as high as 739% gains on Innovative Industrial Properties
up to 424% gains on Origin House
and up to 505% gains on Aurora Cannabis
Just $10,000 into each of these opportunities would have you sitting on over $805,000 in profits
That's more than 8X what the average retiree holds in their savings. And you could've been enjoying those profits in a few short years.
And if you think I only know how to nail cannabis winners...
My track record over the past five years is arguably one of the best you'll ever see. A few are still open positions, so I can't reveal the names of all of the stocks, but they've resulted in profits of:
209% in Boeing
113% in Newtek
156% in a health care company
125% in a food company
151% in a paint company
108% in a water company
142% in a financial company
Not to mention, dozens and dozens of double-digit winners. I won't read them to you, but you can see how extensive the list is.
But, let me be honest with you.
The growth I see coming in eSports far exceeds the dozens and dozens of stocks I've recommended in the past.
eSports is the #1 opportunity of the next decade.
A potential 8,200% runway.
But, I'll be honest...
I wouldn't blame you if you hated the
idea of eSports... or you thought those sitting
around watching others play video games
are lazy and need a job.
I honestly thought that at first.
But then I thought more about it.
Look...
If people will sit around and watch professionals play poker, play pool, bowl, even golf, all slow-paced games to watch...
Is it really that much of a stretch to think millions and millions of folks would love to watch professionals play highly engaging, well-developed video games?
It's really not that much of a stretch anymore when you think of it like that.
Plus, I have a unique perspective on this arena that many other newsletter editors may not have.
And maybe you noticed it from my picture...
I'm a pretty young guy. I'm only 36 years old. I spotted the largest opportunity of the past decade when I had just hit the big 3-0.
I'm in that perfect age range where I was one of those young kids who ran down the stairs at Christmas to a brand-new Nintendo system. My brother and I spent many sleepless nights exploring the world of the Legend of Zelda.
If you're a little older than me... the video games you remember are simple games like Pac-Man, Space Invaders, and many of those classic games that are still around today.
My Nintendo's graphics were a breakthrough at the time... the digital characters actually resembled a person.
We thought that was amazing at the time.
Well, maybe you've seen some of the video games today...
My 8-year-old son and I were playing around with a new virtual reality game recently...
And this shows how the future is shaping up...
My 8-year-old was better at the VR experience than me!
Check out some of this footage.
The developers are absolutely insane today with the amount of detail they can put into a game.
And, let me say this...
It'll only get even better as virtual reality games hit the market... I'm talking completely immersive games where you literally are running and jumping like you're inside the game.
That's all still developing and will only add to the eSports craze.
My 8-year-old says all his friends are playing video games. According to the NPD research group, over "91% of American children play video games."
The younger generation is picking it up at a rapid pace...
Which is why it's not hard to see why it's estimated over 2.6 billion people will play a video game this year. That's over a third of the world's population... far greater than any reach professional sports like the NFL or even soccer has.
If you knew how huge the NFL would become back in the 60s and 70s when baseball was still the #1 sport... wouldn't you have put every dime you had
behind the league?
You probably would've. I know I would have. Except there was nothing you could invest in to ride the huge NFL wave that hit America.
Today, eSports is where the NFL was in the 80s... right when it claimed the throne as the #1 sport in America.
Except now, you have a unique opportunity to invest in eSports directly and reap the huge growth analysts expect.
Growth being... that eSports becomes one of... if not the most popular sport in the world.
I'll show you the investment to make so you can capitalize.
But the only reason many may not pull the trigger is because they may feel there's something wrong about eSports.
Something feels weird about investing in people playing video games. After all, my mom spent my childhood telling me to put down the controller and play outside.
For most kids, that is what they should do.
But...
Groundbreaking studies are proving that eSports are actually helping more kids rather than hurting them.
What researchers found is that eSports are filling a void missing for many children especially during critical development ages.
For many adolescents, they won't have the God-given ability for sports, and they won't have the talent for or interest in the arts.
Before, these kids would spend their time alone at home.
eSports helped them.
CNBC talked with one eSports player, Andrew Smith. Andrew got into a lot of trouble at school as a kid.
This led him to seek refuge at home alone playing video games by himself.
Before eSports, this would be seen as a bad thing.
Today, with eSports, Andrew received a full scholarship to Maryville University in Missouri to join its varsity eSports league. eSports is officially under its athletic department.
He recently traveled across the world to Hong Kong to compete in the International College Cup. A competition between college students over a game called League of Legends. Tens of thousands of people packed the Hong Kong Convention Center.
He eventually cashed in at many eSports tournaments, thus giving him more confidence about himself and life in general.
With the introduction of eSports, according to a study by the British eSports Association, kids and teens are meeting new people with similar interests, learning how to collaborate and communicate, plus understanding how to bounce back from failure.
There aren't any 8th place trophies in eSports... it's win or lose, and that's how black and white it is.
Researchers at Iowa State University found that "prosocial games" encouraged players to work together and increased their helpful behaviors... meaning, they learn to think of others first.
Studies report students involved in extracurricular activities are more successful in life... they miss less school and they graduate at a higher rate.
These same kids are more likely to pay attention in class and engage in less destructive behaviors like smoking, vaping, and drinking.
Columbia University reports children who play a lot of video games were "1.88 times more likely to have high overall school competence."
eSports are actually helping kids... not hurting them.
The NCAA and the thousands of high schools across the country seem to think so.
Because, right now, over 20,000 schools are on a waitlist to institute eSports into their extracurricular activities.
1,500 high schools are part of the High School eSports League... and the number of active eSports leagues in high schools has doubled recently.
More than 475 colleges support eSports at a club level with teams traveling around to rival schools to compete much like a regular sport.
The Big Ten league... home of the Ohio State Buckeyes and Penn State Nittany Lions... is launching its own eSports league.
And this expansion in schooling is happening globally.
The Chinese Ministry of Education wants to produce the best eSports players in the world, so it added eSports to its postgraduate curriculum... meaning some schools have eSports as a major.
And, no doubt, parents are realizing this booming industry could help their child.
One mom, Le'Anne Schlothauer, was worried about the amount of video games her son George was watching and playing.
Then, George joined an eSports team to win money for his college education.
Le'Anne didn't realize you could actually make money playing video games. It placed gaming "in a new light" for her.
She says, "There is actual communication and team play. They analyze the game, watch it afterwards and look for what they can do better. There's a lot that goes into it that people don't realize."
More and more parents are realizing the benefits of eSports and how they can help their child succeed.
Another parent, Stan Murray, was the same way. His son Jeremy joined his eSports league at his high school in St. Charles, Missouri. Stan asked "What about homework?" like any parent would.
Then, six of his son's teammates secured nearly $400,000 in scholarships to play eSports in college.
"That changed my mind," Stan admits. Now, he even pushes his son to play more. "Every now and then, I actually make Jeremy play for a couple hours so he doesn't lose his abilities. I guess I'm just a typical sports dad," he claims.
This sounds insane, right?
More than 50 schools are offering over $9 million for eSport athletes. They're giving full rides to teens who can play.
All for video games...
I can't help but think...
These kids aren't athletes. They're just pushing a few buttons, right?
Well, world-record-holding Olympic swimmer Michael Phelps disagrees with me. He claims, "There's absolutely no question to me the level of skill, training, and devotion it takes to become a professional gamer."
Mark Cuban calls eSports "5-dimensional chess."
A German study came to the conclusion that "Science shows that eSports professionals are real athletes."
It goes on to say:
"The amount of cortisol produced [while competing] is equivalent to that of a race-car driver..."
"This is combined with a high pulse, sometimes as high as 160-180 beats per minute... that's what happens during a fast run... almost a marathon."
The study ended saying "eSports are just as demanding as most other sports, if not more demanding."
Like I mentioned, colleges already added eSports to their varsity-level sports.
Multiple new 25,000-square-foot complexes are being built around the world to house and train future eSport athletes.
But it doesn't stop there.
The U.S. government came out claiming
competitive gaming is an actual sport... meaning,
those who play it are athletes.
The push for these eSporters to be seen as athletes is so real, there is progress being made for eSports to be added to the 2024 Olympic games roster.
The International eSports Federation is made up of 56 nations pushing for eSports to be added to the Olympic games. Those nations include: The United States, China, Japan, Brazil, Germany, Italy, Australia, even Russia.
That move alone could put eSports on the map for the rest of the world.
So far, soon 654 million people will be avid eSports fans.
An event like the Olympics could catapult eSports into the most popular sports category faster than analysts expect.
But actually the reach in the U.S. could start much, much sooner.
Take a look at what I found while watching a primetime college football game on ESPN.
Look at the bottom where they usually post scores and updates from major sports...
They're showcasing news and scores from the eSports community. ESPN rarely puts up scores from the WNBA... but now you're going to start seeing more eSports scores scrolling on the bottom of your screen.
eSports is exploding fast... and the time to invest is before it hits $82 billion.
More and more people will be flocking in as ESPN plans to broadcast many tournaments in the future on its networks.
It isn't alone, either.
ABC plans to broadcast big tournaments on channels it owns.
Even coveted Disney will air matches on its Disney XD channel. CNN called it "A big bet on eSports" from Disney making this deal.
If you think that's a gamble for these big companies and eSports won't last...
Currently, Twitch... a platform for gamers to livestream their gaming... has over 100 million people watching every single month.
It's the single-largest streaming platform on the planet.
Its viewership and channels have grown 10 times in the past decade.
People can't get enough of watching their favorite players play their favorite game.
Much like you and I love football or baseball, and we want to watch the very best professionals play...
These Twitch users want to see the experts virtually dominate.
I dropped in on 17,000 people on a random weekday watching a guy going by "CohhCarnage" play a game called Divinity.
Thousands are commenting... on the left side thousands are watching other gamers go at it. These numbers are massive.
Twitch is currently the 40th most trafficked website on the planet.
... that's more traffic than Fox News...
... more than CNN...
... more than a social media giant like LinkedIn...
LinkedIn, to put that into perspective... is valued at $26.2 billion.
eSports, like I mentioned, is valued at around $1 billion. Call it a $25 billion runway to top LinkedIn.
I expect this value gap to be filled soon. And when it does, early investors are going to reap the rewards. That could be you if you're willing to invest today.
You'll Have That Opportunity to Invest on the Ground Floor of a New Sport Before It Becomes a Household Name in America
... Like investing in the early National Football League...
... Like investing when Babe Ruth still played baseball...
... Like plunking money down when the NBA players still wore short shorts...
eSports is the next big opportunity of the 2020 decade. I'm calling it now just like I called cannabis before.
The runway for it to grow is from $1 billion up to $82 billion in the next decade. An 8,200% rocket.
That would be like turning a mere $10,000 into $830,000 in the next decade.
eSports has already overtaken some of our favorite sports like golf.
Kyle Giersdorf, a 16-year-old player of the game Fortnite, won the Fortnite World Cup Finals in 2019.
His winnings?
A cool $3 million.
Tiger Woods... arguably the greatest golfer of all time... won the Masters in 2019. His pot? A third of that. Just over $1 million.
Meaning, a 16-year-old pulled more in from his competition in one night than the legendary Tiger Woods did over four days from the most important golf event of the year.
These kids winning tournaments are making serious cash.
Kuro "KuroKy" Salehi Takhasomi is the single-highest-paid eSports player in the world. He has already pulled in over $3 million. His "Team Liquid" won The International 2017, pulling in over $10 million.
He got $2.2 million for himself.
Other professionals are banking millions too:
Kuro Takhasomi has made $3,449,672
Ivan Ivanov... $3,433,172
Lasse Urpalainen... $3,428,672
To put that into perspective...
The median salary in the NFL is around $860,000... thus, making these eSport pros higher-paid athletes than some in the most popular sport in America.
When you go to an eSports event... you can see why.
When these guys come out in the middle of Madison Square Garden, the place goes nuts.
These athletes are the LeBron James of eSports...
gamers view them as gods.
The fans are hooked to these professional gamers as we would be to our sports heroes.
And they do quite well for themselves.
ABC News calls eSport athletes "the sports stars of the future."
The Philadelphia Fusion eSports team lives in a $5 million mansion decked out with a beautiful pool out back and basketball court.
Team Liquid has a private chef making all of its meals.
Plus, much like a regular professional team, they have on-staff physical therapists and even sports psychologists.
Sponsors like Coca-Cola will pay for players to fly in private jets to their international events and stay in world-class hotels.
One all-girls eSports team gets physically trained by the Philadelphia 76ers private trainers to keep them in shape. So multimillion-dollar NBA players are splitting their trainers' time with women eSporters.
These eSport players are enduring schedules similar to their professional sporting peers.
They train 12-14 hours per day. They have a coach. They watch film. They strategize.
Everything professional sporting teams are doing... they're doing in their way. This is serious business with billions on the line... plus hundreds of millions of eyeballs on them.
I know it's crazy to think this is going on...
but it's happening.
And it's happening whether you invest today or not.
Already, vast fortunes have been made in the video gaming space.
Ubisoft, a video game publisher of such popular games as Assassin's Creed, has seen its stock pop as much as 2,022%.
Take-Two Interactive, the company behind the Grand Theft Auto franchise, is coming off a "record year" in gaming... having soared as much as 3,252%.
Glu Mobile... a mobile gaming company that has benefited from gaming on your smartphones... has jumped as much as 2,116%.
Activision... now one of the largest video game companies in the world... is up as much as 9,391%.
But all that pales in comparison to this video game unicorn.
Electronic Arts... the main leader in sports gaming with titles like Madden and FIFA, has seen its stock shoot up as much as 32,488%.
Meaning, a mere $10,000 investment would've handed you a profit of over $3.25 million.
All from video games.
Maybe my parents were wrong about too much Nintendo.
Because the best may be yet to come.
Stocks like Electronic Arts soared thanks to an increase in gaming...
Glu Mobile went up thanks to mobile gaming...
All the stocks I showed you moved over 2,000%...
So, it's not a stretch to think the next eSports winner wouldn't be anything less than that. And it shouldn't be tough to do.
If the industry has a runway from $1 billion to over $82 billion... stocks are going to move big time when that happens.
And I believe I've found the next massive opportunity of the decade right now.
It's a little-known company that has its hands in every aspect of eSports that's growing right now...
...the actual teams...
...the events and sold-out venues...
...the actual games being played...
...even getting its hands dirty working with local governments to expand influence globally.
This company is based in the hottest area of the world right now for eSports... Asia.
To give you a sense of the explosive growth, check out just how fast China has grown its eSports revenue.
That's more than a 10X growth in under 10 years.
And it's just getting started.
My #1 eSports stock released a statement saying it's taking a "long-term" approach to eSports.
And it's backing up its words.
Recently, it launched an entire arm of its business dedicated strictly to eSports and media licensing of its games.
Like I said, it has its hands all over the landscape.
#1:

It creates legendary video games

One of its franchises was a groundbreaking title when it released in the 90s. It introduced 1-on-1 combat games... and the proof is in the pudding. That franchise has shipped over 43 million units.

And that's only one title it's created. It has also created 10 other franchises with many successful sequels to each.

This company even built a collection of games for Disney that was released in the past few years.

With global video game sales on the rise... this company will enjoy that ride to start.
#2:

It has dedicated eSports tournaments
around its own titles

Currently, it runs a global eSports tournament around its mega-famous fighting title. Over the past five years, this tournament has increased in popularity and fanfare every single year, according to its executives, with 18 events spread out across 11 competing countries.

These events allow it to capitalize on ticket sales, sponsorships with companies like Sony, livestreaming on Twitch, advertising, and more.

The prize pool for its competition has risen from a mere $36,000 to over $600,000 in under five years.

Its biggest feat yet is partnering up with one of the top tech companies in the world to hold a tournament adjacent to the Olympics in Tokyo.

That alone could spark a massive increase in exposure to this company.
#3:

It is backing actual eSports leagues with many more to launch in the coming year

My #1 eSports company will be launching amateur and college leagues in the next 12 months, giving more reach to its titles... and for expanding eSports in general.

In 2019, it launched three "feeder" leagues to help up-and-coming players.

Think of it like the minor leagues of baseball as eSports does not currently have a farm system like you see in other sports.

These feeder league players can then be drafted into the 'Pro' leagues later on. Setting up these 'minor leagues' is groundbreaking for the industry and should no doubt help this company gain more exposure.

These three areas gives my #1 eSports company multiple shots on goal to succeed.

And it gets even better than that.

It reported movie and licensed TV content around its titles is in the works.

Two of these projects are set for release in 2020... and one of them will be one of the few video game-turned-movie titles to be distributed by Disney.

As I mentioned, its goal is to promote its company and eSports as far as possible.

And it's committed for the long-term, saying: "We are cooperating with local governments and businesses on regional revitalization efforts... we are focused on not only two or three year activities... but those that extend... ten and even twenty years out... in order to promote eSports well into the future."

This long-term vision is why I'm confident buying into this company now.

Its share price is over one-tenth what other eSport stocks are trading for, giving you an opportunity to grab shares for cheap.

Finally... the big catalyst to move the stock in the short term:
#4:

It just repurchased more shares of its stock than any time in the past 20 years

This company has quietly been re-purchasing its own stock in bunches the past decade.

However, recently it almost doubled its normal repurchase amount. Even better, it paid a premium to repurchase those shares.

This signals to us that it expects its shares to become much more valuable if it's paying above market price.

More re-buying like this will likely prop the stock price up before eSports takes it much, much higher.

All of these signals remind me of the early growth of the cannabis industry that I identified before most people even knew its potential.

I'm able to find these opportunities before others because I have my boots on the ground... literally.

I told you about my trip to discover Canopy Growth... a stock that could've paid you out over 3,502% since I visited.

And I visit these companies... meaning I go toe-to-toe with their CEOs and their executives to get the real story.

Not the story you hear about molded and crafted for the media.

Real words from real people.

In cannabis, I traveled to visit many different companies and their executives.
I gave six-figure talks on the subject to crowds of people.
I've spoken with famous pot advocates like TV host Montel Williams, former NFL player Ebon Britton, and even Gene Simmons from KISS.
I traveled to Europe to speak at the European Cannabis Symposium in Copenhagen.
I'm always on the go looking for these opportunities.
It's no different when it comes to this eSports craze I've found.
Soon, I'll be visiting some of the largest eSports events in the United States. There, due to my connections, I'll get backstage access to eSport athletes and the people who work behind the scenes... those are the people with the pulse on the market.
It doesn't stop there. I have connections to insiders in the industry including one friend who has helped produce some of the spectacular eSports events that one analyst called "one of the best sporting events I've ever been to."
This is the type of research you'll get from me every single month.
It's allowed me to identify massive triple-digit winners for investors just like yourself for years, including winners of:
And those are in addition to the dozens and dozens of double-digit winners I've shown my readers.
And my picks can jump quickly.
When I recommended Helix TCS in 2017, it popped 221% in 31 days.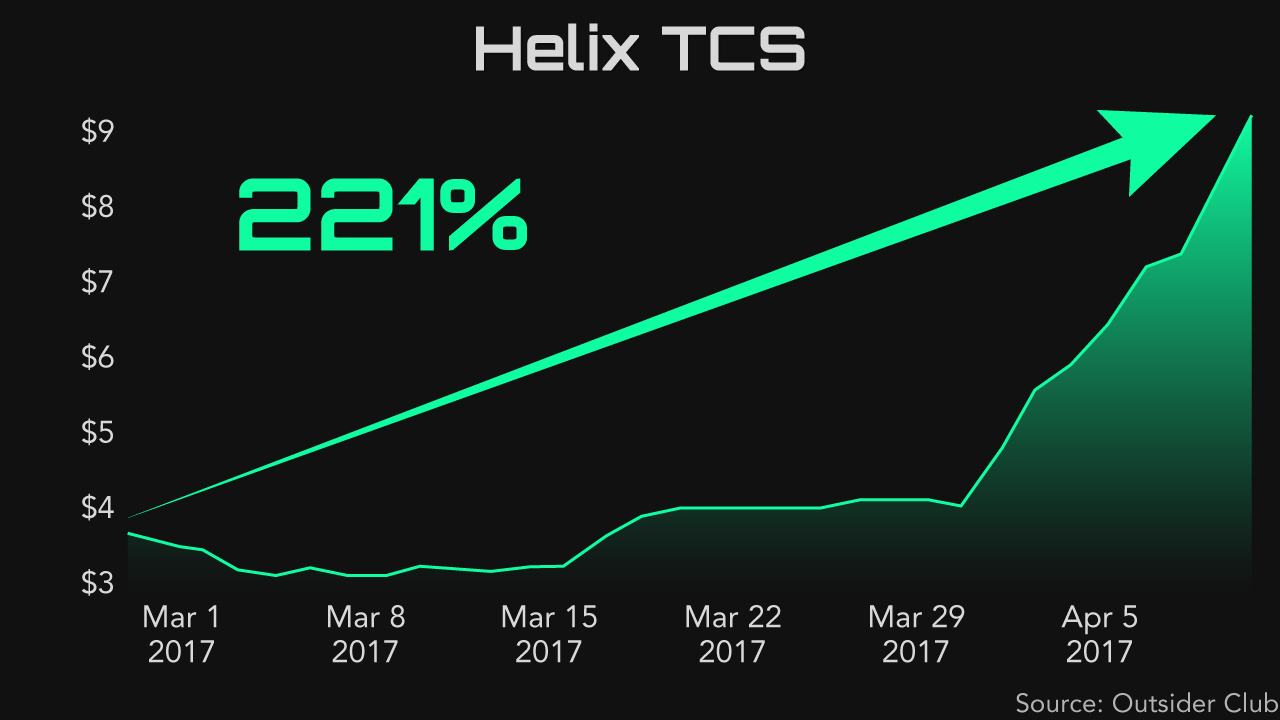 My Future Farm Technologies recommendation returned 429%.
I recommended PharmaCan Capital, a cannabis investment company, in August 2016 — betting it would spike through the Presidential election.
I was right. In three months, the stock jumped 380%.
You could've collected $38,000 cash from every $10,000.
Now, I'm urging you to pick up shares of my #1 eSports stock right now as this sport looks to become the biggest sport in the world.
You can find all the details inside my brand-new, never-before-seen report, "The #1 eSports Company to Dominate the Decade."
If eSports explodes from a $1 billion industry up to $82 billion... which would make it America's largest sport...
That would put you and early investors in line for potentially up to 8,200% gains.
Every $10,000 would catapult to $830,000.
Now, I can't promise that... but even if you hit 1,000% gains, which I've shown readers before... imagine what that could do for you.
Every $10,000 would turn into $110,000, which is still more than most retirees have saved.
Your first step to jump into the biggest opportunity of the 2020 decade is picking up my report now.
Normally, I'd charge $99 for access...
But, because of how fast this industry is booming, I don't want you to sit on the sideline over $99...
So I'll give it to you absolutely free.
Inside, you'll receive:
Even more detailed analysis on why eSports is the main opportunity you need to invest in whether you enjoy video games or not
The #1 eSports stock of the decade
Massive news coming down the pike for this #1 eSports stock that could move share prices fast
Plus, what my inside connections are saying about the space that I don't share anywhere else
Early video games capitalized on the massive demand for regular consumers buying titles to play at home.
The wins were massive.
Ubisoft soared 2,022%.
Take-Two Interactive exploded 3,252%.
Glu Mobile jumped as much as 2,116%.
Activision is up as much as 9,391%.
And Electronic Arts has shot up as much as 32,488%.
Now, we're at the ground floor of a whole new dimension of video games... eSports. If it proves as successful as professional sports are... we're looking at massive growth in the next 12-24 months.
I want you to be invested in this massive
eSports growth.
But not just in eSports... in every growing sector I find during my boots-on-the-ground research.
It's all contained in my popular flagship newsletter, The Crow's Nest.
I call it The Crow's Nest because you're the captain of your own financial ship. So many people are out to get your money... money managers, the IRS, bankers... the list goes on.
No one is looking out for you.
I built The Crow's Nest so you can take back control of your wealth and your income and pay less in taxes... a complete solution to your financial situation.
I'm your lookout up in the nest. I'm giving you direction and recommendations that help you make better financial choices.
Like what trend is set to explode the next decade... and what trend will just putter along.
I already showed readers the biggest trend of the last decade.
Now, I'm ready to guide you through the next trend... eSports in the decade to come.
And it doesn't stop there.
Every month, you'll receive private, exclusive research around multiple industries I see growing, including:
Aerospace
Energy
Metals
And, of course, cannabis
On top of that, I have an entire section of my portfolio dedicated to dividend stocks that are rapidly growing their dividends.
So, not only do you enjoy the monster returns I've shown readers...
You also have the opportunity to collect monster dividends from some of the best income stocks around.
I Guarantee You've Never
Read Anything Quite Like
The Crow's Nest...
Here's what you'll receive:
12 issues of The Crow's Nest — Delivered every month, each research letter I send you will be packed with the best elite investor ideas I uncover. I'll also show you how to boost your income, incredible ways to dramatically cut your cost of living, the safest way to grow your retirement account, and much more.
My latest investment research — You'll get complete access to my updates on the markets, breaking news, and world events
Exclusive 24/7 website access — You'll receive a private login to The Crow's Nest website, putting a wealth of articles, research tables, and videos right at your fingertips
Carefully chosen "insider" opportunities — I never stop searching for the next opportunity... I've recently made 137%, 329%, and 661%
Introducing you to the best investment ideas in the stock market is just a small part of what I do.
The Crow's Nest will teach you how to completely take control of your finances — from buying stocks and plotting your retirement to taking advantage of tax breaks and simply plugging the money leaks that threaten to sink your savings.
Here are a few more things you'll discover:
How you can save up to $277,969 by avoiding certain kinds of investments
A sneaky fee that could be draining thousands of dollars out of your retirement account (and how to open an account that actually beats inflation)
The best way to protect your portfolio during volatile times
And much more...
The normal rate for a subscription to The Crow's Nest is $299.
But I'm about to give you a serious discount right off the bat.
And it's worth the price of admission when
you see the results others have already enjoyed
with their subscriptions.
Roy F. has been a loyal reader for several years now. He gave me permission to share the following with you...
I am really happy to continue my association with Jimmy Mengel, I have over the last 30 years tried a lot of different financial newsletters and they have all lost me money. I started to read The Crow's Nest in March 2015 and now have stakes in 18 companies that — thanks to The Crow's Nest — show a very handsome profit!
And investor John G. wrote to me:
Bought in... about a year ago and have almost doubled my money! I can only see it getting better. In for the long haul
And here's what Chris B. was willing to say on record:
I made out like a bandit with one tiny marijuana stock (got the tip from The Crow's Nest)... over the last few weeks I earned 400%! It paid off big and now I'm taking part of my earnings to get a Lifetime Membership to The Crow's Nest. Thanks Jimmy! I can't wait to see what's next.
Click the button below to get started.
Inside every issue of The Crow's Nest is behind-the-scenes research I don't share publicly.
Info like me meeting up with a Congressman in DC who used to be Reagan's speechwriter.
Here's a picture of us meeting.
He clued me in on how Congress is moving along laws concerning cannabis.
You gotta watch this video as I still believe cannabis is still a huge opportunity.
When you join as a subscriber to The Crow's Nest today, you'll be able to see all my top cannabis stocks to add to your portfolio right away as the sector recovers.
At the same time, I'd urge you to pick up shares in my #1 eSports play I just told you about...
And not only that...
eSports has given us multiple shots on goals to cash in from this sector.
That's why I'm sending you:
A Recently IPO'd eSports Company That Could Become the Most Trafficked Website on the Planet
I showed you how Twitch in the U.S. is doing 100 million views per month...
Well, a recently IPO'd company... its stock went live in 2018... is prepared to take over the eSports streaming trend in Asia.
If you're blown away by the U.S. numbers for eSports...
China is the #1 eSports market in the world after the U.S. According to iResearch Consulting Group, there are more eSports players in China than there are people in the UK.
That makes up 57% of the global eSports audience.
And I've found a company that plans to be the "eSports broadcasting hub of China" to cash in on the 170 million people in China viewing eSports.
That 170 million would surpass Twitch's monthly total.
At the pace of eSports growth, the "eSports broadcasting hub of China" could easily become a top 5 trafficked site in the world.
Its viewership grew 48% just the last year. Analysts expect earnings to skyrocket over 80% in the next 12 months.
And the company is only a couple years old... I expect massive investment to be around the corner, which could easily propel this stock 500% if not 1,000% in the next couple years.
You can get this company and all its info inside my special bonus report, "eSports Online Streaming Boom for 1,000% Gains."
And that's not all.
Citi claims eSports will "disrupt multiple industries."
Meaning, it will not only touch broadcasting, advertising, the actual sport itself, but eSports requires advanced software, hardware, cloud storage, artificial intelligence... the list goes on.
As a secret bonus, inside this eSports streaming report, I'm adding my #1 'picks and shovels' play that I believe will see the most growth from eSports.
It's a well-known company already sponsoring multiple eSports events... but without its product, there wouldn't be an actual game to play.
I'll leave it at that because the company is already known... but it's a perfect conservative play to add to your portfolio to ride this wave.
Others will need to shell out $99 for this report alone...
But I'm going to give it to you free... along with your new eSports report, "The #1 eSports Company to Dominate the Decade"... another $99 value.
That's $198 of value... plus your subscription to The Crow's Nest is valued at $299...
A grand total of $497 of value.
What do you need to invest today? A simple $99 subscription investment. You've received more than 3X that value today.
Not to mention, if my eSports prediction proves correct... much like my early cannabis prediction that netted over 3,000% for early investors... your $99 subscription will pay for itself hundreds of times over.
So, join me inside The Crow's Nest today...
And to make it easier,
I'm Offering a 6-Month
Money-Back Guarantee
If over the next six months, you don't feel my newsletter is exactly what you need at this time, simply call up my customer service team and you will receive a 100% refund of every penny.
That's 180 days of risk-free reading of my research. If you think it's not for you after all that time, you can still claim a refund.
But I'll even go beyond that.
If my eSports prediction doesn't make you a profit over the next 12 months, I'll give you a second year free.
After all, you are the captain of your financial ship. Others are knocking to get at your war chest...
I'm here to help you. And if I don't help you... meaning, I don't do my job... I don't deserve to get paid.
To make myself clear...
I'm giving you a double guarantee. Both for your satisfaction and because you deserve only the best research.
And I don't believe you'll ever need to exercise these guarantees.
Because over the first five years of The Crow's Nest...
I did not close a trade for a loss. Not one.
Every single trade we have sold through the first five years of The Crow's Nest resulted in a profit. It's a track record no one in the financial research industry can match.
I can't promise by the time you read this, that record will still be standing.
But, our first five years were flawless.
And we're just getting started.
As the next decade is upon us, what are you doing to prepare yourself financially?
Like I said, there are plenty of people out there who will gladly help themselves to your money.
The Crow's Nest puts you back in charge of your wealth, your income, and your taxes.
To build your wealth right now, I've identified the #1 opportunity of the next decade with eSports. The industry is on pace to grow from $1 billion to over $82 billion... an 8,200% increase. I identified the last opportunity in cannabis and early investors could've pocketed up to 3,502%.
Mark my words... eSports is going to be bigger.
You're on the ground floor now.
This opportunity awaits you inside my popular flagship newsletter, The Crow's Nest.
Click the button below and you'll be taken to a final confirmation page to begin your 12-month subscription.
I have a lot to show you in the coming year, starting with eSports.
Godspeed,

Jimmy Mengel
Investment Director, The Crow's Nest