Trump's "232 Mandate" Is Now Public...
Igniting the Next Energy Supercycle
In this presentation, you'll discover:
The one tiny energy resource that's poised to explode 1,000% in demand as oil craters and Trump turns to this new fuel
The secret Trump "232 mandate" that is unlocking the most explosive market surge of 2020
The tiny group of energy companies set to produce 10-, 100-, even THOUSAND-BAGGER returns, overnight
All starting right now.
Dear Reader,
What you're seeing is Trump's secret "232 mandate."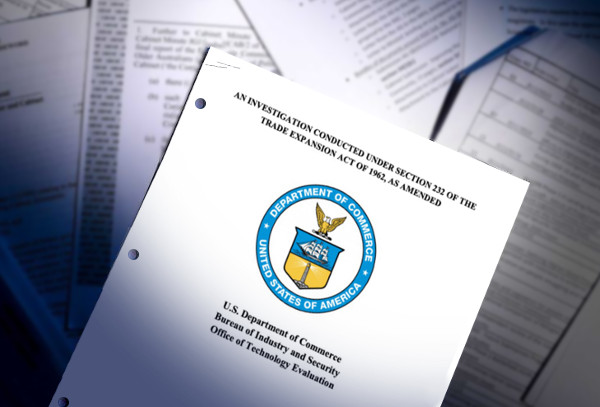 And it does what Trump has set out to do from the beginning...
Make American jobs.
Make America produce.
Make American POWER.
On July 12, 2019, Trump formed a special group to come up with policy actions meant to kickstart new American production of this resource.
Those policy actions were just unveiled in April of this year.
As this mandate takes effect... a critical American energy source will immediately see up to a 1,000% increase in demand. Already Bloomberg says it's the best peforming commodity of 2020.
A new American "strategic reserve" of this fuel will is being created, just like we have with oil. Meaning the Federal Government is going to be buying this fuel directly from the small producers.
This fuel has nothing to do with fossil fuels or green energy. No one wants to touch oil right now anyway. It just went negative for the first time ever.
Instead, this fuel much cleaner, cheaper, safer, and it's...
35,000X More Powerful Than Oil
Which means it can power entire cities and states far better than conventional energy.
This mandate will guarantee this energy resource is MADE IN AMERICA again.
And it guarantees this for a specific set of tiny, unknown American companies.
History shows that they have the power to surge for gains of 5,232%, 3,104%, and EVEN 130,400%.
These kinds of explosive energy gains have only been seen TWICE before.
Just to be clear, NOTHING is more lucrative than these tiny energy producers.
And thanks to my extensive inside network in this unusual corner of the energy market...
I've got the inside scoop on these companies and the ultimate way to profit.
Over the last few years, I've visited their sites and hobnobbed with the execs, engineers, and even the workers in the fields.
I've examined the geological surveys, the resource estimates, and their mining history.
In other words, I know exactly how much their real untapped profit potential is.
For the longest time, their wealth has remained untapped and underground. But due to this "232 mandate", that's all about to change.
In just the last few months alone, this unique fuel jumped 40%, from $20 to $28 per pound.
Making it the fastest-growing commodity in the market recently.
But the energy producers behind it did a little better. Just in the last few months, some have already started taking off...
One shot up 131% in five months…
Another surged 184% in two months…
And that's just the beginning... In a moment, I'll share with you their exact names, ticker symbols, and all the details you need to know to profit immediately.
That includes footage of their operations never before seen by the public.
You'll see why these tiny companies could become the Exxons and Chevrons of this unique kind of energy... especially now with oil in the crapper.
I'll reveal the 232 mandate that's about to send their shares parabolic, starting as soon as right now...
Making this the biggest ground-floor opportunity of the year for anyone who acts now.
Plus I'll share three other catalysts that are about to converge all at once.
One of these catalysts alone will remove nearly all of the supply from the spot market, just as this 232 mandate takes effect...
The last time I saw these conditions, this select group of stocks rallied for as much as 134,000%.
Now history is about to repeat itself.
Allow Me To Introduce Myself
Hi, my name is Nick Hodge.
I'm a multimillionaire investor, entrepreneur, and the founder and chief editor of Outsider Club and Wall Street's Underground Profits.
Over the last decade, I've become a recognized name in the resource space.
I am a sought-after speaker and thought leader on the topics of uranium, gold, mining, energy, and general investing.
I'm a featured speaker at the MoneyShow conferences, New Orleans Investment Conference, and Cambridge House series of conferences.
I've co-written two books: Energy Investing for Dummies and Investing in Renewable Energy: Making Money on Green Chip Stocks. Yes, I literally wrote the book on investing in energy.
I've become a millionaire by age 35 via prowess in investing and financial publishing.
And I've raised over $30 million in capital for companies across various sectors. Primarily mining, energy, technology, and cannabis.
Most importantly, I've become known for recommending some of the biggest wins in the energy markets.
Virtually unknown plays that have soared for astronomic gains overnight, minting all-new millionaires.
For example, in 2015, I uncovered a lithium opportunity in the heart of Nevada's salt brine land.
You probably know lithium as the "new gasoline. It's the fuel vital for Elon Musk's Tesla cars and the metal powering the global rollout of electric vehicles.
Lithium has been all the rage. And dozens of companies have emerged with "lithium" in their names.
But thanks to my in-depth research and deep industry network, I was able to get my readers in early on a company with great leadership, properties, and a blueprint for success.
The backer was a billionaire insider with very close ties to the Clintons.
And its Director had a record of starting small lithium and gold miners, then flipping them for billion-dollar buyouts.
In addition, it had a wonderful land package bordering the only known lithium mine in North America. Plus a prime piece of real estate right in the "Saudi Arabia of Lithium."
I got my readers in at 15 cents and in just FOUR MONTHS it surged past $2.53.
That's a whopping gain of 1,586%.
It's good enough to turn $10,000 into over $158,000... in less than 12 weeks!
I uncovered a Brazilian gold miner that also owned a uranium package in Canada's famed Athabascan district.
Its founders and major backers include legends who have made fortunes in uranium before. Legends like billionaire resource investor Rick Rule, who I'm lucky enough to call a friend.
In eight months, it surged from 41 cents to $3.14.
That's a 665% gain!
And these aren't isolated examples.
I go digging into little-known corners of the energy markets to bring my readers home-run gains over and over.
Gains like...
112% on a lithium play — in seven months
253% on a uranium play — in five months
385% on a uranium play — in 15 months
But now, we're on the precipice of an energy supercycle that will eclipse anything seen before.
Historically, gains as high as 130,400% have happened when this supercycle takes shape.
And investors who saw gains became rich in a matter of months or even days.
Not even the crypto or cannabis booms saw the kinds of returns this supercycle is known for.
And thanks to the 232 mandate...
We know precisely when this supercycle is about to enter into the next stage, sending these tiny plays through the roof.
Before I go into that, allow me to answer something you might be wondering...
What is the 232 mandate? Why will it ignite the most explosive energy gains in our lifetimes?
Let me explain...
Why the 232 Mandate Is a Big Winner for American Energy Companies
Section 232 is an obscure section of a trade act passed by the Kennedy administration.
In short, it's all about the impact of foreign imports on our national security.
Think energy and minerals. If America gets too dependent on foreign firms for something that is deemed a national security risk, the Commerce Department and President can take action.
They can require a certain amount be produced in the U.S., and they can create higher prices to incentivize that new production.
Once a company or government department files a "232" petition...
The secretary of commerce then has to complete an investigation. With that concluded, Trump created this working group to come up with policy recommendations.
Those recommendations were just revealed in early 2020.
Which means groundfloor gains for investors in American companies that are positioned to profit.
Historically, the 232 petition has happened only on rare occasions.
But this all changed under the Trump administration.
Headed by billionaire magnate Wilbur Ross — who made his fortunes by renewing American industry — the Commerce Department is on a mission to make American industry great again.
Starting with critical resources essential for our everyday lives.
For example, in April 2017, Ross opened a 232 investigation into steel imports.
After a Senate hearing, plus pressure from two dozen American steel executives...
Trump imposed tariffs on virtually all steel imports exactly one year later.
The same thing happened with aluminum.
Ross began an investigation, then a Senate hearing, and Trump put up tariffs on all foreign imports. Rinse and repeat.
Now, it's about to happen again.
This time with a very different kind of metal. And one that can deliver the stock market's most explosive gains, as history has already shown.
An energy metal that powers 1 in 5 American homes, plus submarines, missiles, and aircraft carriers.
A metal that's been hated for years, but is now on the precipice of a historic run. One that could launch unbelievable 1,000-bagger gains for those who position themselves now.
The Next 232 Move Will Ignite This Critical Metal
I'm talking about nuclear reactor fuel.
Uranium, the "other yellow metal."
In spite of what you hear, nuclear is not going anywhere.
It's the world's #1 source of clean energy.
Bigger than solar, wind, and every other renewable energy COMBINED.
It's the only one with the potential to power grids for entire megacities, states, and countries.
All with zero carbon emissions, at cheap prices.
In fact, the U.S. is the world's largest user of nuclear power.
One in five American homes relies on nuclear for electricity.
Two-thirds of our clean energy consumption is nuclear.
And we're almost entirely dependent on foreign imports for uranium.
In 1980, our uranium was 100% made in America.
Then trade barriers were removed.
Now, less than 5% of our uranium comes from American sources.
We consume 50 million pounds of uranium every year. But we only produce two million pounds! We produce less uranium now than we did in 1955!
We have 100 nuclear reactors… but only produce enough fuel for one!
To meet our demand, we import a stunning 48 million pounds every year.
America is 97% reliant on foreign sources of uranium.
Our biggest suppliers?
Russia and its satellite states of Kazakhstan and Uzbekistan.
In total, they supply almost HALF of our nuclear needs.
The national security risk is clear.
That's why a small group of American uranium companies filed a 232 petition in 2018, asking the Commerce Department to require 25% of the country's uranium needs be met with American supply.
A few months later, the commerce secretary announced the beginning of the investigation.
Trump now has no choice but to impose strict mandates on our uranium supply. He's going to create new strategic American uranium reserve, just like we have for oil.
Right now, America produces precisely zero uranium. So you are getting in now on the absolute ground floor.
Get In on the Ground Floor of This Explosive Supercycle
U.S. energy utilities will have no choice but to replace their Russian suppliers and "buy American" instead.
And as a direct result, uranium will surge exponentially.
You see, in order to fill the gap, American miners would have to boost production substantially.
At the moment they only produce enough for 3% of America's uranium needs...
But as soon as the 232 mandate is enacted, they'll need to produce as much as 25% of American demand — more than 8X what they currently produce!
But they won't do it. Not at the current ultra-low uranium price of $28 per pound.
To meet the 232 production requirement, U.S. miners will need the uranium price at no less than $60.
Otherwise, they won't make a profit.
That means U.S. utility companies will be forced to buy uranium at no less than DOUBLE the current price — overnight.
And they'll gladly pay it.
You see, uranium is incredibly cheap relative to the overall cost of building and operating a nuclear power plant.
It's just a tiny portion of overall nuclear power costs.
In fact, the uranium price could go to $1,000 per pound… and it still wouldn't affect nuclear operations.
And the light bills won't go out. That's how marginal it is to costs.
So they'll have no problem paying $60, $100, or however much... as long as the uranium keeps flowing.
The case for extreme profits is clear:
Nuclear is the world's largest source of clean energy. More than all others COMBINED.
U.S. utilities are the world's largest market for nuclear... using a third of the world's uranium supply.
And as the price of uranium skyrockets, a small group of companies will have a virtual monopoly on this demand.
I'm talking about the world's #1 clean energy market.
And only a few small companies are poised to corner the whole thing.
At the same time, our uranium supply is already on the verge of being cut off. Due to a convergence of factors... we're on the precipice of the next big uranium supply crunch.
Let me explain...
CATALYST#1:


The Uranium OPEC Has Just Cut Off Its Supplies
Cameco, the world's largest public uranium company, has just announced deep production cuts. Kazakhstan has also shut down its production because of the coronavirus.
Combined, that's 50% of global uranium production that has come offline.
To give you an idea...
That's like Saudi Arabia shutting down its oil rigs!
It removed 13% of the uranium supply from the market — overnight.
To add to that, because prices have been so low for so long... uranium mines are shuttering everywhere.
The world's largest uranium producer, Kazakhstan, has cut production twice.
First 10% in 2017. Then a bigger cut last year.
There's also an Australian uranium giant, second only to Cameco. It shut down its key 5-million-pound mine.
All told, these majors cut a stunning 30 million pounds of uranium production from the market.
That's the equivalent of Exxon, Chevron, and Shell all shutting off their rigs.
This isn't a coincidence.
The world's biggest uranium giants, call them UPEC, are now acting as one.
Their goal?
To boost uranium prices to make production profitable again.
For years, the uranium price has languished, falling from a high of $140 per pound… to lows below $20 per pound.
Not a single uranium company makes money at that price.
Just like no oil company is making money right now.
These uranium giants are using their power to drive the price back up.
How high could it go?
Just to make a profit, the price of uranium will have to at least DOUBLE before miners restart production.
That means enormous profits for a select group of miners and investors who act now.
You see, most miners are leveraged to the uranium price.
For every little jump in the spot price, they soar much higher — sometimes 10x or even 100x higher.
So even if uranium jumps to only $60, this means gains as high as 10,000%.
But that's just for starters...
CATALYST #2:


ALL Uranium On the Spot Market Vanishes...

You see, Cameco is like every other uranium company...

It signs long-term contracts with buyers for supply.

So, now that it's cut production, how will it meet its contract agreements?

Simple.

It has to buy more uranium. Millions of pounds of it.

But with little available free supply, where will it go?

Well, its biggest buyers are in the U.S.

So with the 232 mandate, Russia and Kazakhstan are now out of the question.

In fact, Cameco just put out a buy order for 250 tons of uranium, on the condition that it's not of Russian origin.

There's only one other option: the uranium spot market.

That's easier said than done though.

The spot market has 50 million pounds of uranium on paper, but most of that is just swaps with traders.

Little of it is actually liquid and available to buy.

In fact, Cameco's purchases will remove a significant amount of supply from the spot market.

That alone could send the price of uranium absolutely parabolic.

And that's just one of the new buying catalysts...

There's also a new, first-time-ever fund for uranium.

It's called Yellow Cake.

Its goal?

Corner the uranium market.

The fund just started in 2018, first raising $200 million on the London Stock Exchange.

Since then, it's been on an unprecedented uranium buying spree.

As of now, it's sitting on a whopping 8 million pounds.

That's five percent of the global supply.

And it's just getting warmed up.

Just its existence is evidence that we've entered a new boom. The smart fund money is starting to move into uranium, because...

Uranium is now in a severe supply crunch, with a total 25-million-pound gap. Take a look...
Last year, global uranium production was 189 million pounds.
Consumption was 161 million.
That's a 27-million-pound surplus, which is why the uranium price didn't go up.
But with the 30-million-pound supply cut I told you about...
Plus a 23-million-pound demand increase from the refueling cycle and the needs of new reactors...
Uranium demand now exceeds supply!
And this trend won't stop for the foreseeable future...
CATALYST #3:


$4.4 Trillion Nuclear Power Rollout Is Underway

In spite of its detractors, nuclear is becoming the go-to source of energy...

China alone is set to DOUBLE the world's existing supply of nuclear reactors.

Mind you, that would power more than half of its population!

The cost of this nuclear transition could reach a price tag of over $4 TRILLION.

This unprecedented project is already underway with over 60 reactors under construction.

Once completed, it will be one of the largest electricity feats achieved in human history.

India is planning to power one-third of the country with nuclear energy.

It'll need over 100 power plants to do it — a potential $400 billion price tag.

So in China and India alone, the world's largest population centers, nuclear is shaping up to be a key power source.

One that will provide electricity to nearly two billion people.

To their east, Japan is quickly restarting its reactors.

Without nuclear, Japan is forced to import oil and gas for very expensive prices, leading to sky-high power bills.

Nine reactors have restarted, saving Japanese utilities over $5 billion in fuel costs each year.

Another 16 reactors have applied to restart.

And even then, that's just a fraction of the country's reactor fleet going back online.

Before Fukushima, Japan had the world's third-largest nuclear power use, powering one-third of the country.

Now, that's about to be the case again.

And that's just for starters...

In order to meet its climate goals, Japan needs to almost DOUBLE its use of nuclear power.

How high could uranium soar?

The good news is we don't have to guess.
For the THIRD Time in History...
In fact, this same scenario has happened TWICE before...
The first time was in 1973. A supply gap formed, the price of uranium rose to fill the gap, and early investors made a fortune as the price rose 10-fold.
The same thing happened in 2006.
Surging demand...
Vanishing supply...
And rapidly disappearing stockpiles.
What happened? That's right, uranium skyrocketed to fill the gap.
In fact, it jumped 13-fold.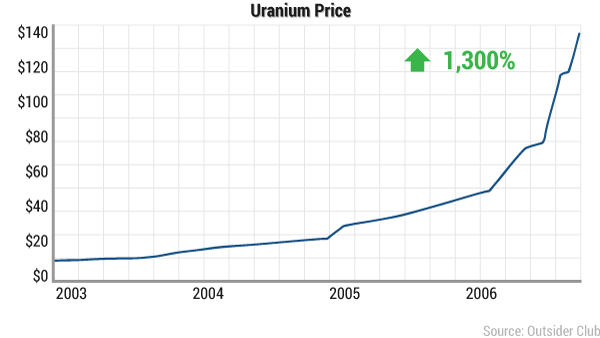 That's a 1,300% gain... good enough to turn $10,000 into $130,000.
I think you'll agree that's spectacular. But it's nothing compared to what the price of uranium stocks did.
Get this: one company, Paladin Energy, surged for a staggering 130,400% return.
That's good enough to turn $1,000 into $1,304,000... in just under four years.
All on this single play.
Incredible.
Take a look in your wallet right now...
Imagine every $10 turning into over $13,000... every $100 turning to $130,000!
Not a decade from now, but in just four short years.
And there were other smaller — yet still amazing — winners.
Like one company, Laramide Resources, which jumped 30,800%.
Another called UEX jumped 13,976%. I could go on and on...
But here's the important thing for you to understand: History is about to repeat itself.
It's Already Starting...
Since the supply gap began, the price of uranium has already begun to rebound.
In just the last few months alone, it's gone up 40%, from $20 to $28 per pound.
Making it one of the fastest-growing commodities in the market.
And uranium is so hated that nobody is talking about it. Nobody except for me, that is.
In the last year, I've conducted eight separate guest interviews on multiple media outlets.
At the MoneyShow…
For Cambridge House International…
And for Investing News Network…
I've even presented at conferences attended by energy billionaires in New Orleans and Vancouver.
I've done it all for one simple reason:
To ring the bells on this imminent uranium supercycle.
While analysts endlessly talked about pot or cryptos...
I was the lone voice on uranium as it outperformed any and everything in 2018.
Now, this is my final call...
May 1 will be the last day to get in on the ground floor and reap enormous 10- and 100-bagger gains. The kind that fast-track your retirement.
You see...
Uranium is only coming off the very bottom of the market, with the whole way up to run.
This chart shows where exactly we are on the boom.
This is the "sweet spot" to enter, with a ton of potential for gains and very little risk.
And it only lasts for an extremely brief window...
Which means if you want to see the sort of life-changing gains that uranium delivers...
There's no time to waste at all.
You just need to take action immediately... and know exactly where to look.
Specifically, "buying American" is going to be the most lucrative play.
Remember, American utilities are the world's biggest market for nuclear energy.
They consume a third of all the world's uranium supply.
And thanks to the 232 mandate, certain American uranium firms will have a monopoly on this demand.
So let me get right to the biggest 10- and 100-baggers for the next uranium supercycle.
URANIUM SUPERCYCLE PLAY #1:
America's #1 Uranium Miner Will Be the Hero of the 232 Mandate
When the 232 mandate goes into effect, there will be a mad dash for American uranium.
In this scramble, one hero will emerge:
A tiny company with seven uranium mines... which could scale up to 7 million pounds annually. All in less than a year!
That means it could more than triple the entire current production of U.S. uranium.
Yes, you heard that right.
This single company could triple our domestic uranium production.
And that's just for starters...
You see, these seven mines have total reserves of 110 million pounds.
That's 73% of the world's current production.
Half of these sites are mined using what's called in-situ recovery (ISR).
Which is like fracking, but for uranium.
And just like fracking, ISR mining allows for massive expansion in production, at minimal costs.
With few other U.S. uranium miners able to meet the shortfall in supply caused by the 232 mandate...
This company has the potential to scale up production to even greater levels.
That is, at the right price.
After all, that's why these sites are not being mined now.
The uranium price has been sitting too low for too long.
But that's all about to change...
In fact, with uranium at $100 or more, it could fill the entire 24-million-pound gap in a very short time frame.
Meaning it could step in and dominate the entire U.S. uranium sector!
And due to the 232 mandate... utilities will have no choice but to pay this single miner whatever it wants.
Remember, uranium is a marginal cost for utilities. They could pay 10 or even 100x more, without hiking electricity prices. And they're about to be captive to U.S. uranium miners, which produce just 5% of their actual needs.
Just to summarize...
Nuclear is the world's largest source of clean energy.
The U.S. is the world's largest nuclear consumer.
And thanks to the 232 mandate, which would guarantee the market for U.S. uranium miners...
This tiny company is poised to corner the entire market!
All while the uranium price is surging to levels not seen in years.
You'll find full details on this red-hot miner — along with two other "supercycle plays" — in my brand-new dossier:
"Trump's 232 Move: Take Home 1,000-Bagger Gains on the New Uranium Supercycle"
Inside, you'll get their name, ticker symbols, and company profiles.
You'll get my boots-on-the-ground analysis of these companies you won't find anywhere else.
In short, you'll get everything you need to see the biggest profits from the biggest opportunity of 2020.
Today, with your permission, of course, I'll send this research to your inbox absolutely free of charge.
However, before I do, let me tell you a little bit about the other two plays inside:
URANIUM SUPERCYCLE PLAY #2:
The Owner Returned 10,000% Gains in the Last Uranium Supercycle, Enriching Investors
Between 2009 and 2011, the price of uranium doubled. That's not bad. But you could have seen 35-times bigger returns by buying this one uranium miner instead.
In other words, once uranium shoots up from $20 to $60, this stock could potentially soar for 7,000% gains!
There's a good reason why...
Many uranium miners practice something called "hedging."
If the price of uranium falls, they're protected from the downside. But this also limits their upside. In a bull market, they don't show the biggest returns.
This company doesn't do that. It's entirely leveraged to the price of uranium. In fact, it's now shut down production until it can sell uranium at the highest price possible.
This is why it delivers maximum upside in a uranium supercycle like the kind we're now seeing.
It has several fully permitted uranium mines… it's just waiting for higher prices to turn them on to reap maximum profits.
But that's not the only reason why it could be a big winner in this boom.
For starters, it's a U.S.-based uranium miner. Which means, with the 232 mandate, it will be one of the biggest winners of the uranium supercycle.
It owns 20 projects in the U.S., two of which are fully permitted and ready for production.
One has already produced uranium. Another just won a permit for a mine in South Texas.
The miner's founder and CEO is also renowned as one of the industry's best.
Even during the recent terrible bear market, he doubled the size of its resource.
He also kicked production into gear for the first time, which is incredible. Only a handful of explorers ever go from explorer to producer. And this guy achieved that feat during one of the worst uranium markets in decades.
Also sitting on the board of directors is George W. Bush's former Energy Secretary, Spencer Abraham. He knows how to get work done with the government, and is friendly with the Trump administration.
That should set this miner up nicely for the imminent 232 mandate.
Some even call it "the best management team by far in the uranium sector."
Finally, some of the resource industry's biggest investors are buying in on the ground floor...
Including billionaire Rick Rule and Li Ka-shing, the wealthiest man in Asia.
Right now, it only trades at $1.30, but if it does even half of what it did during the last price upswing...
We could see it launch to no less than $30 or more.
I want you to get in right now, before this happens. Which is why I include full details of this supercycle play — and two others — in my new dossier.
Again it's called...
"Trump's 232 Move: Take Home 1,000-Bagger Gains on the New Uranium Supercycle"
I've been putting work in the uranium market for over a decade, building a massive insider network.
It's allowed me to get you the kind of highly lucrative information you won't find from any other source.
In addition to providing you the inside scoop on two virtually unknown U.S. uranium plays...
My dossier details why the uranium supercycle is beginning now. All of the reasons you saw here today. Just to recap, that includes...
The 232 petition that will guarantee 24 MILLION pounds of uranium demand for U.S. miners.
The massive supply cut from the OPEC of uranium
Cameco, the world's largest uranium company, scrambling to buy 20 million pounds of uranium.
The new uranium fund, Yellow Cake, which already scooped up 8 million pounds.
The surge in new nuclear reactors in China and India set to DOUBLE the world's uranium demand.
Japan restarting its nuclear reactor fleet, with nine reactors already back online
All of these catalysts are happening at once, pushing uranium higher and higher.
It's already the best peforming commodity of 2020, even in the face of the coronavirus.
That's why I've laid the groundwork for you.
In this dossier, you'll discover exclusive boots-on-the-ground information on these ultra-lucrative miners. That includes...
Firsthand footage and pictures captured from my visits to their sites.
Inside insight I got from speaking to the geologists, execs, and their big investors.
Upcoming catalyst dates on these miners you won't hear from the financial media.
Maps, history, and assessments of their assets, including my additional intel directly from the sites.
And much, much more.
Again, it's all in my cutting-edge new dossier:
"Trump's 232 Move: Take Home 1,000-Bagger Gains on the New Uranium Supercycle"
Best of all — I've decided to give this report to anyone who's interested... totally free of charge.
So, how can you get your copy today?
Let me show you...
Again, my name is Nick Hodge.
I'm the founder and president of an investment research firm based in Baltimore, Maryland.
I publish my findings in a monthly online newsletter called Wall Street's Underground Profits.
The goal of this research service is simple: Help ordinary investors make fast, safe profits on the biggest financial trends that you'll NEVER read about through the mainstream press.
Over the past few years alone, I've helped my readers make gains in many sectors of the market, including:
1,480% on Lithium X
531% on K92 Mining
489% on Almadex Minerals
241% on Ivanhoe Mines
226% on Pioneering Technology
211% on Golden Leaf Holdings
316% on Akeena Solar
245% on Organovo
426% on Alternate Energy Holdings (in just 3 months)
391% on BYD Company (in 3 months)
240% on Brazil Resources
And many more.
The list goes on. I've helped investors from all walks of life bank dozens of multi-baggers and hundreds of double-digit wins over the course of my career.
And it's helped make many of my readers life-changing money.
One guy by the name of Dan L. wrote to me about one of my recent recommendations...
"I made over $100,000 with you on the first run a year or so ago..."
I've had to redact the stock name there because it's an active play that's still making people money, and it wouldn't be fair to those currently holding positions.
Donald M. shared his story, too:
"I did very well on two picks. Pretty lucky with a profit of $27,649!"
And Anthony R. recently wrote me to say:
"This is the most profitable service in almost 10 years of trading. Pure and simple. [Three picks] have been triple-digit winners for me. As a friend of mine who speaks broken English would say, 'THANK YOU VERY BIG.'"
But my favorite is from Tom D., who made nearly half a million dollars on a single trade:
"Nick — My account is now over $450,000. Happy with the gains so far! Thanks!"
Stories like these are why I love to do what I do.
But that doesn't mean my job is easy...
It takes a lot of hard work and boots-on-the-ground research to maintain the success I've experienced.
Whether it's flying out to the Nevada desert to get a firsthand look at the lithium that will supply our electric future while enriching shareholders…
Or walking the conference floor with company executives at the most prestigious investment shows in the country...
Or trekking through Idaho to what could become the largest gold mine in the country...
Or, as I did in this case, going to several uranium projects in the United States and Canada and meeting with executives.
There's not a stone I won't turn over if I think there's money to be made on the other side.
As a result, I spend millions of dollars each year on research and growing my business.
I've been in a three-man helicopter over the Canadian wilderness... stood on the edge of 500-foot-deep mines... and attended $5,000/seat conferences across the country... all in the name of securing the full stories behind the biggest wealth-creating opportunities in the world.
But of all the stories I've broken in my career...
Of all the gains I've helped my readers make...
NOTHING compares to the opportunity that's unfolding in the uranium market right now.
Flat out: It's the best opportunity you'll ever have to make life-changing 10,000% gains in the next few years.
The kind that could allow you to retire early with more money than you know what to do with.
But it's CRUCIAL that you position yourself right now, before this mine's real wealth is released to the public...
Wall Street's Underground Profits
Even if you manage to find the PERFECT stock to invest in... that one stock that's guaranteed to make you money in the long run... how much should you pay for it?
Better yet, what happens if there's a lot of volatility? Do you keep the stock, buy more shares, or cut your losses?
These are questions even the most seasoned investors on Wall Street have trouble answering.
That's why I created Wall Street's Underground Profits — a newsletter designed to take the guesswork out of investing for the average person.
Here's how it works:
On the second Friday of every month, I publish a new issue of Wall Street's Underground Profits.
In it, I give brand-new recommendations... explain what to do with existing portfolio holdings... and go over my overall market theses in great detail.
ALL of the legwork is done for you. Your only job is to execute the investments I outline — it really couldn't be easier.
Even if you have little to no experience buying stocks, you can become a highly successful investor in a very short period of time by following my simple, straightforward advice.
As a member of the Wall Street's Underground Profits community, you'll get:
Our Monthly Newsletter: Each month, we give you an in-depth report on the practical steps people are taking right now to plan for, and live, a successful and prosperous life.

You get 12 monthly issues of the Wall Street's Underground Profits newsletter, in which you'll discover unique investment opportunities that could consistently grow your wealth, no matter how much or how little you currently have, and strategies on how to (legally) live outside "the system."

Plus, you'll also be able to access these monthly issues from your computer or even your cell phone. We give you advice on how to make sure you don't run out of money... the best ways to generate long-term income... how to benefit from changes in tax laws... and much more.
Special Alerts: In addition to our monthly issues, you'll also get regular investment alerts, updating you on existing positions and other investments I'm currently researching. I also address our portfolio and any actions I recommend you take with our positions. And while I cannot offer personalized advice, during these updates, I will be publishing answers to questions or comments we get from our members.
Wealth-Building Strategies: Wall Street's Underground Profits is much more than merely an investment newsletter. It's a comprehensive financial and wealth-building road map.

We help you access the tools and resources you need to invest successfully — and protect your life savings.
Special Bonus Reports: Every quarter, I'll be adding NEW special reports to the archives... reports that could make a substantial difference in the ways you save, invest, and maintain your personal freedoms. These special bonus reports are yours FREE as a subscriber to Wall Street's Underground Profits.
24/7 Access to Our Subscribers-Only Website and Archive: Complete, 24/7 online access to a special forum where you can interact with me and other members of this community... asking and answering each other's questions and exchanging ideas on investing, wealth preservation, self-reliance, privacy protection, and much, much more.
So how can you get your free copy of my brand-new research report, "Trump's 232 Move: Take Home 1,000-Bagger Gains on the New Uranium Supercycle" today?
It couldn't be easier.
All I ask is that you take a 100% risk-free trial subscription to my research newsletter, Wall Street's Underground Profits, and I'll send you the report completely free of charge.
YOU GET HALF OFF! Join Us While Wall Street's Underground Profits Is Less Than 14 Cents Per Day!
So by now you're probably asking yourself: How much does all this cost?
Well, the answer might shock you...
I've seen boutique financial research firms charge upwards of $10,000 a year for the SAME information I've included in Wall Street's Underground Profits.
But I'm not charging anywhere near that amount.
Normally, a one-year subscription to my Wall Street's Underground Profits newsletter costs just $199 a year.
For years, that was the least I'd ever consider selling my research for... It's just too valuable to give away for any less.
But because of the magnitude of the opportunity I've detailed today, I'm slashing that price even further.
So, if you sign up right now, you can take advantage of a once-in-a-lifetime offer.
By agreeing to take a trial subscription to Wall Street's Underground Profits today, you'll SAVE $100 instantly... and pay just $99 for an entire year's subscription.
That's 27 cents per day for financial research others have paid up to $10,000 for in the past!
But I'm not going to stop there...
When you sign up now, you'll also receive a special bonus report worth $49...


BONUS GIFT #1: "Wealth Without Risk: Growing Rich Without the Stock Market" — a $49 Value, Yours FREE!
It's no surprise more and more people are pulling their money out of the markets, given the uncertainty in the world.
They're starting to see that the market is much like a casino — people lose and "the house always wins."
That's why I created a brand-new special report on the three best investments that have NOTHING to do with stocks.
You'll discover:
The single greatest asset class that billionaires are piling their money into right now. (Here's a hint: it's not gold!)
A special commodity that has proven to consistently go up in value. (You should invest in this today — no matter what happens in the financial markets. In fact, I've invested thousands of dollars myself into this commodity, as it acts as a hedge against all sorts of financial mayhem)
A much-needed investment that China is prepared to spend up to $330 million on over the next decade — one you can snap up while it's still incredibly cheap. And MORE.
This additional report puts the total value of today's offer up to $248.
Again, you'll pay just $99.
But that's not all...
Sign up now and receive TWO bonus gifts in addition to those mentioned above — valued at $98 — all FREE:
BONUS GIFT #2: "Bank-Proof Your Money" — a $49 Value, Yours FREE!
Did you know that if you wanted to withdraw over $5,000 from your own checking or savings account today, you may need special permission from your bank?
Did you know that the IRS or a creditor can put a freeze on your bank account to satisfy a debt?
Fortunately, you have alternatives. In this valuable bonus report, I reveal ways you can beat the banks at their own game while keeping your money safe AND avoiding the sky-high "fees" and surcharges the banks continue to hit all of us with. You'll discover...
How to preserve your savings — even if banks continue to tack on more and more service fees and surcharges...
Why traditional brick-and-mortar banks are becoming obsolete because of the emergence of safe and secure online banks...
The right and the wrong way to use safety deposit boxes...
Sneaky surveillance rules the banks follow — and how to make sure you don't fall into their trap...
"Alternative" accounts where you can put your savings. These accounts offer the highest interest — without any monthly or annual fees...
And lots MORE!
BONUS GIFT #3: "The Secret Financial 'Hacks' of the Super-Wealthy" — a $49 Value, Yours FREE!
It's no surprise people's faith in the financial system is diminishing. Instead of bailing out the middle class over the past several years, trillions of dollars have been spent bailing out banks and corporations.
But as the old expression says, don't get mad... get even!
In this bonus report, I reveal dozens of little-known financial "hacks," shortcuts, and insider secrets that help you grow your wealth much, much quicker. You'll discover...
A financial tool that is rarely used by individuals but that is used by every multibillion-dollar corporation to grow and increase cash flow and decrease expenses. (Once you start using this, you'll be amazed by how much money you'll make — and save — year after year.)
A proven strategy to maximize your wealth that could mean the difference between retiring with $500,000 in savings and $5 million in savings.
The most surefire (and legal) method I know of — and personally use! — to lower my income taxes each year, no matter how much money I make. (Just doing this alone could save you tens of thousands of dollars that you'd have to pay to the government.)
And lots MORE!
That's nearly $350 worth of research for just $99 — over 71% OFF the normal rate!
Even better... by signing up today, you'll receive everything I've mentioned 100% RISK FREE.
We'll take out this section in another version to test no refund...
Test-Drive Wall Street's Underground Profits With ZERO Risk for a Full 6 Months!
I believe you should thoroughly vet anyone you take financial advice from — and I'm no different.
That's why I want to give you the opportunity to review EVERYTHING I publish for the next 6 months... without making any financial commitment whatsoever.
I'm so confident that your trial subscription to Wall Street's Underground Profits will be worth every penny of that $99, I want to offer you the strongest money-back guarantee possible...
If you aren't completely satisfied with my research, I'll send you a full, 100% refund of your subscription cost — no strings attached.
Just call our friendly customer service department during normal business hours and they'll gladly refund your money.
This makes today's offer a no-brainer — it's 100% risk free.
Remember, I've done all the legwork for you.
I've traveled the globe, built an immense contact list of industry insiders, and my company has spent millions of dollars to uncover these kinds of opportunities.
Other firms have charged upwards of $10,000 for similar research in the past...
But by signing up for a 100% risk-free trial to Wall Street's Underground Profits today, you'll pay just $99.
Best of all, Wall Street's Underground Profits just became even MORE valuable...
AGAIN, this is a once-in-a-lifetime opportunity...
In my brand-new research report, "Trump's 232 Move: Take Home 1,000-Bagger Gains on the New Uranium Supercycle," I reveal everything you need to know in order to make a fortune on the coming 232 decision.
You'll discover...
The full extent of the wealth potential of the 232 uranium decision, and when it will become public knowledge.
Why the government WANTS more American uranium mined.
What analysts are saying about the implications of the decision.
And which uranium companies are poised to soar the highest.
You'll also see exclusive, off-the-cuff footage of my trips to uranium projects.
Remember: similar supercycles have returned as much as 130,400% gains for early investors.
That's good enough to turn $1,000 into $1,304,000... in just under four years.
Could history repeat itself? And for YOU?
Yes, but only if you buy in immediately.
I urge you not to miss your opportunity to take part in this historic event. So click here... or on the button below to get started. You can also call our friendly customer support staff (toll-free) 1-855-877-8623 Monday–Friday, 9:30AM-4:30PM EST.
Remember: You have everything to gain and nothing to lose.
I look forward to the wealth we'll make together.
Call it like you see it,
Nick Hodge
Founder, Wall Street's Underground Profits