For The Fourth Time in History...
Secret "Gold Database" To Make New Millionaires Again
It's generated real gains of 1,300%, 2,252%, and 2,800%... enriching all early investors.
Now, it's picked the NEXT three gold 10-baggers and history is about to repeat itself. Discover why they're set to soar for the biggest gains of the next gold supercycle... by July 31st.
Hello, this is Gerardo del Real.
Gerardo Del Real
Managing Editor
Junior Mining Monthly
Junior Mining Trader
I'm excited to come to you with what I believe is the biggest gold opportunity we've seen in over a decade.
The chance to buy in on red-hot gold plays for under $1, right before gold breaks out to record-price highs.
How is this possible? And what's given us this unusual opportunity?
It has to do with a proprietary gold database, invented by a wealthy mining family, that's become the stuff of legend.
Worldwide, this database — and its wealth potential — are revered in industry circles.
That's because it's made new millionaires on no less than three separate occasions. That's right, three times it has identified and uncovered new gold deposits. Discoveries which became mines that now produce real, tangible gold.
It's the only surefire way I know of to strike gold, with complete predictability.
Even better, it's set up early investors for 10-bagger gains each time around.
I'm talking about the chance to take home more than 15 or 30 times your money. Not once, or twice, but three times over.
For example, this database discovered...
The Santa Fe gold-copper mine in Nevada. The junior miner that owned it surged from 25 cents to $7 on the discovery, before being bought out — all in less than a year. That's a 2,800% gain in under 12 months!
The Caballo Blanco project in Mexico. The company that optioned it surged from $0.17 the next year to $4.00. That's a return of 2,252% in just over two years on the back of a gold discovery.
A gold-copper project in eastern Mexico with $3 billion in gold and silver. Shares of the miner behind it surged for 1,300% gains on news of the discovery in less than a year.
Just $10,000 invested in each one could have handed you over $635,000 in net profit. In just 12 months or less!
Now, it's about to happen again. Only even bigger this time around.
In short, this database has once again honed in on three virtually unknown opportunities...
Each with similar or even bigger money-making potential than before.
For the lack of a better term, I call them the "Gold Trinity."
These gold stock rockstars now trade for less than $1 per share. One for just 60 cents. And that's incredible considering...
They now sit on massive discoveries of gold and silver valued at over $3 billion!
60 cents. $3 billion.
That means major riches when word about their untapped potential finally goes public... and investors snap up every share they can get.
Not since over a decade ago have we had the chance to:
Buy world-class discoveries for dirt cheap.
Watch as gold skyrockets to record highs
And pocket the kinds of three- and four-digit returns that deliver hefty profits from small stakes.
In just a moment, you'll hear the full story on this secret database, how I uncovered its contents, and full details on the "Gold Trinity."
But first, let me share some good news...
Our timing couldn't be better.
Screaming Buy:
3 Gold "Supercycle" Catalysts Are Flashing Red
You see, after years on the bottom, gold has finally lifted off its lows of $1,150. It just crossed the all-important $1,300 price barrier.
An event known as a "golden cross." This price action threshold happens before every major supercycle.
And it's not the only sign.
In fact, there are three indicators that have historically predicted, with uncanny accuracy, when gold is about to not just run...
But take off to new highs.
And they're all flashing red for the first time in years.
One is a central bank buying frenzy like we've never seen before.
In the last 12 months, banks worldwide bought more gold than at any point in 50 years.
Just so I'm clear...
The last time we saw anything close to this much gold buying from banks was when Nixon went off the gold standard.
Afterwards, gold surged from $35 to $800 — and gold investors got rich.
And it's not just central banks...
Billionaires are loading up on gold at an astounding rate.
In fact, I've identified no less than 13 "big whales" who just made buys on gold.
And it's not just a bar or two — they're backing up the entire truck!
Like real estate billionaire Naguib Sawiris — the "Trump of the Middle East" — who just parked HALF of his entire net worth in gold. Yes, half.
That's a whopping $2.8 BILLION buy.
He said it was because of global instability and the potential of a major stock market crash.
Just weeks later, the Dow plummeted 5,000 points.
Since then, gold has shot up by $200.
But here's the thing...
All of these billionaires have it wrong! That's because they're missing the most lucrative way to profit from gold.
One that doesn't involve bullion, futures, or ETFs.
Instead, there are specific gold stocks that always surge as much as 10- or 100-times more. Sometimes higher.
And that means you don't have to put half of your net worth in to make millions. Not even a fraction. Because of the leverage these stocks provide, you decide what you're comfortable speculating with.
That leverage, combined with the fact that these stocks are historically cheap, means you can turn even a small speculation into a large one.
For instance, in the last gold supercycle, the spot price doubled from $950 to $1,900 in two years' time.
Pretty good, but it won't make the everyday person rich.
However, as the gold price surged, there were virtually unknown opportunities for gains like...
32,000% on Reservoir Minerals
17,368% on Sandfire Resources
11,766% on Blackthorn Resources
11,100% on Evrim Resources
10,166% on Mirasol Resources
9,445% on Aspire Mining
8,536% on Guernsey
This is just a small sample of life-changing gold stock gains.
The kind you won't see from bullion or giants like Barrick Gold.
This is how investors who bought in early, at the start of the supercycle, got rich. Even with just $5,000 invested.
All in just 24 months.
Will it happen for you this time around?
It all depends on:
If you act immediately...
And...
Which gold plays you choose to buy.
So that's why I can say, with complete certainty, that if you move today...
Specifically on the "Gold Trinity"...
You could walk away from the next gold supercycle with enough money to fund your whole retirement — no matter how much you invest.
Not even cryptos or pot stocks are as lucrative as this!
And before I forget, there's another major development that makes this opportunity all the richer for us.
Buyout Frenzy Has These Three Gold Stocks on Every Giant's Radar
You see, these discoveries don't strike gold for the big conglomerates. Instead, they happen to tiny companies that trade for $1 per share or less.
So when the giants take notice, they fight each other to get in. And send shares vertical, until a buyout bid too good to turn down comes along.
All early investors walk away richer than they could imagine.
It happens like clockwork. And it's all thanks to this secret database.
Just so I'm clear...
You can NOT find more lucrative takeover targets than this trifecta of gold stocks.
As we speak, giants like Barrick and Newmont are desperate to replace their dwindling reserves by buying companies like these. And they will... even if gold doesn't go anywhere.
But as gold surges to new highs, it will "juice" the gains even more.
Exponentially more.
Bottom line: Two of these are already marked for lucrative buyouts, the kind that make early investors rich. It's just a matter of when.
In a moment, I'll share with you the catalyst that could ignite this gold bidding war. One that sends shares from below $1 to $3... $5... even $10.
You'll see why you need to buy these stocks by July 31st. Or even sooner. So there's no time to waste.
You'll also see all of my compiled intelligence on each of these red-hot gold stocks...
Including unseen geological reports, satellite images, and photos and videos from my boots-on-the-ground exploration.
These mines are in distant, remote areas. Places most analysts have never seen, or even heard of...
But where I frequently travel, by helicopter, to survey the land firsthand.
I take extensive tours of the properties.
I take samples.
I read the maps.
I see the drill holes.
I analyze the models.
I touch the gold and silver myself.
I speak to the geologists, the exploration team, the drill team — everyone involved in the project.
I see everything that you will NOT find in the investor presentations or quarterly earnings reports.
In short, I lift up the veil and "go under the hood."
All to hone in on the gold and energy opportunities that turn everyday investors into millionaires.
That's why I put down my own money into all three of these plays.
I put my money where my mouth is.
In a moment, you'll see three surefire indicators that prove gold is on the cusp of a historic run. The kind not seen in a decade.
One of these is a central bank "gold mandate" that already took effect on March 31.
In fact, in all my years in the mining markets, I've never been so certain that gold is set to double. And virtually nobody sees it coming.
Just as everybody watched real estate in the 2000s, as gold quietly roared from one new high to another...
All of the most popular analysts will be caught off guard... trying to play catch up.
While all of the real fortunes will go to those who buy in now.
And, finally, you'll discover this secret gold database and how it uncovers billion-dollar gold mines.
Generating gains like 1,300%, 2,252%, and 2,800%.
Its proprietary selection system is virtually guaranteed to detect and locate tons of gold.
You'll see how it's done, using a process that's made it the envy of the gold mining world.
This is the kind of database the gold giants would pay a fortune for.
And you'll get a sneak peek today.
But before I go any further, allow me to fully introduce myself, and what qualifies me to speak on the matter.
I've Made Fortunes for Billionaire Clients in the Gold and Energy Markets
As I mentioned before, my name is Gerardo Del Real. I've turned my mining stock investments into a sizable nest egg.
I'm lucky enough to travel around the world, from Ireland to Colombia and beyond, looking for these opportunities.
None of this is to brag. Rather, to show you what's possible in this space.
Because I wasn't born into the picks-and-shovels world. I started off in many other careers, including marketing and real estate, before beginning my investing journey into metals and energy.
I'm Exhibit A that anyone can build a fortune quickly in this sector.
Like when I made 500% on Tasman Metals.
Or an unbelievable 832% on Nevada Sunrise in six months.
This would've turned $10,000 into $93,200... again in six months.
But, those are nothing compared to my biggest win that helped me amass a fortune.
7,042% on Quest Rare Minerals. You could've turned $10,000 into $714,200.
That would more than fund a retirement for life with that one play alone.
But, like I said... I didn't grow up knowing all this. I've spent over a decade building up the connections and the eye to spot winners.
After years investing in real estate, I stumbled on the amazing world of mining companies and resource stocks.
I'd always been aware of the space. After all, my family is from Zacatecas, Mexico, which is world renowned for its silver mines.
However — this was the mid-2000s. And I sensed real estate was about to collapse.
As you know, I was spot on.
Before the market tanked in 2008-2009, I had the foresight to become a private consultant for mining investors. I met with influential mentors all over the space.
One man I help consult for is a billionaire. I can't share with you his name due to privacy. However, I am allowed to say that I've helped him both make and save millions through the years.
Most importantly — however — during this time of consulting and investing myself, I've built up quite a Rolodex.
I'm sitting down with top names in the industry, companies with mines and projects worth hundreds upon hundreds of millions.
Yet, these CEOs pick up the phone when I call.
I write the resource publications for the Outsider Club and co-own Resource Stock Digest. Every month, over half a million readers get my research. I even began releasing some of my private CEO interviews.
Today, you're more likely to find me exploring a mine Mexico than on the golf course. I'm the one there sloshing through the mud and talking to the locals, not sitting behind a desk.
My real estate experience in spotting potential mines has surprisingly paid major dividends for both my subscribers and my personal bank account.
Like when I landed a 400% winner on Midas Gold, thus turning every $10,000 into $50,000.
And that's not all.
I cashed out 138% returns on True Gold...
And — one of my top picks — a 3,900% whale from Rare Element Resources.
Imagine turning $10,000 into nearly $400,000.
Yet, I believe you'll make much, much more money with what I'll show you today.
...maybe even better than that 39X winner I just showed you...
Because right now, I believe we're staring down the barrel of the biggest opportunity in the gold markets in 11 years.
In fact, I've even been liquidating some of my personal assets to buy more gold shares.
And I'll keep buying all the way to the point when we've officially hit gold mania.
Over the next couple months, you'll have a limited window to get into these gold stocks at fantastic prices...
Before gold prices take off... and before these tiny stocks explode into the stratosphere.
I believe the gains we'll see could trump any of the previous ones I've found in the past.
So let me give you the full details right now...
Family's Database is Legendary for Finding Billion-Dollar Gold Mines
This secret database is 75 years in the making...
Assembled by the world's two top geologists...
A father-son duo who've both spent their lives uncovering major gold and metals finds...
It makes famed discoveries unlike anything else I've seen.
Although I've enjoyed a long friendship with the family for years...
Although I've invested and profited from their discoveries...
Tracked their new moves...
Interviewed them, gone on tours of their sites, and had off-the-cuff conversations.
They always kept this database and its contents hush-hush. Even I never got a "peek."
You'll get yours today.
On my last trip to eastern Mexico, I once again met up with this mining family.
I toured their new drilling holes, we talked about shifts in the gold market and prospects for a buyout.
And then — in the evening — we sat and talked at the plaza in the local city of Veracruz.
But this discussion would be different than any we've had before.
I was enjoying the ambiance of the quaint old colonial town and relaxing after a long day of exploring the 28-square-mile site...
Then, in the middle of talking about the weather and political developments, suddenly the son pulled out a laptop and plugged in a flash drive.
He turned it around and there, in front of me, were the contents of this secret database.
I won't go into exact details...
But over the past decades, they've compiled all kinds of unusual data nobody else is privy to. Things like...
Geological and geophysical analysis
Land survey maps
Sample reports
Satellite imagery
Exploration photos and videos
And more.
It's all technical geological stuff. But if you want to make major gold discoveries...
The kind that mint millionaires...
Every piece of data counts. And they leave no stone unturned.
You'll find the family frequently traveling by helicopter. Dropping into little-known spots you've never heard of.
Walking the land, taking samples, exploring the rocks...
Each bit of data, everything they find, all of it becomes part of this database. And finally...
It all gets filtered through a proprietary system.
One that backtesting shows could have uncovered every single major gold discovery in history.
The result of their work...
An unprecedented database that, time and time again, uncovers the world's hottest gold and metals deposits.
Enriching all early investors. Every single time.
Out of 5,000 potential target properties they've visited from the Rio Grande...
All the way to the border of Guatemala...
This is how they've honed in on 30 specific sites that they know for certain carry gold and other metals.
In this mix, they're drilling on the top four.
They've literally picked out the cream of the crop. The top 1% of the 1%.
And that's important because industry experts will tell you...
Only 1 in 1,000 Targets Become Gold Mines
Let me repeat that...
1 in 1,000 targets.
This means, just 1% of 1% of the properties that are believed to have gold are actually real deposits...
The kind that could become an actual mine.
And their system has the ability to select this elite top percentile.
How did they build it?
The son is a geological wiz. For his Master's degree in geology, he researched gold deposits in New Zealand. He earned his PhD doing the same in eastern Mexico.
He's traveled the world, exploring what gold discoveries look like — in firsthand detail. He knows when gold will be struck long before the drills hit the ground.
This is possible due to something called a "geological thumbprint."
A pattern that indicates the presence of massive deposits of gold and precious metals.
In short, it takes a number of special events happening on a planetary scale...
All colliding at one spot...
To create the conditions needed for giant piles of gold in the ground.
It doesn't happen very often, but when it does...
It's a guaranteed indicator of gold mines.
The Unusual Pattern That Creates "Gold Factories"
The first ingredient is tectonic activity.
In short, earthquakes.
According to a recent study published in Nature, earthquakes are basically "gold factories."
You see, gold is an incredibly rare element. It is only found in two of every billion atoms of sand.
This is why most gold miners find nothing. They're searching blind in a sea of sand and rocks.
On the other hand...
80% of the world's gold discoveries are found along fault lines.
Places that have multiple mini-earthquakes that happen every single day, most of them unnoticed.
And the reason why is simple... Underground water.
Yes, they literally turn water to gold.
The process happens like this...
As groundwater comes into contact with hot molten rock, deep underground, the rock dissolves.
The water, known as hydrothermal fluid, carries metals like gold, silver, copper, and more.
As it flows into cracks, faults open up in the earth.
In the fault line, tectonic plates rub against one another constantly, creating enormous pressure.
But when the fault opens up during earthquakes, the pressure drops suddenly.
It's like pulling the top off of a pressure cooker.
The pressure shift instantly vaporizes the hydrothermal fluid, creating "veins" of gold and minerals.
The groundwater flows back in.
Rinse and repeat.
And remember...
Gold is indestructible!
So over time, as a fault has hundreds of smaller earthquakes, the result is giant high-grade deposits of gold.
This may be all-new research published in Nature. But it's a phenomenon that's been known for years by this family of geologists.
Something that's led them to major gold discoveries again and again.
But it's not just anywhere there's earthquakes. Location is never a sure thing in mining.
The next ingredient is, of all things, the rocks.
The process of "ore formation" — when gold deposits are created — leaves certain traces on the surface.
Without going into a science lesson, this is called "hydrothermal alteration."
It's when the fluid that deposits gold, silver, and other metals literally changes the ground above.
For example, K-silicate, potassium-rich rock, is common in every single massive gold deposit.
It's the...
"#1 Indicator of a Major Gold Discovery"
In the world's top gold deposits, K-silicate is always present. Including in the famed Grasberg mine of Indonesia, the granddaddy of all deposits, that holds over 100 MILLION ounces of gold. It's the world's #1 gold mine and #2 copper mine.
My point is...
The father-son duo knows where to look and all the key markers.
They have a combined eight decades in striking gold over and over.
It's the family trade. And they didn't achieve this success without a reliable formula.
After years of exploring, testing, and recalibrating these numbers to exact precision...
Their system can run all of the tons of data points collected on the ground...
And confirm that there is gold below, plus the amount and quality — all with virtually guaranteed accuracy.
This is before a drill ever hits the ground!
This is how they nail one gold 10-bagger after another for investors!
Now, this database has made three explosive discoveries that anyone who wants to get rich in the 2019 gold boom should know about.
Three 10-Bagger Gold Plays Under $1
One has a deposit with a proven $3 billion in gold and silver reserves.
One has stakes in two dozen properties with similar numbers, collecting 18 royalties.
Another has five gold targets so potentially lucrative that Newcrest bought 20% of the project. And get this... it bought it at SEVEN TIMES higher than the current share price.
This means, even at the current low gold price, the gold giants are willing to pay 600% more!
I think a buyout is fast approaching for each of these plays. It's not a matter of if... it's when.
And the miners behind each of these major finds now trade for $1 or less per share.
This means, for a limited window, you have a chance to buy in on the world's hottest gold discoveries...
All for less than $1...
Before the big guys come in and buy them out for 5x, 10x, 50x their price or more.
It's happened before. And it's on the verge of happening again.
In just a moment, I'll share with you the details about each of these red-hot opportunities.
You'll see photos and videos of my recent visits to their sites. You'll get the inside scoop on why these are the gold finds of the next decade, or even century.
But before I do, allow me to explain what makes this so lucrative right NOW.
You see, there are three new catalysts that could DOUBLE the gold spot price, conservatively estimating.
They've done so in the past.
And each time, certain gold stocks soar for life-altering gains that mint new millionaires.
We haven't seen conditions like this in over a decade.
Let me explain...
GOLD SUPERCYCLE CATALYST #1:


The Central Bank Gold Rush
You wouldn't know it from listening to the Fed...
Or the coverage of Davos...
But central banks are on an unprecedented gold-buying binge.
In 2017, central banks loaded up on 375 tons of gold.
In 2018, it surged to 651 tons.
That's not only a 74% boost...
It's the second-highest year of gold buying on record. To be clear...
Not since Nixon depegged the dollar from gold in 1971 have central banks bought this much gold.
Back then, gold was $35.
By 1980, it soared to $800.
Now, once again, banks are piling cash into gold in a frenzy.
And we don't have to guess why...
You have slowing growth in China...
Negative interest rates in Japan...
And the European bond market collapse...
That all point to a global financial system teetering on the brink. Even the banks themselves are saying it.
But I'm not here to shout doom and gloom...
Because I believe the gold supercycle of 2019 is the single-best opportunity to get rich that we've seen in years. Bigger than pot or cryptos.
The last time we saw this happen, gold exploded to record highs. In 2009, banks went from net sellers of gold...
To net buyers.
Gold doubled from $950 to $1,900.
Virtually unknown gold and mining stocks surged for massive gains like...
1,118% on Endeavour Silver
8,155% on ATAC Resources
1,775% on Silver Lake Resources
1,103% on B2Gold
1,438% on Lydian International
1,180% on Millrock Resources
1,673% on Goldquest Mining
1,067% on Northern Superior
2,588% on Condor Gold
2,244% on Roxgold
1,514% on Semafo
2,050% on Channel Resources
1,370% on McEwen Mining
1,020% on Goldrush Resources
1,350% on Robex Resources
Just a little bit invested in one of these tiny miners could have made you a millionaire. All in less than 24 months!
We're seeing the exact same conditions taking shape right now. And the plot gets thicker...
There's another big development that has the central banks on a buying spree.
It's a major "gold mandate" for central banks that's set to change everything.
GOLD SUPERCYCLE CATALYST #2:


On March 31, a New "Mandate" Made Gold a Central Bank Reserve Asset

I'm talking about a new set of rules called Basel III.

These are guidelines for the Bank of International Settlements — known as the "bank of central banks."

The rules came about during the 2008 financial crisis to stabilize the system and stop a global contagion.

But they had a substantial flaw that undermined gold...

Under the first set of rules, only currencies and government bonds were deemed bank reserves.

So only their full face value was counted in audits. On the other hand...

Gold was classified as a "Tier 3" asset — counted at only 50% value on bank books.

Since then, we've seen many bond markets collapse. And others, like in Europe, are set to blow...

Government bonds, once thought to be "as good as gold," turn out to be actually junk.

While gold has NOT lost a bit of value.

That's why the rules have now changed.

On March 31, a new update to Basel reclassified gold as Tier 1. This shift seems small...

But the implications are HUGE.

Now, when banks are audited, gold will be accounted at its full market value. Just like cash and bonds.

The new rules DOUBLE the value of central bank vaults — all with the stroke of a pen.

And I'm talking about real, actual physical gold. Not futures.

This is essentially a "gold mandate" for the central banks.

It's not hard to see how this makes gold a significantly better buy for banks.

This is why no less than 36 central banks are swapping cash for gold this year.

At the same time, the supply is rapidly vanishing...
GOLD SUPERCYCLE CATALYST #3:


Experts Are Saying "Peak Gold" Has Arrived

You may be familiar with the concept of peak oil. The idea is that at a certain point the easy-to-get oil will be gone, extraction will get more expensive, and production will steadily decline, never to hit new highs.

The thing is, this can be applied to all finite resources, including gold.

And right now the production of gold is rapidly shrinking, just as demand is soaring.

It's called "peak gold." Yet the trend is virtually unknown outside of mining industry insiders.

Recently, Goldman Sachs warned that there's "only 20 years of known mineable gold reserves."

The "known" part is key.

That's because the costs of mining exploration have surged tenfold, even as new discoveries become few and far between.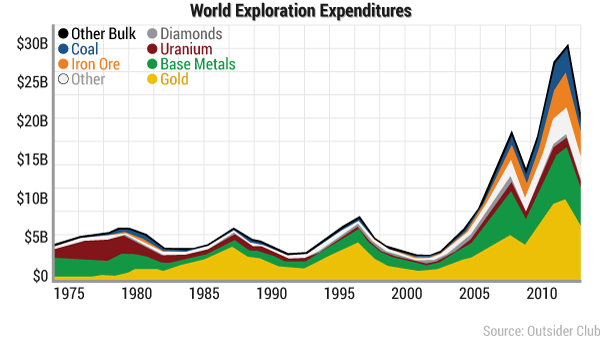 This has caused exploration to plummet in recent years, simply because the cost isn't worth it.
That's why top gold analysts at Sprott Asset Management — who have invested over $8.5 BILLION in gold and precious metals — claim that 2015 is the year when gold hit its peak production.
The timing makes sense...
You see, the gold market operates in 20-year cycles. Which means it often takes 20 years to haul up the first ounce of gold from a new discovery.
And the peak year for discoveries, as seen in this chart, was 1995.
Blackrock, the world's largest hedge fund, agrees we've reached "peak gold." In this chart, it shows how gold production will decline every year moving forward, even with higher prices!
In spite of a tenfold boost in spending on exploration...
The amount of discoveries has actually plunged.
The result?
Five years ago, there were over 2,000 exploration companies.
Now it's more like 900.
With so few discoveries, the big conglomerates are desperately trying to grow their pipeline.
That leaves only one option:
Mergers and acquisitions.
Companies like Barrick are working overtime to consolidate their market share. For example...
One thing is sure for the foreseeable future:
Gold giants like Barrick will spend money on lucrative deals for other miners...
NOT to explore, build, and dig new mines.
Which means the world's gold production is on the cusp of a major crunch.
Just as gold demand from central banks is hitting all-time highs.
Now, I'm not saying that we'll run out of gold to buy...
Not at all.
All this means is that in order to meet the surging demand...
To afford new discoveries and new mines...
The price of gold will HAVE to go up. There's no other choice.
And it also means another thing...
Prime miners, with the best discoveries, will be top takeout targets...
Even more so once gold mania sets in.
It's these that will return the biggest gains in the fast-approaching "supercycle."
That brings me to the three opportunities this secret database has discovered.
These are the absolute top finds from the wealthy mining family's hidden "stash."
It's the culmination of 75 years in exploring and finding big gold discoveries.
And right now, for a small window, you have a chance to buy in at under $1.
Let me tell you a little about each...
GOLD DATABASE PLAY #1:


$3 BILLION Gold and Silver Discovery


Estimated: 1,100% Upside Potential
The first is a landmark gold find in eastern Mexico that's quickly moving to actual production.
In a recent feasibility study, which is the industry "gold standard"... it identified:
1.3 million ounces of gold
And 85 million ounces of silver.
That's over $3 BILLION in value. And remember...
With gold and silver on the cusp of a historic run, the value has nowhere to go but up.
Exponentially.
Now, here's the real opportunity...
Few investors are privy to this mine.
And with gold and silver down for the past few years, most didn't even bother looking.
So the tiny junior miner with complete 100% ownership of the site...
Its market cap is a mere $65 million.
That's right.
The site's value, at current low gold and silver prices, is 46 TIMES its market cap.
This anomaly presents us with an opportunity better than anything I've seen in the last decade.
It gets better though...
You see, this discovery was made by the mining family behind the database.
They used all of their geological data in eastern Mexico to hone in on this site.
They put in a drill.
And struck gold instantly.
That was their first smart move. Their next?
During the gold bear market, they bought a mill worth $70 million...
The mill processes the gold on site. No need to send it downstream.
And they bought it for $5 million.
Literally, the amount saved on the buy is worth more than the miner's market cap.
This is what makes it such a major takeover target.
Major assets... for an absolute steal in price.
What's more, they own six diamond drills. Which allows them to do non-stop exploring.
At all times. All seasons.
For just a fraction of the cost.
And that brings me to another important part of this equation...
The property itself.
Just nearby, there's over four gold and copper target zones. Just a little bit of drilling has shown more gold...
And 95% of the property is still unexplored...
Which means tons more upside potential for this asset.
In fact, it seems like all 28 square miles is teeming with loads of gold and silver. And the potential is clear...
Just a stone's throw away is Mexico's biggest historic mine, Pachuca, which has produced a whopping 7 million ounces of gold and 1.4 billion ounces of silver.
This certainly could do the same. If not bigger.
There's another amazing part of this story...
Compared to other miners that burn cash... and go belly up before they even do a thing:
This play has tons of cash on hand. And it has NO debt.
It uses its money to operate with minimal costs.
Makes smart buys like the mill and drills.
And does NOT dilute the shares.
In other words, it does NOT touch shareholder money.
Which means when there's a new development, discovery, or buyout...
Investors enjoy MAXIMUM upside.
Rarely do you get a clean balance sheet and a billion-dollar asset play — all in one package.
Now, the discovery is moving fast. It's already been greenlighted by the government.
It also has the backing from some of Mexico's most politically connected families.
In fact, Mexican billionaire Ernesto Echieverra is the company's largest shareholder.
He has shares worth over $5 million. And you can bet one thing...
This guy will do everything in his power to make sure he sees maximum profits.
But here's the thing...
We don't have to wait for it to become a mine.
That's because a lucrative buyout is all but imminent. Results just came out from the feasibility study...
And it's always in this window, after the feasibility study, when gold explorers are bought out.
It happens like clockwork. And with gold taking off now...
It's just a matter of weeks or even days before this happens.
At the moment everything is in order.
First, there's financing.
Then there's permitting.
These final two steps are on the cusp of completion.
When this happens, the mine will be ready to get kick started into production.
And at this point the big giants will have no choice but to swoop in.
I expect it all to come to a head by July 31st. It could happen a whole lot sooner, though.
So you won't want to sit on this, especially with gold on a tear.
The two forces, when combined together, could send shares absolutely parabolic.
That's why I want to get you in now...
When shares are at 60 cents, not $6 or more.
And that's why I compiled the full story on this red-hot gold play, and two others...
It's all in my brand-new dossier:
"The Gold Trinity: Three 10-Bagger Gold Stocks for 2019"
Inside you'll discover ALL of the details on the three hottest gold plays for the coming supercycle.
That includes
Their name, ticker symbols, and full company profile...
My off-the-cuff interviews with their execs and geologists...
The images and raw footage I captured while visiting their sites...
And the full resource analysis I've compiled on their assets, including unseen maps, sample reports, and geological analysis.
You'll get everything you need to see the biggest profits from the biggest opportunity of 2019.
In just moment, you'll see how to get your hands on this dossier today, entirely free of charge.
First, let me share a little bit about the two other miners inside:
GOLD DATABASE PLAY #2:


18 of the Hottest Gold, Silver, and Copper Assets in North America — All in One
Estimated: 3,300% Upside Potential

The next one in the gold database is perhaps even more lucrative than the first.

That's because, out of 5,000 target properties...

The database has narrowed down to 18 of the hottest in North America. Including...
Four gold properties in Nevada
Three gold properties in British Columbia's "gold belt" — plus a Yukon diamond discovery
And 10 gold, silver, copper properties in Mexico.
All of these are the premier projects that this database has uncovered.
This is the life's work of the father-son duo that invented it.
It's the complete product of 75 years of geological analysis, mapping, sampling, and drilling.
And it's all now owned by one tiny miner that trades for 30 cents per share.
What's more, it collects royalties from every site.
So you can get paid for every big asset... and have multiple opportunities for big buyouts. The upside potential is unlimited.
But I saved my most potentially lucrative one for last.
A miner that we know for sure could soar for minimal tenfold gains, no matter where gold ends up.
GOLD DATABASE PLAY #3:


A Gold-Copper Play So Lucrative, The Big Guys Already Paid 600% More for Its Shares
Estimated: 3,300% Upside Potential

It's drilling in a gold-copper porphyry in east Mexico.

Now a "porphyry" in layman's terms means a large body of metal ore.

Often they host multiple, sometimes dozens, of big deposits.

This means tons of opportunities for new discoveries...

And remember, since they own the drills, they can drill year round. For cheap.

Which means a non-stop cycle of new results. Results that can send shares surging overnight.

At the moment, they're drilling in five different zones, with incredible results.

For example, in the North Zone that's now being explored and drilled...

Tons of gold and copper was just uncovered that went so deep...

They have to get longer drills to discover more.

And the deeper they drill, the richer the metal gets.

Which means they are just hardly scratching the surface of what's below. And I'm not kidding...

In fact, gold-copper porphyries are known to go almost one mile deep.

And they are starting at the very top.

So we're talking about potential mile-long holes of gold and copper.

These drill results were so lucrative that they got the attention of gold giant Newcrest Mining, who bought 20% of the mine at $1.36 per share.

Now, get this...

The miner with full ownership of the site trades for just 20 cents!

This means, based on early drilling results, the big guys are willing to pay almost SEVEN TIMES the share price.

That's a near-600% upside. After just the first few rounds of drilling.

Even with gold, silver, and copper still coming off of lows.

I believe the discoveries they're making...

Combined with the fast-approaching supercycle...

Plus the potential for a massive buyout.

All point to shares going a whole lot higher.

Again, you'll get all of the details in my brand-new dossier...

"The Gold Trinity: Three 10-Bagger Gold Stocks for 2019"

And you'll get it for free to position yourself immediately.

All I ask in return is that you take a risk-free test drive of my premium service today.
Introducing:
Junior Mining Monthly
I've dedicated my life to understanding and profiting from the ins and outs of every type of resource imaginable... gold... silver... copper... uranium... palladium... even rare minerals like cobalt.
I've also built a multimillion-dollar real estate portfolio. And I've been able to fund it with the profits I've made from my investments in resource stocks.
And I've been sharing what I know with my high-net-worth investor clients for the past 10 years.
But I don't work on Wall Street. Or in Silicon Valley. Or in Vancouver.
I live in Austin, Texas. But I've also lived in Miami, Los Angeles, New York, Chicago, and Alaska.
And for being "off the grid" so to speak, I've done extremely well.
For years, I've also provided research to several well-known newsletter writers who have sought me out.
And I've always wanted to write one myself. Except this won't be the kind of tacky, thrown together newsletters you've probably subscribed to before.
I spend hundreds of hours compiling the most highly detailed analyses for clients on the recommendations I find, as well as exclusive insight into the mining and energy industry from the eyes of insiders and CEOs
And I'm offering this report right now because the stage is being set for a gold bull run of unbridled magnitude...
The question I have for you today is:
Are you going to take advantage of it — while we're still in the early stages?
That's the point of my research advisory, Junior Mining Monthly. It's the best way for you to learn how to take advantage of these incredible opportunities.
Junior Mining Monthly could be your key that unlocks the secrets of one of the most profitable markets in the world... at one of the most important times in the history of the commodity markets.
I'll be mainly recommending gold and silver stocks — because that's where I see the biggest opportunity over the next six months — but there will also be picks from a wide range of resource sectors including uranium, copper, zinc, and lithium.
Remember, my goal is to make money wherever we can, finding the best possible reward with the least possible downside risk.
By focusing on the companies everyone else is too lazy to investigate, I've made a ton of money for myself and for my clients.
I look for companies with "market caps" as small as $10-$20 million that could soar to $50 million, $100 million, or more within a few short months or years.
Now, the truth is I disqualify 99% of the precious metals plays out there... But when I'm fully 100% behind a company — like these three rare gold opportunities — you'll get the trade recommendation in a moment's notice.
We won't make a move unless it has the ability to double, triple, or quadruple your money.
I'll tell you exactly what to buy, when to sell, and when to hold... so you can enjoy the biggest gains possible.
As a member of Junior Mining Monthly, you'll be part of an elite group of investors — a group that takes hold of companies on the ground floor and watches them launch skyward.
I typically get my clients in early with the insiders...
So how do you get started? Well, before I tell you, I should also mention something...
WARNING:


You May Not Be Right For This

You see, in spite of everything I've just said, Junior Mining Monthly may not be right for you.

I don't worry about short-term price fluctuations.

And I don't trade in and out of the market on a daily basis.

I am NOT a "trader."

I'm a cautious, conservative player in a market full of risk takers and gamblers.

Like I said, we invest in the best management teams, with the best assets, that are in safe jurisdictions, and have plenty of working capital.

In other words, investments with massive built-in profit potential with very little downside risk.

That's what makes these opportunities so different from all the gold miners.

This is not about "playing the lottery" or taking wild chances with our money, nor is it some "get rich quick" scheme.

This is about hard-fought, elbow-deep, grease-stained research. Being in the right place at the right moment, that's all.

...And NOT flinching when it's time to "pull the trigger."

But some people just don't have the stomach for the index-busting gains from the opportunities we set ourselves up for so early. If you think this isn't for you, don't worry. It's not for everyone.

But if you think you can handle it, and want to not only protect your wealth from this economic insanity but also profit like you never imagined, I want to give you a fresh copy of my latest report.

It's called: "The Gold Trinity: Three 10-Bagger Gold Stocks for 2019."
And remember, this is just the first round of investment opportunities I have for you.
Over the next few months, I'll be recommending more and more leading up to the coming rally.
The gains will be epic.
In fact, with gold barely off of its lows... my readers have already started to make a killing.
Some of them are even writing in about the profits they've taken home.
Jack S. actually called into our offices and what he said blew my socks off.
That guy [Gerardo Del Real] is just fantastic, there's no other way to say it. I make money. No...he makes money for me. Big time! My God! He's been giving me a Christmas present every month...and all I can say is we are not talking about nickels and dimes...this guy is really really great.
That's an actual phone call we had with Jack.
Jack's not an outlier, either.
We also received these messages:
Mike H. wrote:
Thanks for the great mining stock buying opportunities. Great work!
He's happy because he's already seen a number of gains in just a few months.
One man, Vernon, told me:
The results have been amazing.
And subscriber George F. told me:
Thank you Mr. Del Real... thank you! Since using your publication my portfolio has risen... to a rapidly advancing $110,000. This is truly a dream unfolding! Thank you for your publications based on hard work and something that today is hard to find... your HONESTY and INTEGRITY!
Why Most People Won't Hear About These Explosive Little Opportunities
Now, chances are you've never heard of these companies I'll be recommending...
After all, you won't read about them in the Financial Times or the Wall Street Journal.
They simply don't cover the backbone of the precious metals industry. And that's because these resource companies are SMALL.
They aren't covered by many analysts or brokerage firms. In fact, sometimes I buy these companies before they even have a website.
So how do I find them?
The same way I find all of my companies... with hard work.
I literally filter through thousands of opportunities. I don't just take the word of my tight-knit group of elite contacts. That's not enough...
I put in the extra miles, flying out to many far-flung locations.
My goal is to make at least one site visit per month. And then relay my findings from the field directly to you.
I spend countless hours with CEOs and geologists. I analyze drill hole results. I thoroughly examine all the pertinent documents, including pre-feasibility studies, company reports, and press releases.
I know how to separate who's actually telling the truth from who's just blowing smoke.
In fact, on my private, members-only website, I will "call out" companies that publish fluffy press releases and reports.
In other words, I will expose the companies I see that are making claims that are exaggerated, inflated, or that are just flat-out false.
That's why Junior Mining Monthly will be unlike any other advisory letter you've ever subscribed to in the past.
Sifting through hundreds of these reports is very laborious and time-intensive.
But it all helps me locate only the absolute best, most explosive opportunities out there.
More importantly, it's also helped me SAVE my clients millions of dollars by keeping them out of certain deals.
The Secret Wall Street
Most of these companies aren't listed on Wall Street.
In most cases, you can only find them on Bay Street — that's north of the border on Toronto's two major stock exchanges.
Most people don't know this, but Canada's Bay Street has more junior exploration companies listed on it than any other stock market in the world. It's THE Wall Street of exploration mining.
So to take advantage of these opportunities, you must be willing to invest in tiny companies listed on Toronto's two stock exchanges.
It's as easy as buying a stock on the New York Stock Exchange. It's not hard. And I'll show you exactly what to do and how to do it.
However, I know some people only invest "American." If that's the case, then my service isn't something you will likely be interested in.
On the other hand, if this is still something you would like to do, I will show you how to invest in Canadian mining stocks step by step on my website.
Chances are your broker may already deal with Canadian securities. Almost all of the large brokerages like E*Trade, Interactive, TD Ameritrade, Schwab, and Fidelity already do.
And keep in mind, I get no compensation for mentioning these brokerages. I only provide this information to help you.
So if you're ready to take advantage of this amazing precious metals bull market on the horizon, here's what I suggest you do...
Start a subscription today and you'll have instant access to my newest report, "The Gold Trinity: Three 10-Bagger Gold Stocks for 2019."
But that's just the beginning... As a charter member of Junior Mining Monthly, you'll also get:
Monthly Issues of Junior Mining Monthly (12 in Total) — Every month, you'll receive a new issue of Junior Mining Monthly, which gives you new buy, sell, or hold recommendations, a full analysis behind each of my new picks, and offers you inside videos and pictures of many of the world's top junior mining projects.
Special Junior Mining Monthly Updates — The junior mining and exploration market moves fast. Sometimes a new buy or sell recommendation just can't wait for the scheduled monthly issue. And I'll send you these alerts right away.
Unrestricted 24/7 Access to Junior Mining Monthly Members-Only Website — You'll have password-protected access to all of my issues, special reports, trade alerts, interviews, and my entire portfolio.
Outstanding Customer Support — If you ever have any questions or concerns, just call our Customer Support staff any time between 9:30 a.m. and 4 p.m. (EST). They'll be happy to assist you.
So how much does a membership to Junior Mining Monthly cost?
I think it's insanely cheap — especially considering all the time, money, and effort that go into this research. In many cases, I've spent years following the activities of these geologists before I recommend their companies...
Because you simply can't do this work by just staring at a computer screen.
It takes a lot of time flying to remote locations... staying in isolated locations... and then spending months tracking their developments...
Plus the countless hours I spend compiling all the data for my clients.
And if you're ready for a sophisticated approach to investing in these junior mining companies, you won't find another service like this anywhere else in the industry.
It's entirely unique... not to mention the potentially huge returns these recommendations could generate.
So how much does Junior Mining Monthly cost, and how can you get started?
Normally, I'd charge $1,000 for a full year of access to Junior Mining Monthly.
But that's the regular price... not the special price I'm currently offering to you if you agree to become a charter member of Junior Mining Monthly today.
Just click here to see your discounted pricing and get your report.
Without ever having to renew...
I will say, though, that this is a limited-time offer. There are only a select number of charter membership slots available.
Once those fill up, the price will revert to the standard. No exceptions.
So if you're interested in taking a small stake of your investment money and getting in at the early stages of a few safe yet highly undervalued gold companies that could soar thousands of percent in the coming bull run — I suggest you lock in your spot today.
Because there's also one more reason why I must cap membership to Junior Mining Monthly.
Let me explain...
Bad News: Only 800 New Investors
All of the companies I'll recommend to you have made it through my harsh process of elimination.
Not a single stock makes its way into my portfolio without having the potential for 50-to-1 returns. But they are also tiny. Too tiny to recommend to a wide audience.
We don't want to make any one position blow up prematurely. Because that is not the way I invest. Like I said, I typically get my clients in early with the insiders.
And to make sure that doesn't happen, we need to keep the group of investors who can access these trades small. Really small.
So we're strictly limiting the number of new investors to 800. And you have the first crack at reserving yours.
Investors who get in now could be first in line for the biggest gains from this emerging gold bull market.
With profits like 250%, 832%, 3,900%, 7,042%, and more...
Gains that you could multiply again and again, using the ideas and recommendations you'll find in every alert from Junior Mining Monthly.
That's about as good as I can make it.
If you're interested, welcome aboard.
To get started — and to gain instant access to all of the investment research I described to you today — Subscribe Now.
To your wealth,
Gerardo Del Real
Editor, Junior Mining Monthly
P.S. These slots are going to go fast. If you're not comfortable committing online, and you would prefer joining Junior Mining Monthly by telephone, dial (toll free) 855-877-8623 to secure your membership with one of our customer service representatives.