This Tech Saved the Lives of 1,042 Soldiers Last Year — And Now It's Set to Dominate the Battlefield
How to Ride America's $127.3 Billion Defense Robot Revolution for 9x Your Money
Fellow Investor,
This story begins with an explosion...
Just last year, a massive car bomb detonated, completely wiping out an area the size of four football fields.
The terrorist masterminds behind this car bomb were dead set on total destruction.
Its intended target?
The 850 U.S. soldiers stationed nearby.
But thankfully, when this bomb went off, there wasn't a single fatality...
As I'll explain in detail, this car bomb was stopped in its tracks by the latest technology.
What the Wall Street Journal is calling a "revolution."
So picture it: a mysterious car clad in homemade armor is speeding at 70 mph down a desert road in Afghanistan...
About three miles ahead is the small camp of U.S. and coalition soldiers.
A U.S. helicopter has already seen the car and radioed ahead to the checkpoint that something might be wrong.
An alarm goes off, and everyone is on full alert.
All soldiers are standing anxiously at their battle stations.
In the old days, this would've been all our soldiers could do.
They would be forced to wait until the speeding car actually arrived before taking any action...
Giving them only seconds to shoot or try and stop it.
Dangerous, high-stress situations like this have happened throughout the long wars in Iraq and Afghanistan.
And all too often these situations have ended in tragedy.
Sadly, some 3,500 coalition war fighters have been killed by IEDs and roadside bombs in Afghanistan.
That's an unacceptable number.
But thankfully, this time, things were different.
This military checkpoint in Afghanistan had just been equipped with a small army of defense robots — advanced vehicles the military never had before.
One of these robots was an armed drone...
It shot and destroyed the speeding car while it was still three miles away from the checkpoint.
All 850 soldiers could see the massive explosion billowing into the sky.
They breathed a sigh of relief. Everyone was safe. No human soldiers were harmed.
But the defense robots weren't done...
Small, autonomous ground robots were used to pick through the debris and ensure there were no remaining explosives.
And a hand-launched glider drone searched the area to see how far the shrapnel had spread.
Once everything was confirmed to be safe, human soldiers arrived to complete the investigation.
What could have been a tragedy became a success for both man and machine.
The U.S. military cites this and countless other examples as proof that defense robots are becoming an essential tool for our soldiers.
When it comes to successfully completing difficult and dangerous missions, it turns out man and machine make a really good team...
That's why the U.S. military is in the process of equipping soldiers with $127.3 billion in defense robots.
And thanks to major new breakthroughs in this technology, it's saving lives and sparking a complete revolution in the defense industry.
It's happening right now...
And it's going to make a lot of investors wealthy.
Over the next few minutes, I'd like to show you how to make 9x your money on this unstoppable defense technology.

Far Beyond Drones...
Now, I'm sure you already know a little bit about drones — they've been in the news for more than a decade now.
But I'd like to say right up front that defense robot technology has grown exponentially, and this story is about more than just drones.
We're way past the big, expensive drones used for air strikes during the Bush and Obama days.
Those big drones are still around, but they're too expensive and inflexible to be used by a tiny military checkpoint off in the middle of nowhere in Afghanistan.
Let me take a moment to show you just how far things have come...
Defense robots are in the air...
(...but in more ways than you ever imagined...)
Hand-launched glider drones are being used to scout the road ahead for explosives.
Small, precision-strike gliders are using AI to guide themselves to ground targets.
Tiny copter drones are flying silently and automatically through the night sky to gather reconnaissance intel.
Missile drones are intercepting enemy missiles and disrupting enemy pilots.
Fleets of air drones are training our pilots in realistic air combat... it's like a robot-led version of real-life "Top Gun."
Defense robots are on the ground...
They inspect the bottoms of trucks.
They automatically patrol the base perimeter.
They search roads, bridges, and culverts for explosives.
They autonomously drive entire convoys.
They automatically dig trenches, construct barricades, and generally make life easier for our soldiers.
Defense robots are in the water...
They're used to scout everything from the high seas to arctic ice flows.
Unmanned submarines are used to look for enemy subs and to intercept torpedoes.
They're driving automatic Coast Guard patrol boats into dangerous or remote areas.
They're used in automated naval defense systems.
Defense robots are used to create new defense training scenarios for our aircraft carriers.
In short... relatively inexpensive, infinitely deployable, mission-specific defense robots are being used in every aspect of military service.
According to the Wall Street Journal, many economists are even calling this the "second machine age."
All told, it adds up to a whopping $127.3 billion.
I hope I've gotten your attention — because I'd like to show you how to make 9x your money on major defense contracts coming through the pipeline.
Why NOW Is the Most Important Moment
You see, America's top generals have just authorized billions to expand all of this technology.
As a recent Wall Street Journal headline put it: "Armies Race to Deploy Drone, Self-Driving Tech on the Battlefield."
And everyone from President Trump to the U.S. Congress to local state National Guard units is looking to deploy everything from automatic tanks to the latest air drones.
In short, it's a complete revolution in defense technology.
And for good reason...
Not only are defense robots saving lives, they're also relatively inexpensive and practical.
Robots don't sleep or eat, which greatly simplifies the logistics supply chain.
According to the latest reports from the military, the cost of a single deployed U.S. soldier in Afghanistan is $2.1 million per year.
The cost of deploying elite forces such as the Navy SEALs or the Army Rangers is even higher.
So when you consider just how expensive each human soldier is to support, you can see why the military is so eager to expand the role of defense robots.
And of course, there's the most obvious advantage, which is that robots can be put directly into harm's way to get the job done.
This directly translates to safer missions for human soldiers.
As a strong supporter of our soldiers and veterans, I'm focused on anything that will improve the safety of these brave men and women.
The day of the robot is here.
And this is important for you as an investor because robots already have a track record of consistently delivering fortunes.
We've already seen these recent gains for this kind of technology...
226% on camera drones from Parrot SA
365% on household robot maker iRobot
625% on aerial drone AI support from Cognizant Tech Solutions
675% on the video systems used in robots from Ambarella
1321% on industrial robot maker Cognex
These are just some of the big names that are easy to point to — there are hundreds of other examples.
Like FLIR Systems Inc, which has doubled since 2016.
Or Delta Drone, which soared 207% when it debuted a new line of products.
And Drone USA banked 422% gains with the release of its new flight systems.
All of these companies reaped huge gains from the momentum of robot technology.
But the defense robot revolution is much bigger than all of this.
I'd like you to imagine what these kinds of gains would be like once you add in the massive amounts of money we're seeing from Big Defense.
We're talking about billion-dollar contracts that completely dwarf the amount of funding received by any of the companies I listed above.
Let me show you what it looks like when you combine groundbreaking robot technology and deep pockets.
A Flood of New Contracts Is in the Pipeline
Let's take a look at just how powerful the flow of contract dollars can be...
Here's what happened when robot technology was combined with large contracts from Big Medicine.
In 2000, a small robotics company called Intuitive Surgical (ISRG) began to conduct the first robot-assisted surgeries.
Using a steady robotic arm, human surgeons were able to perform detailed procedures that were never possible before.
Intuitive Surgical demonstrated how each move of the robotic arm is precise, eliminating small errors.
Since the surgeon no longer needs to put a hand inside the patient, incisions are tiny — and the robotic arm can close the wound with minuscule stitches in an impossibly tight pattern that heals quickly.
The patient outcomes dramatically improved.
Big Medicine didn't hesitate to pour billions into new contracts to further develop this technology — and today more than 4 million robot-assisted procedures have been performed in hospitals around the globe.
Intuitive Surgical's medical robots were a landmark achievement for both man and machine...
They also led to some of the biggest gains of the decade.
Intuitive Surgical's stock went from $4.30 in 2003 to over $520 in 2018... which is more than 100x your money!
A $10,000 stake in Intuitive Surgical would have made you more than a million dollars... and then some.
Those are incredible, life-changing gains.
But if you're sad you missed it, you shouldn't be... at least not yet.
Because Big Defense is outdoing all of this.
Big Defense isn't just matching the $5 billion that went into surgical robots, it's putting in more than 25x the amount.
A new report from research firm PwC shows that the global defense robot industry is now worth $127.3 billion, once you count up all the new contracts pouring in.
That's a "revolution" in every sense of the word.
I've found three defense robot stocks with the potential to hand you 9x your money.
They each have strategic advantages that put them at the center of the defense space — the same way Intuitive Surgical did for medicine.
But the match between robot and human is even more seamless when it comes to defense.
We're at a unique moment in history because the future of this technology is huge...
But I'm not here to wax poetic about the future.
I'd like to explain how to make more than 9x your money — starting today.
The money has already been allocated and now we're just waiting for it to flow through the contract process and spill out on the other side.
This revolution in defense technology will continue to push out more and more gains... and smart investors will be the first to come away wealthy.
I've crunched the numbers and kept my estimates conservative, but the truth speaks for itself.
A flood of new contracts is in the pipeline — and all that money is about to spill out on the other side...
This is your chance to make more than 9x your money in the months ahead.
Invest Like an Insider
My name is Jason Simpkins.
I'd like to give you insider-level access to defense... one of the most consistently lucrative sectors of the market.
I've built a career out of predicting the rise of key profit trends.
I've made 137%, 329%, and 661% on the rapid growth of medical marijuana.
And I predicted the skyrocketing climb of Bitcoin.
I wrote back in February of 2014: "Those laughing at bitcoin now won't be laughing in a few years."
And then, as Bitcoin surged to dizzying heights, I predicted it was going to fall and correct.
I was also front and center during the lithium boom.
Lithium is an essential material for missiles, submarines, and hundreds of other defense applications.
It's an essential material in electric car batteries.
I led readers to a host of gains...
Now, I'm not always right — I'm not pretending to have a crystal ball.
But my track record has remained remarkably consistent over the years.
I predicted the oil price rebound in late 2015.
I predicted the palladium bull market.
I predicted the takeover of Rio Alto Mining...
"Rio Alto Mining (NYSE: RIOM) is another potential target. Like Alamos, Rio has a strong balance sheet... leaving the company with an attractive valuation."
— Outsider Club article, November 11, 2016
I also predicted the dollar would dive and gold would rise last year.
On November 11th, 2016, I wrote: "The dollar is going down, and it's going down hard."
As well as: "I cannot stress this enough: Buy gold."
The ICE Dollar Index fell 10% in 2017 — its biggest annual decline in 14 years.
Gold soared over 15% higher.
Further still, my careful study of geopolitical movements has led me to predict civil unrest...
I wrote several articles predicting mass disturbances in the U.S., just weeks ahead of the riots in Ferguson and Baltimore.
I even predicted trouble in Ukraine before Russia invaded.
And finally, my bread and butter...
I regularly make double- and triple-digit gains from the biggest names in defense.
Which brings us to today...
Defense contracting has reached a watershed moment.
The numbers point to the fact that we're at the beginning of one of the biggest technology revolutions in the history of defense.
Let me show you the reasons why it's happening right now.
Self-Driving Car... Meet the Self-Driving Tank
You've already heard how self-driving cars are driving themselves onto the world's roads.
You may have already seen one on the road.
ABI Research has forecast there will be as many as 8 million self-driving cars on the road by 2025.
The availability of this technology has become a huge catalyst for the increase in defense robot capabilities.
As the Wall Street Journal recently declared:
"...self-driving car initiatives are driving down the price of critical sensor technologies needed to maneuver vehicles across the battlefield."
But it's a lot bigger than just this.
Daniela Rus, head of MIT's artificial intelligence lab, recently told the Washington Post:
"We've reached a tipping point in robotics."
We're seeing it everywhere we look.
For example, a robot put together your iPhone...
In fact, Foxconn, maker of the iPhone, has more than 40,000 robots on its factory floor... as well as an aggressive plan to build tens of thousands more.
The same goes for online shopping giant Amazon.
The New York Times has reported that Amazon uses more than 100,000 robots to run the sorting and packing operations in its warehouses.
No doubt, robots today are capable of things they never were before.
Research giant McKinsey & Company recently released a report that shows just how far robotic capabilities have come.
This report proves that the time of the robot is now...
Or as Bill Gates put it:
"If you're going to pick just one thing, it's got to be robots."
Robots Saved Dozens of Lives from the Rubble of 9/11... Now They'll Save Thousands of Lives on the Battlefield
In the horrible aftermath of 9/11, it was robots that helped sort through the rubble and discover trapped people.
As CNN reported:
"...modern versions of these remote-controlled machines never had been used in response to a disaster until September 11 ...it was a job no living, breathing person could do."
Industry experts called it a "watershed" use of the technology and noted how much of the robot had originally been developed by DARPA... the military's elite research arm.
Robots were also used during Hurricane Katrina in 2005 to find survivors, and then in the 2010 BP Gulf oil disaster to spot areas for cleanup.
And today they're helping our soldiers.
I'm sure you remember the search for Osama Bin Laden, which was largely carried out by drone.
On May 2, 2011, captured messages revealed that an exasperated Bin Laden was, "frankly exhausted from the enemy's air bombardments."
The capture of Bin Laden was only possible using drones and surveillance robots on the ground...
They provided all of the intel necessary for Seal Team Six to complete its mission.
It's success stories like this that have convinced the military to spend record amounts of money on robots.
These are no longer niche operations. The robot revolution has arrived on the front lines...
Defense robots are now essential to U.S. military superiority.
They saved the lives of at least 1,042 soldiers last year
They're expanding all of our defense capabilities in air, land, and sea
And they're going to make investors very wealthy
I've found three stocks on the cutting edge that'll give you access to the billions of dollars coming through the pipeline.
All of that money is about to spill out on the other side...
These three stocks will give you insider-level access to making more than 9x your money in the months ahead.
Defense Robot Stock #1:


The Aerial Expert
Pick #1 is a drone expert.
But set aside the image in your mind of giant, million-dollar air drones.
Because the most exciting area of development in defense technology is the rollout of cutting-edge "tiny" drones.
You see, America's troops are now assisted by an army of small, mission-specific drones that are saving lives and having a significant impact on military capabilities.
The copter drones are like many of the drones you may have seen in person — but with military-grade capabilities.
They're almost completely silent to a range of 100 feet.
They're built of modular parts and can easily be repaired in the field.
And unlike any normal drone, they're equipped with advanced artificial intelligence (AI).
They can be switched from manual operations into a smart auto-mode that avoids obstacles, follows a company of soldiers, or flies ahead to GPS waypoints.
Or here's another kind of aerial drone you may not expect...
A hand-launched glider that automatically scouts the terrain ahead for threats and obstacles.
It weighs just 4.2 pounds.
Believe it or not, this stripped-down craft is the most widely-used unmanned aircraft in the U.S. military today
And it's produced exclusively by Pick #1.
It's so simple and so useful that some convoy commanders wonder how they ever got along without it.
Pick #1 also has larger hand-launched drones with additional capabilities...
Like its night drone.
It has a 10-ft. wingspan, a 12-mile flight range, and is equipped with electro-optical and infrared cameras.
It's completely silent and can fly for up to 3 hours, delivering vital intelligence to the ground.
It's classified how many troops have been saved by the information from this drone — but I would estimate the number is high.
This drone is also built for all conditions...
From icy tundra to deserts and even the wide-open ocean.
It can land itself on water and wait for retrieval, making it useful to elite naval operations, including those conducted by the Navy SEALs.
It was recently used by the Coast Guard's ship Polar Star to chart floes of Arctic ice.
And just a few weeks ago, a group of fire jumpers used this glider to locate and save the life of a firefighter lost during a California blaze.
This drone has continually proven itself in life-and-death situations — it offers a true enhancement to the capabilities of the U.S. military.
But Pick #1 is far from done.
It employs some of the smartest engineers in the business to use their skill and imagination to create unique drones nobody else can match.
Including this drone that's disguised as a hummingbird...
Yes, that's right, spy drones like this actually exist — they aren't just in the movies.
This hummingbird is the declassified version, and it's versatile and clever.
Pick #1 has several lucrative contracts to create a variety of cutting-edge spy tools just like this...
There's no question spectacular gains are in this stock's immediate future.
But that's not all...
Pick #1 has a built-in bonus.
The engineers at Pick #1 also have a special contract with NASA...
...to build the first helicopter that can fly on Mars.
Yes, you heard that right.
It's carefully designed to handle the incredible heat and thin atmosphere on our solar system's fourth planet.
The Mars Helicopter will be included in the Mars 2020 rover launch and will be able to fly over the red planet to provide truly unprecedented scientific data.
Pick #1 is delivering the very first helicopter of the Space Age.
If that doesn't impress you, then nothing will!
But this project is about a lot more than just a fancy space gadget.
It's also about a high-dollar contract unlike any that's currently on this or any other planet.
NASA is putting $2.1 billion into launching the Mars 2020 mission.
It'll also be spending over $300 million to support the mission over one Martian year (687 days).
A portion of this money is already earmarked for Pick #1.
But the contracting process isn't over...
More money is on the way.
NASA officials say drones and robotics will continue to be an important part of the mission and are allocating more to support them.
Pick #1 is already worth the attention of your time and investment money — and once you add the inflow of space money, then you're up to something truly special.
It's all going to happen in the months ahead.
But it doesn't stop here.
I promised you the potential for 9x your money, and I have two more innovative companies to show you...
Defense Robot Stock #2:


The Self-Driving Convoy and the Self-Driving Fleet

The mission of Pick #2 can be described in two words: "command and control."

Its entire goal is to take vehicles that are currently in areas too distant or too dangerous and use command-and-control technology to operate them remotely.

Its equipment is used in tanks, trucks, boats, missiles, drones, and helicopters.
One of its technologies I'm most excited about is the system it's developed for military convoys.
It has the potential to completely revolutionize the way we supply and support our troops.
For example, the U.S. military has operated a dozen outposts in the remote province of Kunar, Afghanistan.
Several are still open today.
These outposts need to be staffed by human soldiers who can work with local villages to forge relationships and encourage the resistance of the Taliban's influence.
Unfortunately, getting a supply convoy to these outposts is both difficult and dangerous.
But what if the convoy could be driven remotely?
Imagine a long line of Humvees driving in a convoy, just as they do every day in conflict zones across the globe.
And now imagine these tanks and Humvees, filled with supplies, ammunition, medicine, and food for our soldiers, are driving themselves.
Meanwhile, aerial drones fly overhead using the same integrated command-and-control platform to check for ambushes and land mines.
The convoy drives day and night with no need to stop. And because there's no need for drivers, the vehicles have even more room for fuel and supplies.
What you're imagining now has become a reality, thanks to the new technology developed by Pick #2.
Its command-and-control products are already in use.
In fact, they've been used in a total of 3,000 operational missions worldwide.
Best of all, it's creating conversion kits that can take existing vehicles and make them autonomous...
This is an ideal solution because the military already has tens of thousands of vehicles that are eligible for upgrades to this technology.
Once installed, it's plug and play, and could turn any group of vehicles into an autonomous convoy.
This expands the capabilities of the military's existing forces, right where they are, from South Korea to Alaska to Afghanistan.
Pick #2 is also the go-to solution for training and testing systems.
You might not expect it, but training is one of the most important military initiatives we have.
The reason we have the #1 military in the world is because of training.
It's also a huge area of revenue...
Pick #2 just received a new $100 million contract to build the command and control systems for an entire test fleet for military planes.
It'll be used at the Redstone Arsenal in Alabama and for threat simulations in Orlando, Florida.
Think of the movie Top Gun — but instead of mock dogfight battles against each other, everyone is on the same team against an entire fleet of practice drones.
This makes training scenarios far more realistic.
America's generals have described in detail how this technology will lead to far more realistic training scenarios.
Pick #2 has also received new contracts for practice missiles — both for the Navy and the Army, that will mimic potential threats from China and other world powers.
And it's built an entire fleet of practice ships, including ships for a special "swarm" scenario... where hundreds of small boats threaten to overwhelm an aircraft carrier.
As silly as a swarm situation might sound, it's actually a deadly concern...
It's one of the few ways a terrorist group or small country could stop an otherwise unstoppable weapon like an aircraft carrier.
America's future dominance depends on having a defense against new threats like these.
So it should come as no surprise that Pick #2 has already made 305% for investors since 2016.
But that was truly just a drop in the bucket for the growth that's ahead.
Its biggest contracts are being finalized as we speak — and according to the numbers, I predict it's about to grow significantly on the deployment of command-and-control technology.
With $100 million already on the way and more contracts about to emerge from the pipeline, this is an exciting time to be an investor.
Especially when you include...
Defense Robot Stock #3:


Leader of the "Fourth" Industrial Revolution

I've saved the best for last.

This next company is building robots with AI, data analytics, machine learning, synthetic learning, and advanced machinery — all rolled into one.

This innovative firm has pointed out that all of these technologies coming together is creating a "Fourth" Industrial Revolution.

We already see it every day on the manufacturing floor and the highway...

This is what it looks like on the battlefield.
Pick #3 has created the full realization of the autonomous defense robot.
It's already being used in perimeter patrols and fixed-site bases.
And as AI continues to improve, it will soon be used for reconnaissance and other non-fixed applications.
Now, what I can't tell you is how or where.
Why?
Because that's top secret.
But what I can tell you is that this company is using engineers with the highest clearance.
75% of this company's U.S. workforce has security clearance to work on the U.S. military's most sensitive projects, which is unprecedented for such a small company.
And some breaking news: More clearances have just been added to handle larger, more lucrative contracts.
That's why you need to move quickly on this one.
Pick #3 is at the top of the list for this money — and even a single additional contract could put 30%–60% returns in your pocket.
But that's not all.
This company makes an entire line of diversified robots, and each one has its place in tomorrow's military arsenal.
Including this little guy.
It's so light and durable it can literally be thrown over obstacles.
It can then automatically check the undersides of suspicious cars and trucks.
Other times it's used to inspect culverts and drains — the easiest places to hide deadly bombs.
It can also be carried by soldiers on foot to remote areas, where it can be used to look through houses and outbuildings, peek around corners, or to explore the trail ahead for hidden snipers.
So it should come as no surprise that the U.S. Department of Defense gave the company a $429 million contract for hundreds of these robots.
Pick #3 is still a small, unknown company — but that hasn't stopped it from being included on the contract list with Boeing, Raytheon, and General Dynamics.
And it was given 47x more money than Northrop Grumman to build one of its lines of robots, so nothing is holding it back...
It does business like a big company, but with the nimble enthusiasm of a startup.
Let me show you what I mean...
Imagine a Bobcat bulldozer that operates autonomously, working night and day without needing a break.
And now imagine the artificial intelligence used in this Bobcat could allow it to methodically plow its way through a mountain of earth to rescue a group of trapped U.S. Marines in Afghanistan.
The Bobcat learns by trial and error on the fly at how to best carve a trench through the rocky ground, correcting errors as it goes and maximizing efficiency.
Within 20 minutes the marines can crawl to safety without exposing themselves to deadly sniper fire.
This is exactly what Pick #3 is doing through a new, unique partnership with Bobcat to make this kind of vehicle a reality.
Dozens are already in operation, and more are on the way.
But the military needs a lot more than just battle-related robots.
Most days, the military is trying to build camps and roads in remote or dangerous areas.
That's why Pick #3 has developed an entire line of practical robots that can help the men and women of the military take care of the hard, everyday work of soldier life, improving safety and morale.
As every military veteran knows — especially those who have served in Iraq and Afghanistan — it's the long, hot days that make deployment the hardest.
I've spoken to a lot of veterans and heard their stories.
Robotic vehicles would make their days a lot more bearable.
Above all, Pick #3 is an obsessive innovator.
It employs 3,000 engineers across the globe, holds over 1,000 patents, and has 300 other patents that are pending.
Some of these inventions are very unique, such as the new kind of roadblock designed for Prince Harry's royal wedding.
Many of its innovations are also space related.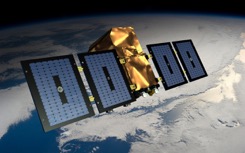 It's using its advanced materials to build parts for two new European Space Agency satellites.
Just last month it was named "lead contractor" for that project.
And it was recently awarded the contract to build a new kind of training missile for the Canadian air force.
It also has a team of 50 engineers working full-time on a new laser that can shoot down missiles.
This laser is currently mounted on battleships, but it's possible that new versions will be deployed on next-generation autonomous vehicles.
With all of this activity, it's no wonder this company's revenue growth was up 27% last year.
But this is just the beginning...
Momentum for this company is building up fast.
It's working to conduct a new missile test for NATO, the largest of its kind ever attempted, and the results from this test are likely to bring this company its biggest contracts yet.
If you're not holding shares of this company by the end of the month, then you're certain to miss out on the money that's spilling out of the contract pipeline.
Let Me Rush You the Lucrative Details
I'd like to put my research report, "The Million Dollar Drone Portfolio", into your hands as soon as possible so you can get shares of these three innovative companies.
Remember, $127.3 billion in new contracts is up for grabs on defense robot technology.
That kind of growth will bring about incredible, life-changing gains...
All told, you're looking at 9x your money... and beyond.
Why beyond?
I've focused on the military applications of this technology because of the $127.3 billion in contracts generated by the defense industry.
But this technology has a lot of other applications beyond the defense sector.
Robots saved 65 civilian lives last year...
Lost swimmers, lost firefighters, lost mountain climbers...
That's why the thousands of rescue squads and police forces across the country are buying these robots in record numbers.
I haven't included any of this in my calculations, and it's going to continue to fatten the bottom line for all three of these companies.
I've been conservative in my estimates, especially considering the number of new contracts in the pipeline, and these three picks could easily generate 20x, or even 30x your money in the years ahead.
These three companies are creating the first helicopter on Mars, the autonomous convoy, and the automatic Bobcat bulldozer.
This is what the future is all about.
The initial surge of profits is so close — you need to act now or miss it completely.
Here's what you'll receive in "The Million Dollar Drone Portfolio":
The name and ticker symbol of these three defense robot picks
A complete financial report and market overview
A precise buy recommendation
I'd like to rush you a copy of this report so you can get started right away.

But I'd like to also provide you with a SECOND report...
"The Total Tactical Defense Portfolio."
With enemies like North Korea, Russia, Iran, and China, the U.S. military can't afford to be idle.
In this report, I highlight the six defense contractors that will see incredible growth because of their innovations in tactical defense.
These picks will generate outsized gains in the years ahead.
PLUS...
I'll send you a THIRD report that covers my newest picks in military-grade cyberwarfare.
It's titled: "The Complete Cyber Threat Defense Portfolio."
The cybersecurity space is growing from $108 billion in 2018 to more than double that by 2022. With all that money pouring into the cybersecurity space, there's enough growth to go around.
I'll reveal the names of four innovative companies that are almost certain to benefit.
They include...
An established cybersecurity company that protects 85 of the Fortune 100 companies
A debt-free firm that's purchasing smaller firms and providing security for privileged-login clients
An IT powerhouse with an entire suite of data security solutions
And a company that builds and maintains next-generation firewalls for the most secure clients in the world, including major U.S. intelligence agencies
I'll also reveal the name of an ETF that's well positioned to capture significant gains from the across-the-board macro growth in the space.
And not only this, but I'm also going to include a FOURTH REPORT...
"Front-Line Cyberwarrior Defense — The Small Firm Set to Earn 1,500%"
This small cyberwarrior firm a has one-of-a-kind edge on the cybersecurity market.
The U.S. relies on this company for digital defense tech
The UK trusts its borders to this company.
The state of California has just inked a new partnership with this company.
It has several unique "cyberweapons" that set it apart from any competitors.
Taken together, all four of the reports in your report package will arm you with everything you need to succeed as an investor in the months ahead.
The investors who read my work often write in to report their positive results.
Here's what Martin W. from Arizona wrote to me and my colleagues about the research I help publish:
"I took what was left of an ailing IRA and bought 150,000 shares of for $93K. Yesterday, that account closed out above $1 million."
— Martin W.
I've put a focus on millionaire-making opportunities just like this.
But I'm not stopping there...
Which is why I launched my publication, The Wealth Warrior.
Not only does it cover the exciting and fastest-growing companies that are protecting our future, it's also the safest bet to protect your money…
Your Hedge of Protection in an Uncertain World: Survive and Thrive — Regardless of What Happens
The defense stocks I recommend in The Wealth Warrior have a solid track record of doing well in bull markets.
And when markets are tanking, or sudden shocks hit investor moods?
They do even better!
History has proven time and again that the defense sector prospers in bear markets.
I'm focused on fast-moving companies that grow no matter what...
And today we're seeing more growth than ever before.
Global defense spending is at its highest level since the Cold War, an astounding $1.67 trillion.
The United States, as always, is leading the charge.
Congress has authorized more than $700 billion in annual defense spending — a figure that dwarfs Obama-era investment.
The ultimate goal of The Wealth Warrior is to ensure that investors are prepared not just to survive the worst-case scenario, but to flourish and come out on top.
Now, I'm sure you'd expect my service to be expensive.
While there's no service like this, I've seen comparable online publications that charge up to $3,500 for stock recommendations.
But I've got some good news for you... I'd like to do something nobody else is doing. I've carefully designed my service so I don't have to charge exorbitant fees.
You'll be the one to benefit.
Let Me Be Clear — This Isn't an Everyday Offer
I'd like to impress you right upfront.
I'd like to start by giving you a completely free subscription.
That's right — I'd like to give you a completely FREE one-year subscription to The Wealth Warrior so you can try it out for yourself and see how valuable it is.
You see, since I've put all of my focus on this report package, that's the only thing I'm going to charge you for.
This way, you can move fast on this opportunity but still have plenty of time to fully evaluate my service.
Because my research is never done...
I'm going to continue following this opportunity as it unfolds, and I'll keep you updated each step of the way.
Here's how this will work:
You'll pay just $99 for your report package... I'll rush you all four of my brand-new research reports so you can get started right away
As a charter member, you'll receive a FREE one-year subscription to The Wealth Warrior... this is your one and only chance to receive this exclusive offer
That's it, plain and simple.

Here's an overview of the incredible opportunities you'll receive from The Wealth Warrior:
All of my valuable research — You'll get complete access to the world's most lucrative opportunities. My premium-level newsletter provides you with market insights you won't find anywhere else.
Breaking news updates — I'll send you a "Flash Alert" the moment there's a significant change. You can relax because I'll make sure you never miss any important news.
Exclusive 24/7 website access — You'll receive a private login to The Wealth Warrior website, putting a wealth of articles, research tables, and videos right at your fingertips.
Elite investor status — You're now part of a select group of self-directed investors who are getting the same outstanding returns normally reserved for billionaires and institutions.
Carefully chosen VIP "insider" opportunities — I never stop searching for the next opportunity… I've recently made 137%, 329%, and 661%. You'll be the first to receive my latest research.
And this will be your only opportunity to be a charter member.
Get in on the Ground Floor
Once you purchase your report package, you'll receive The Wealth Warrior absolutely FREE for the first year.
And you'll officially be a listed on our rolls as a charter member... my hope is to prove to you just how valuable my research service is.
But you'll be under no obligation to continue.
Once the year is up, the choice to stay or go will be up to you.
No hassles or runarounds.
Remember, there's $127.3 billion up for grabs...
I'll reveal the details and ticker symbols of the three innovative companies at the center of this revolution.
A flood of new contracts is in the pipeline — and all of that money is about to spill out on the other side...
This is your chance to make more than 9x your money in the months ahead.

I look forward to showing you life-changing profits.
All it takes is a phone call to our friendly customer support staff (toll-free) at
1-855-877-8623. Monday through Friday from 9:30 AM to 4:30 PM, EST.
Or simply click the button below to get started.
Fight on,
Jason Simpkins
Investment Director, The Wealth Warrior