URGENT Trade Alert:
The
ONE

Stock You Must Buy BEFORE President Trump's New Mandate
A stake in this single stock could turn into a million-dollar retirement windfall in 2019...
Dear Reader,
What I'm about to tell you is the result of information I received from my elite network of high-level insiders…
This includes CEOs, scientists, and some of the most legendary investors and financiers in the world.
My research indicates that President Trump will issue a new mandate in early 2019…
And I believe it will give one great American industry the biggest "reboot" in over 15 years.
The events to make this happen are already in motion.
I will lay out the whole story for you in just a second…
Not only do I believe this is coming… but I believe I know when it's going to happen, too…
By January 1, 2019.
It could happen a little bit earlier or later based on how it all unfolds… but I anticipate it could happen before this date.
That's why I'm typing this urgent message to you.
I've personally positioned a sizable portion of my own portfolio ahead of this potential mandate.
And I want to show you how…
And what you should do with your money, too.
My name's Gerardo Del Real, by the way.
I've spent over a decade as a private advisor to some of the highest-net-worth investors in the world…
This includes one notable billionaire who's used my advice to make millions.
But even more importantly — he's also used my advice to avoid disaster.
During one of our meetings, I cautioned him about some of his positions, recommending that he sell immediately.
I saved him more than $8 million in potential losses when those stock positions plummeted on the conditions I predicted.
He used to joke that my favorite word is "no."
It's true… as much as I love to find a great opportunity, I'm inherently cautious.
That's why I only recommend an opportunity once I've had a chance to talk to the CEO and the big players involved.
This "reboot" event I'm about to share with you is the culmination of the deep research I've done meeting with experts in this industry and talking to my network with connections to some of the world's most important elites.
And I'm convinced Trump can and will get it done.
The key is a secret mandate that Trump could issue in the coming months…
If he does, I'm certain well-positioned investors could make as much as 10, 15, even 30 TIMES their money.
More importantly, I believe this "reboot" will happen by January 1, 2019.
But as you'll see, this could happen much sooner than that. So you'll need to prepare now.
Your life and the character of America are about to change forever.
But this letter isn't a breaking news bulletin.
It's a time-sensitive opportunity you need to act on immediately to reap the benefits.
So let me give you the full story about it right now, which surprisingly starts with one of Trump's biggest foes…
Hillary Clinton.
How Hillary Clinton Sold Out America… For Her Own Multimillion-Dollar Payday
Back in 2010, when Hillary Clinton was Secretary of State...
She quietly hatched a deal with one of America's biggest rivals…
Russia.
She gave it 20% of America's supply of a resource that our livelihood depends on.
And is critical to America's national security.
In exchange, the Clinton Foundation received $145 million in "donations."
President Trump says it's "the biggest [news] story the [fake news media] doesn't want [you] to follow."
She's given Russia ownership of one-fifth of America's reserves of a metal that's super critical to our future and our National Security.
Now, 20% may not sound like a big deal to you...
But when you consider that the United States produces only 3% of this metal for its own use… and imports the other 97% from foreign nations...
Well, my friend, it is a VERY big deal indeed.
She sold out America!
This is exactly what Trump's new mandate will change…
Because instead of relying on nasty foreign partners like Russia for supply, it requires that 25% of this metal MUST come from right here in the U.S…
Versus the paltry 3% that comes from here now.
That's a 733% mandated increase in production — overnight!
It's a move which I believe is already in motion…
One that will ignite the biggest industry "reboot" in over 15 years.
The result of which would send investors of this resource windfalls of potentially 13,970% or 30,800%, which is exactly what happened in 2003…
But for reasons I'll show you, they could be MUCH BIGGER this time around.
Billionaires have already staked millions of their fortunes in it:
Bill Gates, the founder of Microsoft, has invested $35 million into the resource
Jeff Bezos of Amazon invested $19.5 million.
Billionaire founder of PayPal Peter Thiel staked $2 million.
Even Trump "hater" George Soros threw his hat in the ring. Investing a whopping $126 million.
But you don't need billions or even millions to profit…
You simply need to position yourself accordingly.
Trump's mandate would be a massive shift.
A total industry "reboot."
I'm personally using my own wealth to position myself and my family for what's coming.
And I'll share it all with you.
I'll show you what's going on behind the scenes in the industry… and what I recommend you do right now because of it.
Trump Could Soon Give This Great American Industry the Biggest "Reboot" in 15 Years
But first, you're probably wondering what this metal is that's receiving all of this attention?
URANIUM.
It's cleaner than coal and natural gas.
It's more powerful — a single pellet of uranium holds the same amount of power potential as 2,000 tons of coal.
And it's far more reliable than solar and wind (especially when the sun's not shining and the wind's not blowing).
Uranium is the "fuel" for America's fleet of 99 nuclear power plants.
These power plants are responsible for bringing electricity to 20% of American homes and factories.
The United States is the largest producer of nuclear power in the world.
But Uranium production in the U.S. is currently near the lowest that it's been in 70 years!
As a result, a national security crisis is brewing...
Few Americans know this, but the United States is at risk of becoming 100% dependent on imported uranium to fuel our nuclear reactors.
America's fleet of nuclear power plants require around 50 million pounds of uranium per year.
But U.S. mines are on pace to produce less than 1 million pounds of uranium this year.
That represents less than 3% of the demand to fuel the reactors.
That means roughly 97% of the uranium MUST be imported.
A whopping 97%!
Much of the uranium available in the market comes from nations such as Kazakhstan, Russia, and Uzbekistan.
Collectively, they supply more than one-third of the uranium America needs.
These are countries that the United States should NOT feel comfortable relying on for its energy needs.
Kazakhstan is the largest producer of uranium in the world. It makes up 40% of global uranium production.
And it recently made a shocking announcement: It's cutting production by 20% effective immediately!
So it's taking A LOT of uranium off the market.
A move that has already sent the price of uranium shooting higher.
As Senator John Barrasso of Wyoming says, "For years, Russia, Kazakhstan, and Uzbekistan have undermined America's uranium producers. We shouldn't rely on foreign regimes to supply America with uranium."
The Trump Administration is strongly in favor of bringing domestic resources like Uranium online.
In June 2018, President Trump directed Energy Secretary Rick Perry to take "immediate steps" to boost America's nuclear power plants.
This includes restarting nuclear plants previously worn down or shut down.
"I'm in favor of nuclear energy, very strongly in favor of nuclear energy," says Trump.
And it makes sense.
Trump ran a campaign around "America needs no one's help."
Nuclear plants would make America completely self-dependent for electricity.
Companies like Chrysler and Ford are bringing manufacturing jobs back to the U.S.
Factories for manufacturing require massive amounts of energy to run.
But there's a second reason the Trump Administration is in favor of developing more uranium assets:
For America's military.
Trump continues to push for an increase in nuclear weapons.
On February 12, 2018, Trump said that the United States is "going to have the strongest military we've ever had by far... We're... creating a brand-new nuclear force... We're gonna be so far ahead of everybody else in nuclear like you've never seen before."
Uranium is also used to power the military's fleet of nuclear submarines.
In short, with Trump's aggressive energy and military plans, he's going to need uranium by the truckloads.
But America currently only produces 3% of what it needs annually.
That's why this is such an incredible opportunity unfolding right now for smart investors...
A Strange Petition That Could Be Worth Millions To You
Top players in America's uranium mining industry filed a petition with the U.S. Department of Commerce.
It's called a "Section 232 Petition." Any industry in America can file this petition.
The goal of the petition is for the U.S. Commerce Department to limit the amount of a commodity being imported from other countries.
Putting a restriction on imports would create a robust domestic market for the commodity.
And in this case, that commodity is uranium.
The Department of Commerce has a limited amount of time to conduct its investigation and report its findings to President Trump.
Trump has 90 days to respond to the request.
Which I believe he's going to swiftly approve.
And mandate that 25% of the uranium America uses MUST be mined right here in the good ol' U.S. of A…
This will ignite the BIGGEST uranium boom in over 15 years.
Back in 2003, uranium prices went absolutely nuts in a short period of time.
Flooding at Cigar Lake (the largest high-grade uranium deposit in the world) ramped up the price of uranium per pound, such that uranium companies became worth billions of dollars virtually overnight.
All it took was one mine to flood and the entire sector went ballistic. That's how tight the uranium market is.
But you wouldn't have made a fortune from actually buying and selling uranium, which is nearly impossible to do.
No. Millionaires were made in the stock market. Investors bought uranium stocks and woke up to see their trading accounts flash dollar signs.
That's because uranium miners are incredibly leveraged to the price of uranium. If uranium goes up just a little bit... they go up a lot.
When uranium prices started rising last time... a small uranium company called Laramide went on a heck of a run of 30,800%.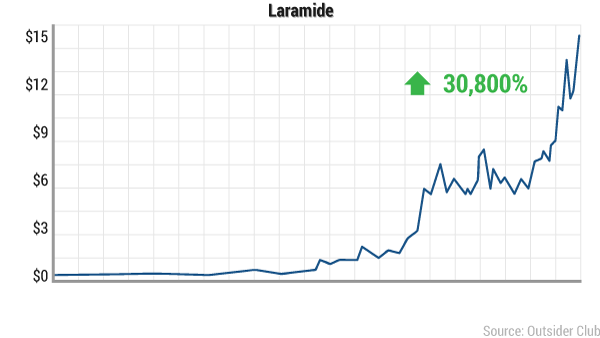 A $1,000 stake turns into $309,000!
The average retirement portfolio for an American over 50 is just above $300,000. Imagine your entire retirement cashed-up for you.
No more worries about bills. You could pay off the house in one swoop. Just from a $1,000 investment.
Your friends would probably call you a liar if you told them.
This is what happens when the price of uranium goes up. Uranium isn't like normal stocks. The stocks shoot up fast... but they fall just as fast. That's why, as uranium begins to rise right now, you must jump on or miss out.
If you owned UEX Energy 10 years ago...
You could've watched a $1,000 bet grow like a weed up to $140,760.
How often will you see a return like that?
Hardly ever.
And you see gains like this one even less. During the last uranium bull market, International Enexco shot off for gains of 114,300%.
Would you believe the math if I told you your $1,000 investment would balloon to a fortune of $1,144,000!?
Uranium creates millionaires.
I expect this new boom to do the same.
Except this time, it will be on a scale like we've never witnessed before.
Trump's mandate will kick off an ENTIRELY NEW era.
And I have found THE perfect play for it.
In fact, this company was assembled precisely to take advantage of the bull market that's now forming.
The founder of the company has done it before… with the exact same team that he has now.
Back in 2005, they formed a small uranium company. And focused on mining uranium in Wyoming.
It went public in 2006.
A few months later, the flooding occurred at Cigar Lake, the world's largest high-grade uranium deposit. The price of uranium caught fire.
Shares of the company's stock went from around 90 cents per share… to over $7.50 per share.
A 733% return.
That turns every $10,000 you invest into $83,300 profits.
And everything that's happening now shows me ONE thing:
They're about to do it again with the stock I'm telling you about today.
And because of the new developments in the uranium market…
This time around I expect the gains will be much bigger — and more lucrative.
Which brings me to my #1 catalyst for a price explosion in uranium in 2019:
2019 Bull Market Catalyst #1:


Global Demand Continues to Grow
According to the World Nuclear Association, there's "a surge in new nuclear plants coming online... helping [to] reduce emissions and meet electricity demand, but... more is needed..."
From 2015 to 2019, there will be 55 new reactors starting up.
And there's over 330 more nuclear reactors being planned in India, Russia, and China.
Governments the world over are looking for clean-burning sources of electric power to replace coal.
For instance, China believes that nuclear energy is the best solution to its massive air pollution problem caused by burning coal.
China is expected to overtake the U.S. as the world's largest uranium consumer by 2030.
But as demand explodes, supply won't be able to match it.
Which brings me to my second catalyst…
2019 Bull Market Catalyst #2:


Massive Production Cuts Shock Global Supply

Cameco, the world's largest uranium company, recently announced it's shutting down its McArthur River mine. This is the world's largest uranium mine, responsible for about 11% of global production.
On top of that, Kazakhstan announced it would cut uranium production by 20% for the next three years. This will remove about 7.5% of annual global production from the market.
Analysts estimate that these two production cuts will remove much, and perhaps all, of the oversupply of uranium.
In short, the global uranium market has, in a flash, moved from an oversupply to a deficit.
2019 Bull Market Catalyst #3:


"Petition 232"

There's also the looming threat of sanctions from Russia that could result in a uranium supply shock to the U.S. and its allies.

The filing of "Petition 232" aims to drastically reduce our dependence on these nasty foreign partners and their grip on America's energy future.

Trump is strongly in favor of nuclear power. He is also in favor of bringing domestic energy sources like uranium online.

Few folks know this, but the United States has the world's fourth-largest uranium resource.

By approving "Petition 232", President Trump will create a domestic mining boom...

As 25% of our Uranium supply must NOW come from America... versus the paltry 3% that supplies us now.

He will "reboot" a great American industry.

You'll already want to be in position when that time comes.

Which my research indicates could happen on January 1. Perhaps even earlier. Trump does not like to waste time.

I've already invested a large stake of my portfolio into the company best positioned to skyrocket from this NEW American boom.
"The Next Paladin"
I recently sat down with the CEO of the company. I interviewed him to get the full story of why his company should see astronomical growth soon.
The CEO and his team already built and sold a uranium asset for $180 million.
And helped investors turn $10,000 into $83,000 profits.
But I think that will be peanuts compared to the gains you could see from their newest venture.
You see, the team has also added another superstar in the resource markets to its already impressive lineup.
He's a former CEO of a lithium exploration company.
One that would eventually be bought by the largest lithium producer in the world… for $840 million.
Combine his genius with the rest of this firm's members and you get the picture.
This little company is an unstoppable resource powerhouse that knows how to generate mega-fortunes for itself and investors.
Why is it so good?
Because it buys the kinds of assets that larger competitors want, lays all the groundwork…
And pretty much sets up these tiny companies as "perfect buys" for premium acquisitions.
All while energy prices are shooting through the roof.
And for this play, the firm is back to doing what it does best:
It's developing uranium-rich properties in Wyoming and the western United States...
At the beginning stages of a new bull market in uranium.
It's a playbook that NEVER fails to make investors rich.
In just a moment, I'll give you full details on this explosive firm trading for under $1… including its name, ticker symbol, and company profile.
You'll see why it's positioned with optimal uranium resource plays… and why a buyout is inevitable.
All the details you need to get rich on the uranium boom in 2019 — and beyond.
But before I do, you need to know something critical...
I've Built My Career on Finding These Types of Opportunities
I made 832% off the rise in demand for lithium.
And I made 3,900% on demand for other essential materials...
I've even made an outstanding 7,042% on demand for rare earths.
These are actual returns, and the profits are in the bank — that's the benefit of buying into resources with runaway demand.
That's why I'm so excited about uranium.
Uranium will be needed more than ever to power both manufacturing plants and nuclear weapons. Production needs to increase 136%.
But because the price has been so low for so long, companies have no incentive to continue digging.
That's why the number of uranium companies shrunk from 500 to a few dozen — they simply can't make money mining uranium.
Take a look at this chart...
The red line shows the demand, and the green shows the various supplies of uranium rapidly shrinking... The yellow is new mines that are needed to come online to avoid a shortfall.
Demand is at its highest in over 14 years. And the supplies are just about tapped out. The yellow wedge that's appearing is a shortfall that is expected in the next two years.
And that's why uranium prices must rise now: to avoid a shortfall and keep the world's lights on.
The U.S. is already the world's largest consumer of uranium. But China is expected to overtake the U.S. by 2030!
As Doug Casey, multimillionaire investor, recently said,
"I doubt... that this will be the first bear market in history that's not followed by a bull market. As the price of [uranium] rises, the shares of producers should rise disproportionately. By 10 times? It's happened before. And shares of exploration companies might increase exponentially."
With massive production cuts recently announced by Cameco (the world's largest uranium company) and Kazakhstan (the world's largest uranium-producing nation), the price of uranium is already on the move.
But it has A LOT of runway.
$1,000 Turned Into $1,304,000
With President Trump on the verge of "rebooting" America's uranium sector with his new mandate, now is the time to get in as uranium stocks move fast.
In 2003, if you were invested in uranium company Paladin Energy, your shares would've exploded (as uranium prices popped). You could've retired the next day.
Look at how much investors made:
Can you imagine this?
$1,000 turning into a cool $1,305,000! Your family would probably think you committed insider trading with those returns.
But you don't need to engage in any criminal activity to get in on the uranium boom.
All you need to do right now is pick up my report:
"Trump's New Mandate: The One Uranium Stock To Retire On"
And let me be clear:
While there are all-new fortunes about to be minted in the uranium boom…
If you know where to look, and when to buy, it could mean the difference between losing your shirt…
Or retiring wealthier than you ever dreamed in 2019.
And I ONLY know where to look because of my extensive boots-on-the-ground investigations…
I go out to the mines... the deposits... the operations…
I meet with the management, which is a crucial (yet overlooked) asset for any resource company…
I see "behind the scenes"... pulling up the curtain on the quarterly earnings report.
While traveling the world, I've combed the entire uranium sector from top to bottom.
And this single pick is the cream of the crop. Hands down.
But I need to put a careful limit on how many people I share these sensitive details with at this early stage.
Again, I've included full details in my report: "Trump's New Mandate: The One Uranium Stock To Retire On."
But to keep a lid on its impact, I'm forced to restrict its distribution to just 300 investors.
These details are worth a fortune, and if I had my way, I'd broadcast them to the world.
But I can't risk ruining it for everyone — so it's a strict limit of 300 investors.
I hope you'll be one of them.
Here's a quick preview of what you'll get:
Including...
The company's name and ticker symbol
Thorough company profile... based on firsthand analysis, including information you won't find on CNBC, in Forbes, or even in industry journals.
Off-the-cuff footage of its operations, including my interviews with its executives.
The analyst "consensus" you won't hear in press releases... but I hear from hobnobbing with industry insiders.
And details of its assets, holdings, and upcoming dates for company reports.
But that's not all.
I'd like to also provide you with a special bonus report...
"The Only Stock You Need for the Lithium Boom"
This bonus report is only available if you act immediately.
Let me be clear: The growth of electric vehicles and battery storage is very real and will drive demand for lithium, graphite, copper, etc.
Lithium demand alone is expected to climb 39% in 2019. By 2025, demand is projected to increase by 73%.
The global lithium-ion battery market is projected to grow to US$77.4 billion by 2024 from US$29.7 billion in 2015, according to a report by Transparency Market Research.
Despite the real demand and the clear trend, most juniors will never mine anything but shareholder pockets.
The initial euphoria seems to have subsided, and many of the wannabe lithium juniors have either managed to go through their treasuries without any meaningful progress or have packed up their bags in search of the next flavor of the month.
One exception is my favorite junior in the lithium space.
This lithium miner has a 75% interest in the Caucharí project, which is an advanced lithium exploration project in Argentina.
The company also holds a 100% interest in five other lithium properties totaling 85,543 hectares.
My report will reveal everything you need to know as well as an exclusive interview with the CEO.
It's the one stock I think you need to own to capitalize on the lithium boom.
You get all of this today... so you can position yourself now.
All I ask is that you give my advisory research service, Junior Mining Monthly, an absolutely free test drive.
Remember, I've spent years as an advisor to high-net-worth clients…
They come from all corners of the world, but they have one common goal.
To make MONEY!
The investors who follow my work often write in to report their positive results.
Here's what investor Charles K. wrote to tell me:
Thanks for the great mining stock buying opportunities. Great work!
He's happy because he's already seen a number of gains in just a few months.
He told me about the 66% he's earned on a gold company, the 35% he made on a minerals firm, and his 27% return on a gold company in Nevada.
A $10,000 investment split between those three companies earned $4,266… in just five months!
And he's not the only one.
Another investor named Rob S. was also enthusiastic:
Thank you Mr. Del Real... thank you! The results have been amazing... my portfolio has risen from a dwindling $72,000 to a rapidly advancing $110,000.
Rob described several recent wins, including a 183% gain he made in a few months.
But everyone — including Rob — is excited about the opportunity I've told you about today.
He's standing by, ready to jump in the moment I give the word.
Based on my track record of 512%, 627%, 832%, 3,900%, and 7,042% wins, I'm confident we're looking at a bona fide opportunity to turn a $10,000 investment into at least $100,000 or more.
Unstoppable Value — Why I Created Junior Mining Monthly
Resource companies are the bedrock of the U.S. economy.
Gold, silver, and copper — as well as lithium, uranium, and many other valuable resources — are all essential to the world we live in.
After all… if it can't be grown… it's got to be mined!
I use my boots-on-the-ground research to bring you all the way inside this industry.
Now, I'm sure you'd expect my service to be expensive.
While there's no service quite like mine, I've seen online publications that charge up to $6,500 for their coverage of gold, mining, and resources.
But I've got some good news for you... I've carefully put together my service so I don't have to charge exorbitant fees.
In fact, I'd like to give you a completely FREE three-month subscription so you can try it out for yourself and see how valuable it is.
Here's what you'll receive with Junior Mining Monthly:
All of my valuable research — You'll get complete access to the world's most lucrative opportunities. My premium-level newsletter provides you with market insights you won't find anywhere else.
Breaking news updates — I'll send you a "Flash Alert" the moment there's a significant change. You can relax, because I'll make sure you never miss any important news.
Exclusive 24/7 website access — You'll receive a private login to the Junior Mining Monthly website, putting a wealth of articles, research tables, and videos right at your fingertips.
Elite investor status — You're now part of a select group of self-directed investors who are getting the same outstanding returns normally reserved for billionaires and institutions.
Carefully chosen VIP "insider" opportunities — I never stop searching for the next opportunity… you will now be part of the elite first investors I tell. Several of my core holdings have at least double-digit returns made in the past few months.
I'm on a first-name basis with all of the major players in this industry.
I have a successful track record of getting the inside story.
But most important of all is the unique uranium play I've told you about today.
Everything you need to know is in your research report package.
I don't want you to miss out…
As I told you earlier, I'm forced to limit the distribution of my report package to just 300 investors.
And since I've put my focus on this late-breaking opportunity…
That's all I'm going to charge you for.
This way you can move fast on this opportunity but still have plenty of time to fully evaluate my service.
So here's how this will work:
You'll pay just $299 for your report package
You'll receive a FREE three-month subscription to Junior Mining Monthly
If you decide to continue your subscription, you'll pay only $49 per quarter (that's 80% off the normal price of $249!) — locking you in at the lowest price we've ever offered.
That's right, your first three months to Junior Mining Monthly will be completely FREE…
And there's no obligation to pay the $49 and continue your subscription if you decide it's not right for you.
But considering that it costs less than a round of golf… and has the potential to make you tens or even hundreds of thousands… I'm confident you'll want to stick around.
Your report package will get you started right away — and then Junior Mining Monthly will keep you completely up to date on this opportunity in the weeks and months ahead as your profits unfold.
I'm not going anywhere. I'll be with you each step of the way.
But remember — this report package is only available to 300 select investors.
If you're viewing this presentation after we've reached that number, there won't be anything I can do to get you inside.
This opportunity is truly worth your time.
I urge you to click the button below and get started immediately.
There's no commitment, and you're not locked into anything long term.
Here's what I promise…
You're in Control
Once you purchase your research reports, you'll receive Junior Mining Monthly absolutely FREE for the first three months.
You're under no obligation to continue — but at just $49 a quarter, I'm confident you'll choose to stay.
I work hard analyzing numbers and muddying my boots to deliver research you simply can't find anywhere else.
I'll also keep you updated on each new detail of this opportunity.
But you're the boss. The choice to stay or go will be up to you.
All it takes is a quick phone call.
That's it. No hassles or runarounds.
My friendly customer service staff will make sure you're satisfied.
We're here to deliver winning opportunities to investors who truly want them.
Now It's Time to Act: Your Research Report Package Will Deliver the Greatest Profit Potential I've Ever Seen...
President Trump is on the cusp of "rebooting" America's uranium sector with his new mandate.
I've already invested a large stake of my portfolio into the company best positioned to skyrocket from this new American boom.
The stock is currently trading for under $1 per share.
But once Trump issues his new mandate, which I expect will happen by January 1, this stock could soar by many multiples.
All the details are in my urgent research report.
I look forward to showing you life-changing profits.
Simply click the Subscribe Now button below to get started.
To your wealth,
Gerardo Del Real
Editor, Junior Mining Monthly