"It's Vanishing..."
Supplies of this incredible metal are dwindling.
It's essential to medicine, defense, and aerospace — it's even in your iPhone.
One small company is on a mission to fill this crucial supply gap... and early investors could mint a fortune.
This rock can cure cancer.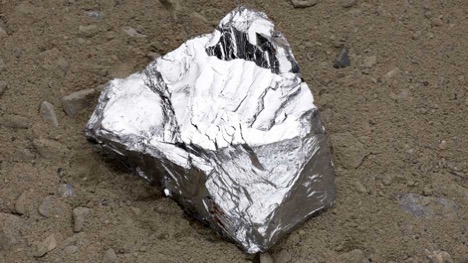 It also fights depression, diabetes, low blood pressure, hair loss, chronic fatigue, and sleep problems.
It even helps fight the common cold... scientists in Finland have proven your cold will improve 70% faster if you take a supplement made from the incredible metal in this rock.
All told, it's worth billions to the pharmaceutical industry.
But the defense industry needs it, too.
Defense contractors use it to build missiles and satellites.
And the manufacturing industry wants more.
It uses it to build bridges.
Since it doesn't rust, it's using this metal to create advanced steel alloys — it's now a must-have material for the U.S. steel industry.
And this fact is more important than ever before...
President Trump, as he promised in the State of the Union, has released a plan to completely overhaul America's infrastructure... to the tune of $1.5 trillion.
Fulfilling this infrastructure plan will require record amounts of this metal.
But the cosmetic and beauty industry also wants its share...
It's used in the world's most expensive face creams and lipsticks.
And to top it all off, Apple has even put this metal in the newest iPhone — Apple won't be able to make any new phones without it.
But there's one massive, industry-crushing problem:
It's vanishing.
Reserves are dwindling across the globe.
And yet America's biggest and most important companies continue to find new uses for this incredible metal.
The scramble is on.
Hi, my name is Gerardo Del Real.
And I've put together the presentation you're watching today because there may finally be a solution to this problem.
But there isn't much time to explain...
You see, this solution has to do with this photo right here — it's of a new drilling operation that's taking place right now, at this very moment.
The results from this drilling will determine exactly how much of this metal is underground.
And if the drilling samples match up with early results, it means the underground deposit of this metal is so large it could potentially help solve the shortage crisis I just described.
All told, it could be worth billions.
And if you get in now, it could make you a fortune.
Today, I'd like to show why this small mining company has what it takes to help fill the supply gap for this metal.
A conservative estimate suggests early investors could see returns in the triple and even quadruple digits.
It's going to happen fast, and I want to put you at the front of the line for profits.
Because mark my words, those two words — "supply gap" — are already haunting the world's biggest industries like a ghost.
According to analyst reports, a 900% spike in demand is about to shake supply chains to their core.
But it's not just demand.
You see, no new sources of this incredible metal have been discovered since 1990.
The World is Short a Million Tons — And Counting...
Three years ago, experts in the UK sounded the alarm bells that the "world is running out" of this metal.
The United States Geological Survey agrees.
The numbers from its estimates prove there are only enough worldwide reserves to last 14 more years... at best.
And take a look at this chart from industry research firm BMI:
It predicts the world will start tapping global stockpiles this year — and all the years beyond.
But that's not all.
Because demand isn't staying put...
It continues to climb higher and higher.
In fact, it's already grown more than 20% since when analysts first started to worry.
The steel industry, defense industry, pharmaceutical industry, and beauty industry are gobbling up reserves at an alarming rate.
Disappearing reserves have resulted in higher prices...
It's been a decade since we've seen prices as high as this.
The headlines are grim.
"[Metal] prices hit 10-year high"
—Fox Business
"[This metal] is on a tear."
—Bloomberg
"Sustained deficits ahead..."
—Mining.com
But this is truly only the beginning.
Because the next decade is going to bring demand like the world has never seen.
This metal is the "wonder" ingredient in hundreds of medicines.
Pfizer, Merck, and Novartis are ordering in record amounts.
And relief organizations have stepped up their orders, too.
The World Health Organization and UNICEF distribute a special supplement made from this metal — its restorative powers help combat the ravages of malnutrition.
They estimate that once it's distributed, it could give more than 800,000 children a second chance at life.
But its metallurgical uses are having the biggest effect on demand.
After all, it's found in cars and computers, airplanes and smartphones, and consumption continues to rise.
I've made gains on situations like this before.
Just a few years ago, the lithium shortage sent prices soaring.
And I made 832%.
Most of my winning recommendations produce solid results in a few months.
But often it's sooner.
In January, I kicked off 2018 with a 35% win...
It took just one day.
Mawson was developing an exciting, high-grade, district-scale project that I knew would overcome any bearish concerns.
It was all thanks to drilling results...
It found gold in an outcrop — and the moment the results were announced, the stock jumped 35% in a single trading day.
The investors who follow my work were happy to grab their gains with this one.
While not all gains come this fast, it was a great way to start the year, and it's one more example of how effective drilling results can be if you're in the right place at the right time.
But it gets even better.
You see, the CEO of this small gold resources company is also the CEO of the small metals company that's about to solve the supply gap.
But the real gains are still ahead...
Again, my name is Gerardo Del Real.
I'm a junior mining stock expert.
You may have seen me or one of my colleagues on CNBC, in the Wall Street Journal, or at one of the many speaking appearances we've made around the country.
I'm not shy whenever I'm approached by the mainstream financial media.
But that's not what this story is about...
After all, CNBC's headquarters are a long way from the mining fields.
If you want to be just another TV investor, competing with everyone else to find the "next big thing," then by all means... keep watching the same 24-hour news madness.
But if you're looking for an up-close-and-personal, boots-on-the-ground approach — that's the unique perspective I'm offering.
I don't wear studio makeup or sit in an air-conditioned office...
My research involves gulping down bottles of water next to huge drilling machines, dust caking my pants, standing for hours in the sun, shouting over the roar of the engine.
And my experience has proven time and time again that the straight story is the most valuable.
I've spent a decade finding stocks like this...
I've visited a long list of countries — and after all these years I've learned that there's no replacement for walking around and inspecting each aspect of a mine site myself.
But most important of all, I've learned how to turn all of this firsthand research into profits… earning regular double- and triple-digit gains.
In fact, many of my core holdings are in the double digits or higher.
And I've made triple-digit returns on silver (128%), gold (277%), copper (512%), and potash (627%).
Here's what one investor wrote to me and my colleagues,
"You can feel very good about your organization… you truly help people make money."
— Bryant N.
I'm offering you the chance to become part of something bigger.
If you love gold and silver, or commodities, or mining... then this is the metals super-play you've been looking for.
But even if you don't know a thing about the resource sector of the market — don't worry, I've got you covered as well.
I'll walk you through each step of making a fortune on mining stocks.
I'll explain my entire rationale, along with clear instructions on when to get in... and at what price.
And then later, when the gains start to pour in, I'll keep you updated on the best exit strategy.
This way you can cash out with the biggest return possible.
Sound worth your time?
Then let me bring you on the inside and show you some firsthand proof why this metals company is in such a unique position.
It's so undervalued... and sitting on so much of this metal... I expect it to blow right past all of my regular returns.
There's so much momentum built up beneath the surface of this opportunity that it's nearly forced to make you money.
Even if it only does a quarter of what I'm expecting, that's still enough to make you wealthy.
As I've said, it's been a while since I've seen an opportunity like this…
But it does remind me a lot of a giant win I had just a few years ago.
I made a whopping 3,900% from a rare earths mining company called Rare Element Resources.
These rare earths are used in medicine, electronics, aerospace, and defense — and after some research into the industry numbers, I knew that a supply shortfall would transform the value of this small company.
I didn't keep this research to myself...
I sent out a detailed report to the investors who follow my work, and they were able to follow my lead, buying in at a bargain-basement price of 40 cents and then riding it to over $15.00 a share.
That's enough to turn every $5,000 invested into $195,000.
And a $10,000 investment into $390,000.
Just imagine how your life could change if you had been in on a high-powered resource play like this…
That's what I'm talking about today.
How did I know this big change was coming?
Well, changes always happen for a reason...
It wasn't just a lucky accident.
Let me show you the three very important catalysts that led to these gains — and why this incredible metal is seeing all of them.
Catalyst #1:


The Supply Distress Signal
I'd like to let you in on my investing secret — my method for repeatedly finding triple-digit winners in the commodity markets.
As supplies start to fall, one of the first things I look for is a "distress signal."
It's the spot where demand continues to push past the highest production limit... even as production falls off.
Or, to put it another way, it's a "double whammy" that shakes commodity supplies to their core.
Demand is up past the production limit, even as producers struggle to fill current orders.
That's what I saw for rare earths when I made the 3,900% gain: demand climbed, even as production fell.
If the two lines diverge, that spot is the "distress signal"...
A sure sign that commodity markets are in for a wild ride.
Once this signal occurs, that's when prices rise and market opportunities increase.
Now, this signal works for just about any commodity.
I've used it to make 512% on copper and 627% on potash.
Precious metals markets are more insulated (because of the large amount of reserves) but I was still able to use it to make triple-digit returns during sharp production shortfalls.
That's how I made 128% on silver and 277% on gold.
These are all recent examples of actual returns — the profits are in the bank.
But today we're talking about something even bigger...
The shortfall in this metal is one of the most extreme cases I've ever seen.
Let me show you this report from research powerhouse Wood Mackenzie...
As you can see, it shows demand climbing straight up into the sky, even as production falls off.
FocusEconomics and TD Economics have released reports confirming coming high prices.
Berkshire Hathaway's Business Wire just released a report that forecasts reserves of this metal for 2020 — the report is $2,495 per copy.
But I'll save you some money by summing up its conclusion: the global industry for this metal is growing faster than ever before.
And some breaking news, hot off the presses...
A $1.5 Trillion Shopping Order... That's Impossible to Fill
As I'm sure you've heard, the President has just released a $1.5 trillion plan to rebuild America's aging infrastructure.
At the center of this bold plan?
The world's highest-quality steel alloys.
But there's a detail you probably haven't read about...
And that's where this incredible metal comes in.
The White House has just released a long list of bridges, railroads, and buildings that will be overhauled.
Even critics have called this plan "transformational."
It's going to give America's infrastructure a complete facelift.
That is... once the right materials are available.
You see, every single one of these building projects requires record amounts of this incredible metal.
The President wants the newest steel alloys, and nothing else will do.
It's simply unprecedented.
But there's some bad news...
As I've pored over the details, I've found that the coming production shortfall is going to be even more extreme than analysts expect.
It's not for lack of desire and interest.
The fact is that the world's mines for this metal are old and outdated.
Many of these mining facilities were built during a boom in the 1980s, and they haven't been updated since.
It would take nearly a decade — and billions of dollars in improvements — to bring all of these mines back into shape.
The largest mine in the world for this metal is in India... but the mine is in trouble, and underground water has halted the majority of production.
It will take months just to get the primary site back online.
And China's mines are also in dire straits.
Obscenely outdated equipment, environmental disasters, and infrastructure limitations are all holding back production.
Two major mining companies were forced to scale back 10% of their production, in part due to permitting problems.
One of the world's largest mines in Australia just shut down, which immediately cut off 4% of the world's supply.
Long story short, it's the perfect storm of production failures.
As mining expert Stefan Ioannou of Haywood Securities sums it up:
"A number of key larger-scale mines have shut down over the last few years... in all, over 10% of world production has come off, so there's definitely a supply issue looming." — Mining expert Stefan Ioannou, Haywood Securities
And the Wall Street Journal recently reported this in a headline:
"Mine Supply Struggles to Meet Demand"
— Wall Street Journal
You're going to make money even if the world's production levels keep pace — but the numbers from these key production centers suggest it's falling off at an alarming rate.
Just look at how dramatically supplies have dropped over the last five years...
And it's getting worse.
It's gone from 1.2 million tons to less than 480,000 tons.
That's a sickening 50% drop.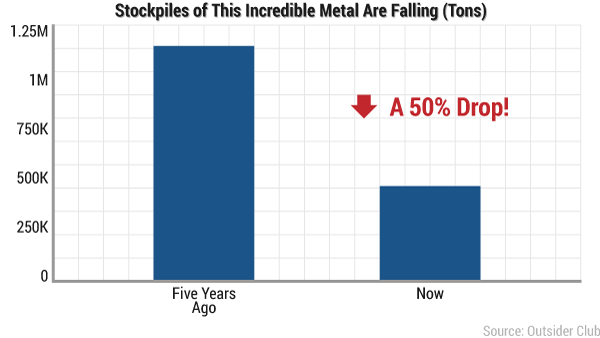 All the industry reports agree: scarcity is pushing up prices, and there's no end in sight.
Whenever I see this supply distress signal, that's when I turn my attention to the only solution to this massive problem...
The World Looks to the Drills
Now, let me pause here for a moment to point out that new drilling results are always important on their own.
After all, it determines the future of any commodity, and you can make money even if production is holding strong at healthy levels.
We see this every day for dozens of commodities — everything from gold, to copper, to lithium, to uranium.
Take gold, for example.
Just a few years ago, in 2016, gold prices began to climb in response to demand.
Production was holding steady, but as you know, hot commodities like gold are always experiencing climbs in demand.
A small junior mining company named Coeur Mining used the opportunity to announce production increases — followed by new drilling results.
The result on its share price was electric.
Prices jumped 824% in just a few months.
That's enough to turn a $5,000 investment into $41,200 in just a few months.
But look at how closely this run correlates with the rise in gold commodities.
The stock and gold moved in sync with each other — and new production provided the catalyst for the run.
If you had been in on this investment, you would have walked away with 8x your money.
I think you'll agree... that's an excellent return.
And it shows the impact new drilling results can have.
But you can do much better.
Because when you pair it with a commodity that's giving off a "distress signal," the entire effect is amplified.
I know, because I've done it.
Catalyst #2:


New Drilling — The Only Solution to Collapsing Production
A few years ago, the rare earths showed a supply distress signal when demand increased and production fell.
I scoured the globe for the right opportunity...
I was looking for a small company with promising new drilling results.
I found it in Quest Rare Minerals.
Get ready for the results...
I made a whopping 7,042% gains.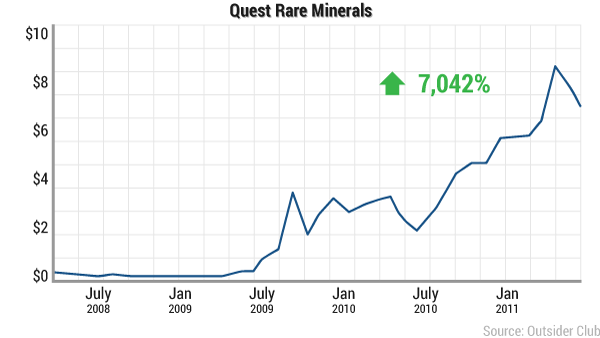 Now that's an opportunity worth your time.
That's 70x your money!
If you had put in $25,000 you would have earned over $1.7 million.
But all of the investors did well at every level — even if you had just dipped your toe in the water, and put in just $5,000, you'd still be sitting on a small fortune of $352,100.
It's the biggest win of my career.
But I don't think it's the last.
Far from it.
This incredible metal is showing a supply distress signal... enough to make even more than I did on rare earths.
And the right drilling results could hand life-changing results to any investors paying attention.
I hope you're paying attention, because I've found the perfect company that's in a position to do just that.
It is potentially sitting on a massive amount of this incredible metal.
And all signs point to the fact that there's a lot more to come...
It's just weeks away from releasing significant new drilling results.
It's "The Right Project, At the Right Time, In the Right Place."
That's what Michael — the CEO of this small, intrepid mining exploration company — told me in an exclusive interview.
You see, I don't just do my research from reports... I go right to the source.
I've spent a decade attending trade conferences and meet-and-greets, and I'm fortunate to be on a first-name basis with some of the most important experts in the business.
And while I attend conferences and major industry events, this interview wasn't conducted in a hotel ballroom.
I climbed onto a plane, flew to Ireland, and drove for several hours to the remote village where the mine site is located.
Lush green fields, elegant historical ruins, and below our feet... a massive deposit of this incredible metal.
I stood outside wearing boots as I asked CEO Michael hard questions about his project.
He started with the project's history, how he became involved with it, and why he's so committed to making it happen.
CEO Michael acknowledged demand for this metal is heading toward crisis levels.
He told me we're facing a supply gap...
"...but certainly, it's one of those moments where [this metal] is in dramatic under supply."
He should know.
In addition to a long career in mining, he's spent over a decade on an obsessive quest...
His only goal?
Finding more of this one incredible metal.
It's what gets him up in the morning.
It started with a three-year stint working for a major Australian mining company that specialized in nothing but this metal.
Then he went on the road for eight years as a drilling expert — hauling giant drills to the farthest reaches of the globe, moving from site to site, all the while honing his exploration instincts.
His track record is now legendary... and puts other explorers to shame.
Today he's an important man... he's the CEO for not one but two exploration companies, and he sits on the board of directors for a third.
But don't let that trick you into thinking he spends his time in an office.
In all this time he still hasn't given up his favorite spot, which is standing next to a drilling machine.
And that's where he's standing right at this minute, completing a new round of exploratory drilling.
Here's an actual photo from one of the drilling sites... he posted it just a few weeks ago.
You can see the drill roaring away in the background.
During my on-site interview I asked him blunt questions about any potential pitfalls.
"No red flags is the simple answer," he replied.
In fact, I'd like you to hear the CEO's answers for yourself…
I spoke with CEO Michael for 23 minutes, and I made a video recording of the entire interview and tour of the mining site — in just a moment I'll show you how to get a link to this firsthand footage.
Here's what I'll show you:
A full tour of the drilling site in Ireland, which is a leading jurisdiction for this incredible metal
The details of why this mine contains larger and higher-grade deposits than most places in the world
And a peek at the first core samples... with an explanation about why they're so incredibly promising
You'll see for yourself why this mine is so unique.
New drilling results are going to be announced just a few weeks from now.
And when this company officially announces its findings, shares of this mining company are going to skyrocket.
I can't stress it enough: you need to act now.
Here's how these drilling results will unfold...
Catalyst #3:


Groundbreaking Expansion
Above all, I care about what's happening on the ground... or should I say, in the ground.
Because it's what's in the ground that determines the future of the commodity markets — and how much you can potentially earn.
That's why I take the time to climb on a plane and visit as many mining sites as I can.
Which brings us to this mine's core samples...
Simply put, they show some of the most promising results I've seen in a long time.
I asked CEO Michael detailed questions about how and where he extracted each one.
As it turns out, this is an opportunity that's been more than 165 years in the making.
Queen Victoria's geologists first discovered the possibilities of this site, and then miners dug out this metal for two decades, from 1834-1854.
And some of that metal is used in items that are in the royal treasury today.
Back then, all mining plans were of course drawn onto big paper charts.
And while old, they're far from useless.
The mining site sat unused until 2007, when a team of expert geologists used these hand-drawn charts to lead the hunt for a modern survey.
They used the latest technology to scan every meter of the site, making a complete survey with seismic tools and lithogeochemistry tests.
All told, $25 million worth of data was handed over to CEO Michael.
Geologists have confirmed that there are 514 million pounds of this metal that are immediately accessible.
But they're not stopping there — the goal is to find at least 2.2 billion pounds of additional metal.
And they're making great strides...
This metals company has a drill turning right now.
The drill is expanding current finds, gathering data around the site perimeter, and exploring the property for district-level results.
All of that is good news.
It's putting millions into exploring the property as thoroughly and widely as possible.
Here's an illustration of the current drilling site.
This is taken from an actual company presentation.
And this map shows you how it's extracting the drilling cores at depth.
These results are incredibly promising.
But I have a surprise: These sites are just a small piece of a much, much bigger pie.
Once everything is tallied up, it's quite possible that this company is one of a select few with new deposits of this magnitude.
In fact, the plan is to expand from a single site into an entire district.
25x More Metal: These Deposits Are About to Go District Level
Now we're going to zoom out a little so you can see how big this picture really is...
This company's entire property is massive — much larger than most projects of its kind.
We're talking a total of 79,000 acres.
In this illustration, you can see the current drilling area in the upper left corner.
And stretching out below and to the right of it, the expansion area is more than 25x the size!
That's a lot of growing room.
And it's a proven fact that site growth of any kind could make you a fortune.
Let me show you how.
Just a few dozen miles away, a company called Lundin Mining was able to expand a similar property...
And as it expanded, Lundin's share price grew 5,019%.
You read that right, this company essentially grew 1,000% a year for five years straight.
All told, that's a total of 50x your money!
That's the power of this kind of site expansion.
This metals company has the same growth opportunity as Lundin...
The only difference is that Lundin developed its property in 2001-2006, when demand for this metal was still relatively quite low.
Given the supply distress signal we're seeing today, there's never been a more favorable time to drill for this metal.
CEO Michael agrees, and his drills are just weeks away from producing results that'll make all the difference.
As key industry sources reported in a recent headline:
"Looming [Metal] Supply Shortage Good News for Producers and Explorers..."
— Mining.com
The moment drilling results are announced, I expect shares for this metals company to skyrocket.
Remember, I kicked off the year with a 35% win from CEO Michael...
It took just one single day.
And CEO Michael is confident he's just getting started.
I couldn't agree more.
I believe he's on the cusp of delivering fortune-changing results for this must-have metal.
The numbers point to the fact that he could easily deliver gains of 3,000% or more.
We're seeing a supply distress signal
Drilling results are the only answer to this crisis
This company is sitting on some of the best results for this metal in decades
But that's not all...
This is not just a one-and-done opportunity.
CEO Michael has another trick up his sleeve.
It's a bold plan that he's been working on from day #1.
If successful, it'll put an entire additional round of profits in your pocket.
Bonus:


Extra Shares on a Buyout
Whispers are swirling about the buyout potential for this company.
Now, to be clear, there is nothing official that's been announced, and we need to see the drilling results first.
But a buyout would double your potential gains, for no additional work on your part.
This is a rich opportunity regardless of what happens.
But history proves that a "bonus" is a high likelihood.
It's been CEO Michael's plan from the moment he began this project.
He announced a buyout as his goal in the very first board meeting.
Buyout potential is written on page one of the company presentation.
CEO Michael is an expert geologist and one of the best drilling explorers in the business.
But he's also an expert at attracting the right attention from the world's most important mining majors.
And I can confirm that whenever CEO Michael shows up at an industry event, he's instantly surrounded by the world's wealthiest mining executives, peppering him with questions about his latest find.
He's done this for years, and if the drilling results turn out the way I think they will, a bonus buyout will maximize your profits.
Now let me put all of this into perspective…
I earn double-digit and triple-digit returns on drilling results every few weeks, and many of my core holdings are already in double digits.
It's literally my day job.
But it's also the reason I know the difference between "everyday" good returns (and there's certainly nothing wrong with those) and something that's truly exceptional.
I believe that this metals company is sitting on a "truly exceptional" opportunity.
Remember... demand for this incredible metal couldn't be higher.
This metal is essential to Trump's new $1.5 trillion overhaul of America's infrastructure.
In the future, every single bridge you drive over across America will contain alloys made from this metal.
It's in everything from your iPhone to your car.
And the demand continues to climb.
After all, this metal can cure cancer.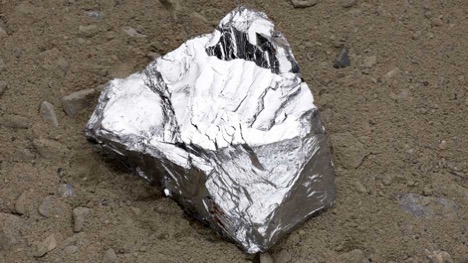 It also fights depression, diabetes, low blood pressure, hair loss, chronic fatigue, sleep problems — even the common cold.
It's worth billions to the pharmaceutical industry.
And the United Nations has called supplements made from this incredible metal a "life-saving commodity."
UNICEF is trying to distribute it to 800,000 children suffering from malnutrition.
It bolsters bridges with advanced steel alloys that'll secure America's infrastructure for decades to come.
Demand is up 900% and climbing — and it can make you the biggest gains you've ever seen.
I know, because I've done it before...
As I explained earlier, I've earned 7,042% on a small rare earths mining company when it released its drilling results.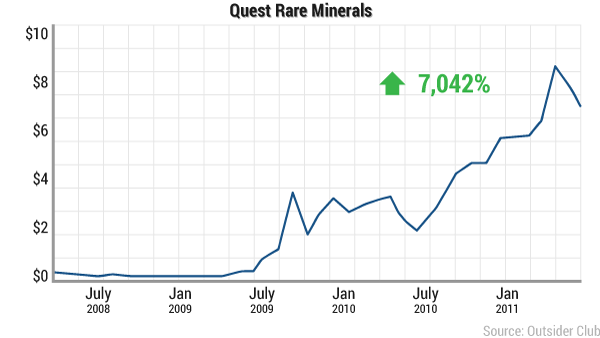 That's 70x your money!
If you had put in $25,000 you would have earned over $1.7 million.
But all of the investors did well at every level — even if you had just dipped your toe in the water, and put in just $5,000, you'd still be sitting on a small fortune of $352,100.
It's the biggest win of my career.
But I don't think it's the last.
Far from it.
This incredible metal is showing a supply distress signal... enough to make even more than I did on rare earths.
And the right drilling results could hand life-changing results to any investors paying attention.
Also, there's one more thing you need to know...
URGENT UPDATE — An Extra Drilling Property
This company has just revived an old drilling project on another property, and those results will further add to this company's discoveries of this metal.
This news is literally just days old, and I expect it to lead to an early spike in share prices.
It's one more reason why this is a fantastic opportunity.
I'd like to tell you all of the exact details about this metals company, right here, right now...
But I can't.
I haven't used the name of this small metals company because I don't want the public to get word of this opportunity and destroy it for all of us.
While I've been comfortable describing the three catalysts driving this opportunity, I can only reveal the exact details to select investors.
I've spent dozens of hours with Michael, the CEO of this small company.
And I owe it to him and his talented management team to not dilute early support.
Average Joe investor will get his chance soon enough.
So will the air-conditioned analysts on Wall Street… They'll be among the first through the door when the drilling results hit their industry bulletins.
But I need to put a careful limit on how many people I share these sensitive details with at this early stage.
I've put everything I know into a special research report...
"Incredible Riches: Make 3,000% or More on This Must-Have Metal"
But to keep a lid on its impact, I'm forced to restrict its distribution to just 300 investors.
These lucrative details are worth a fortune, and if I had my way, I'd broadcast them to the world.
But I can't risk ruining it for everyone — so it's a strict limit of 300 investors.
I hope you'll be one of them.

Here's a glimpse of what you'll receive:
The name and ticker symbol of this metals exploration play
A precise BUY recommendation with target price
Careful notes on timing
Full financial details and market overview
Everything I know about upcoming drilling results — plus buyout potential
Best of all, I've included a special benefit you can't find anywhere else, for any price:
A link to the 23-minute video and full transcript of my exclusive interview with CEO Michael. You'll be able to see all of the lucrative details for yourself
But I didn't stop there.
I've spent a lot of time on the road visiting new mining sites, and I'd be remiss if I didn't include some of the additional opportunities I've found recently.
While they don't have the same exceptional potential, they're easily capable of triple-digit gains, and can round out and diversify your investment in metals exploration.
Here's the bonus report I've put together...
"The Only Stock You Need for the Lithium Boom"
This bonus report is only available if you act immediately.
It reveals the name and details of a small lithium mining company with outstanding prospects...
This lithium miner has a 75% interest in the Cauchari project, which is an advanced lithium exploration project in Argentina.
The company also holds a 100% interest in five other lithium properties totaling 85,543 hectares.
Projects like this pay off...
Just a few years ago, I recommended a lithium company to the investors who follow my research.
A year later, we were sitting on 832% gains.
And the demand for lithium continues to rise, as Fortune magazine recently reported:
"Demand for battery-grade lithium compounds is expected to skyrocket in the next decades... Top producers are looking at a bonanza..."
And as Bloomberg announced in a recent headline:
My report will reveal everything you need to know, as well as an exclusive interview with the CEO.
But you have to act now to receive a copy.
Now It's Your Turn
Look, I've said quite a bit at this point.
And the truth is I could go on… but time is running out.
This is your one and only chance to be part of this incredible opportunity.
I publish all of my boots-on-the-ground research in an exclusive publication called Junior Mining Monthly.
And the investors who follow my work often write in to report their positive results...
Here's what investor Charles K. wrote to tell me:
"Thanks for the great mining stock buying opportunities. Great work!"
He's happy because he's already seen a number of gains in just a few months.
He told me about the 66% he's earned on a gold company, the 35% he made on a minerals firm, and his 27% return on a gold company in Nevada.
A $10,000 investment split between those three companies earned $4,266… in just five months!
And he's not the only one.
Another investor named Donald S. was also enthusiastic:
Thank you Mr. Del Real... thank you! The results have been amazing... my portfolio has risen from a dwindling $72,000 to a rapidly advancing $110,000.
Donald highly recommends the publications from me and my colleagues, and described several recent wins, including a 183% gain he made in a few months.
But everyone — including Donald — is excited about the opportunity I've told you about today.
He's standing by, ready to jump in the moment I give the word.
Based on my track record of 512%, 627%, 832%, 3,900%, and 7,042% wins, I'm confident we're looking at a bona fide opportunity to turn a $10,000 investment into potentially $300,000 or more.
Unstoppable Value — Why I Created Junior Mining Monthly
Resource companies are the bedrock of the U.S. economy.
Gold, silver, and copper — as well as lithium, uranium, and many other valuable resources — are all essential to the world we live in.
I use my boots-on-the-ground research to bring you all the way inside this industry.
Now, I'm sure you'd expect my service to be expensive.
While there's no service quite like mine, I've seen online publications that charge up to $6,500 for their coverage of gold, mining, and resources.
But I've got some good news for you... I've carefully put together my service so I don't have to charge exorbitant fees.
In fact, I'd like to give you a completely FREE three-month subscription so you can try it out for yourself and see how valuable it is.
Here's what you'll receive with Junior Mining Monthly:
All of my valuable research — You'll get complete access to the world's most lucrative opportunities. My premium-level newsletter provides you with market insights you won't find anywhere else.
Breaking-news updates — I'll send you a "Flash Alert" the moment there's a significant change. You can relax, because I'll make sure you never miss any important news.
Exclusive 24/7 website access — You'll receive a private login to the Junior Mining Monthly website, putting a wealth of articles, research tables, and videos right at your fingertips.
Elite investor status — You're now part of a select group of self-directed investors who are getting the same outstanding returns normally reserved for billionaires and institutions.
Carefully chosen VIP opportunities — I never stop searching for the next opportunity… you will now be part of the elite first investors I tell. Many of my core holdings have made at least double-digit returns in the past few months.
I'm on a first-name basis with all of the major players in this industry.
I have a successful track record of getting the inside story.
But most important of all is filling the supply gap for the incredible metal I've told you about today.
Everything you need to know is in your research report package.
I don't want you to miss out…
As I told you earlier I'm forced to limit the distribution of my report package to just 300 investors.
And since I've put my focus on this late-breaking opportunity…
That's all I'm going to charge you for.
This way you can move fast on this opportunity, but still have plenty of time to fully evaluate my service.
So here's how this will work:
You'll pay just $299 for your report package
You'll receive a FREE three-month subscription to Junior Mining Monthly
If you decide to continue your subscription, you'll pay only $49 per quarter (that's 80% off the normal price of $249!) — locking you in at the lowest price we've ever offered.
That's right, your first three months to Junior Mining Monthly will be completely FREE…
And there's no obligation to pay the $49 and continue your subscription if you decide it's not right for you.
But considering that it costs less than a round of golf… and has the potential to make you tens or even hundreds of thousands… I'm confident you'll want to stick around.
Your report package will get you started right away — and then Junior Mining Monthly will keep completely up to date on this opportunity in the weeks and months ahead as your profits unfold.
I'm not going anywhere. I'll be with you each step of the way.
But remember — this report package is only available to 300 select investors.
If you're viewing this presentation after we've reached that number, there won't be anything I can do to get you inside.
This opportunity is truly worth your time.
I urge you to click the button below and get started immediately.
There's no commitment, and you're not locked into anything long term.
Here's what I promise…
You're in Control
Once you purchase your research reports, you'll receive Junior Mining Monthly absolutely FREE for the first three months.
You're under no obligation to continue. But at just $49 a quarter, I'm confident you'll choose to stay.
I work hard analyzing numbers and muddying my boots to deliver research you simply can't find anywhere else.
I'll also keep you updated on each new detail of this opportunity.
But you're the boss. The choice to stay or go will be up to you.
All it takes is a quick phone call.
That's it. No hassles or runarounds.
My friendly customer service staff will make sure you're satisfied.
We're here to deliver winning opportunities to investors who truly want them.
Now It's Time to Act. Your Research Report Package Will Deliver the Greatest Profit Potential I've Ever Seen…
This incredible metal can cure cancer and bolster bridges.
A 900% spike in demand is about to shake supply chains to their core, and I'm reading a supply distress signal loud and clear.
I'd like to show you a windfall on a small company that's racing to fill the supply gap for this metal... New drilling results are just a few weeks away.
A conservative estimate suggests early investors could see returns in the triple and even quadruple digits.
It's going to happen fast, and I want to put you at the front of the line for profits.
All the details are in my urgent research report.
Simply click the button below to get started.
To your wealth,
Gerardo Del Real
Editor, Junior Mining Monthly