"Yes, I Want to Make 128x My Money on the 'God Chip'!"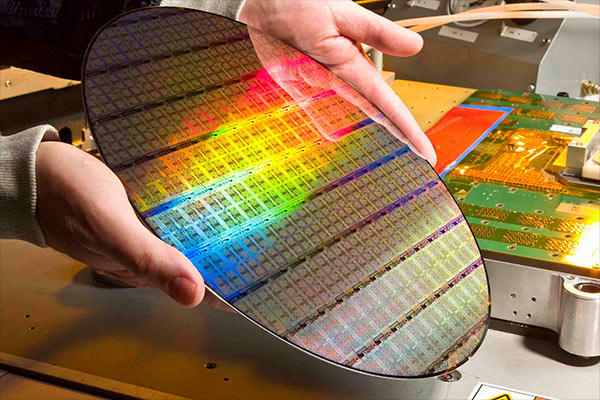 CLICK HERE TO JUMP TO THE ORDER FORM NOW
Congratulations!
You made it here just in time.
The fact that you are on this page means you're part of the small group of readers I've hand-picked to take advantage of this little-known semiconductor play.
As you've seen, one off-radar company holds the key to the biggest semiconductor revolution in the past decades.
Its "God Chip" is necessary to unlock $17.4 trillion in new wealth.
The U.S. can't rely on silicon to safeguard our economic and technological dominance.
Artificial intelligence, 5G, and the internet of things...
These technologies won't be possible without the "God Chip."
That's why this company is part of DARPA's $1.5 billion Electronics Resurgence Initiative and has teamed up with MIT.
This next generation of microprocessors is expected to be 1,000 times more powerful and 10 times more energy efficient than silicon chips.
Companies like Microsoft, Facebook, and Google are eagerly waiting for this tech.
Today, you still have the opportunity to get in on the ground floor...
A small $500 stake could turn into $64,475… and an investment of $10,000 could make you $1,289,500 richer...
If you want to participate in the coming 6,893%... or even 12,795% surge... you have to get in NOW.
The full-scale launch could happen any day now.
Institutional investors have already bought 87.9% of the shares available for themselves.
You must act today if you want to ensure your shot at maximum upside potential.
So please, don't miss out.
As soon as you join, I'll rush my exclusive report "The 'God Chip': The Semiconductor Revolution for Five-Digit Gains" over to you.
Inside, I've documented every detail necessary to help you strike it rich off this company...
Including the name and ticker symbol…
And strict buy-up-to and target-price ratings.
By putting my research to work, you could soon be like the guys who are already using it to cash in.
Here's what one new subscriber just wrote to me:
"110%... in less than a month! You've proven that it's never too late to try something new!"
One reader named Sebastian G. wrote to me about my most recent win...
"I doubled my money in a week since joining. Well played. I look forward to the next one..."
Roy F. has been a loyal reader for several years now. He gave me permission to share the following with you...
"I am really happy to continue my association with Jimmy Mengel. Over the last 30 years I've tried a lot of different financial newsletters and they have all lost me money. I started to read The Crow's Nest in March 2015 and now have stakes in 18 companies that — thanks to The Crow's Nest — show a very handsome profit!"
These kinds of windfall profits happen all the time, and you could put yourself on the path to collecting that type of money today.
To get started, simply accept a risk- and obligation-free trial of my extremely popular monthly advisory service, The Crow's Nest.
You'll not only get 50% OFF this incredible research, but you'll also have the chance to get in early on stocks that could shortly mint new millionaires.
When you become part of The Crow's Nest, you'll receive a constant, ongoing stream of opportunities I've specifically chosen for you in the most lucrative segments of the investing world.
I'm talking about giving you a realistic chance at major "home run" wins like 3,360%, 423%, 661%, 343%, and 721% — all gains I've recently shown my readers.
In total, I've delivered 6,868% gains.
And anyone who has put their money into my recommendations has had the chance to turn $10,000 into $700,000.
I say this not to brag, but so you understand the magnitude of the offer you're getting today.
Everything You'll Get With Your Subscription to The Crow's Nest
When you agree to take advantage of The Crow's Nest offer, you'll receive an incredible bundle of wealth-building tips and tools.
The minute you sign up below, you'll have access to my exclusive special report:
"The 'God Chip': The Semiconductor Revolution for Five-Digit Gains" — This report will teach you everything there is to know about the company, its world-changing innovation, the brilliant engineers behind it all, and the market that will never be the same once it takes hold.
12 issues of The Crow's Nest — Delivered every month, each research letter I send you will be packed with the best elite investor ideas I uncover. I'll also show you how to boost your income, incredible ways to dramatically cut your cost of living, the safest way to grow your retirement account, and much more.
My latest investment research — You'll get complete access to my updates on the markets, breaking news, and world events.
Exclusive 24/7 website access — You'll receive a private login to The Crow's Nest website, putting a wealth of articles, research tables, and videos right at your fingertips
Carefully chosen "insider" opportunities — I never stop searching for the next opportunity… I've recently made 137%, 329%, and 661%
Bonus Report #1:
"The 5G Real Estate Income Play" —This company builds, maintains, and leases the towers used for cellphones in America and around the globe. It's the perfect 5G-income play. The best of it all? Thanks to the special way this company is set up, it's required by law to pay 90% of its income to its shareholders.
Bonus Report #2:
"The Only 5G Stock With Trillion-Dollar Potential" —For the past decade this company has been strategically positioning itself to take FULL advantage of the 5G revolution. The potential winnings might be measured in the trillions.
"Thanks for the confidence Jimmy! It's nice to feel OK, even in times like the last few weeks. I so agree with you. I've been following you for a long time and always trust you. I appreciate all your research and valuable insight for your 'followers.'"
— Lynda S.
Again, you get a one-year subscription to The Crow's Nest — with access to my undefeated portfolio — not for the sticker price of $199...
But for just $99. That's a full year of The Crow's Nest at a 50% discount!
Simply become a member today, and give The Crow's Nest a try for a full six months.
Take that time to decide if The Crow's Nest is right for you.
You'll have full membership access the entire time, so you can log into the private members' site, check out all the special reports, and view every update I've posted.
If you find The Crow's Nest isn't what you thought, just let me know, and I'll refund every penny you spent on the membership — no questions asked.
Any information, reports, and, of course, any profits you received courtesy of my service are yours to keep.
Remember, we're on the cusp of a semiconductor revolution...
You could turn just $500 into a sizable position — adding one, maybe even two zeroes to its value in just one year... and in the coming years, there's no telling how much higher it could go.
This could be a transformative moment for your life and money. Don't sit on the sidelines while other investors get rich.
Please fill out the short acceptance form below and you'll immediately receive everything you need to know in order to start profiting from the imminent semiconductor revolution.
You'll also receive everything I mentioned above, including members-only access, private alerts, and 50% discount pricing.
Or if you'd prefer to join by telephone, please dial (toll-free) 855-496-0830, Monday-Friday, 9:30AM-4:30PM ET.
Godspeed,

Jimmy Mengel
Investment Director, The Crow's Nest