The Crow's Nest Membership Form
CLICK HERE TO JUMP TO THE ORDER FORM NOW
Dear Fellow Investor,
During the first cannabis boom I made money on 88 stocks...
This includes triple-digit winners like 216%, 218%, 220%, 275%, 346%, 428%, and 429%... and that's on top of the life-changing 3,220% and 6,092% I made on Canopy Growth and Cronos.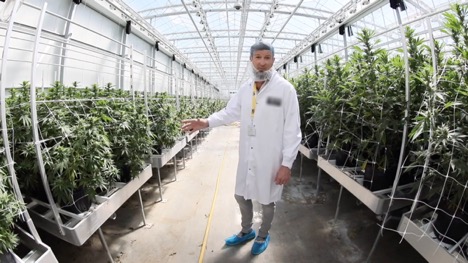 We're about to see gains like that again: but this time right here in the good ol' USA.
And it's going to happen a lot faster than most investors are expecting.
Because states are desperate for tax revenue in the wake of coronavirus — and legalizing cannabis can save state budgets with the stroke of a pen.
We're talking about:
Billions of dollars in tax revenue (for years to come)

1 million+ high-paying, disaster-proof jobs


An entirely new production chain that helps everyone — from depressed rural areas to urban city centers
America is already the world's #1 cannabis consumer… all told we spent more than $46 billion on cannabis last year.
But all that money went straight across the border to Canada, the Netherlands, and the UK. And to Mexico, Colombia, and Paraguay.
It's time to keep those dollars from leaving the country!
It's time to put that money to work saving American jobs — and our universities, schools, and parks.
In short, the USA Cannabis Boom is coming…
And I've found the cannabis firm that'll lead the way.
It's run by a U.S. Army veteran who's been preparing for the last year for the largest expansion America has seen yet.
He's armed with $300 million in funding, and his mission is to whip America's cannabis industry into shape…
If you get in now you could make an absolute fortune on this cannabis boom stock.
Your report "The Boom Stock That Will Transform America's Cannabis Production" will reveal...
My complete series of interviews with this army veteran — both video and the written transcript. You won't find exclusive access like this anywhere else, at any price.


An exclusive video tour of things I wasn't allowed to show you here — this cannabis grower insisted it be shown to my subscribers only, since it doesn't want any of its proprietary growing techniques to be shown on the public internet.
And you'll also find out...
Essential details with ticker symbol and precise "buy" recommendation
My overview of its $300 million expansion plan
My complete take on U.S. legalization — and the rise of American cannabis production
Getting Started Is Simple
I put exhaustive boots-on-the-ground research into every stock I pick.
The moment you fill out the form below, you'll have access to:
12 monthly issues of The Crow's Nest that you can read on your computer, tablet, or smartphone. Each issue shows you not just what to buy, but what to hold, and exactly when to sell. We cover the entire life cycle of our recommended plays. You can also view videos we've uploaded about some of these stocks.

Exclusive 24/7 website access — You'll receive a private login to The Crow's Nest website, putting a wealth of articles, research tables, and videos right at your fingertips.
Carefully chosen "insider" opportunities — I never stop searching for the next opportunity… I've recently made 137%, 329%, and 661% gains.
Outstanding member support. If you ever have any questions or comments, feel free to call our friendly support staff any time between 9:00 a.m. and 5:00 p.m. (EST).
Here's some feedback from my Crow's Nest investors...
"I love your newsletter!"
—Dean D.Z.
"I ALWAYS look forward to The Crow's Nest!"
—Jeff F.
"Your service is simply outstanding!"
—Paul D.
"I appreciate all your research and valuable insight for your followers."
—Lynda S.
"
I truly love your knowledge and the time you spend researching the stocks you recommend."
—Lyle B.
"I really appreciate all your recommendations, they are wonderful! Thanks for doing your most to serve us all!"
—Connie B.
"You speak to me! You are the only person in the whole financial newsletter stratosphere that actually has a simple, straightforward approach."
—Chris K.
"I find your articles both fascinating and inspiring, thank you!"
—Roy F.
"I love The Crow's Nest!"
—Tony N.
"I just signed up for The Crow's Nest and find it to be a tremendous value for the money!"
—Brad L.
"We're deeply grateful... Thank you for all your excellent work. We wish you all the very best!"
—Barney E.
"I played 2 stocks since I signed up for The Crow's Nest. Both were winners and I made enough to pay for a Lifetime Membership and took family out for a nice dinner...thanks!"
—Shane P.
"You were so right!!! In only 2 months I made a profit of 79.97! For me this is amazing. I'm going to continue to sail along with you on your journeys... and wish us all good fortune ahead!"
—Anna E.
"Hello Jimmy, Thanks for the heads up on Canopy. Up 106.5% so far and I agree it's got lots of room to run up even further!"
—Dave M.
"I took what was left of an ailing IRA and bought 150,000 shares of

for $93K. Yesterday, that account closed out above $1 million."
—Martin W.

One Year of The Crow's Nest — FREE!
I've put all of my focus on these fast-moving cannabis reports. That's the only thing I'm going to charge you for.
This way, you can move quickly on this opportunity, but still have plenty of time to fully evaluate my service.
Sound fair?
Here's how this will work:
You'll pay just $99 for your 'Grown in the USA Boom' report package... I'll rush all of the details so you can get started right away



"The Boom Stock That Will Transform America's Cannabis Production"

"Score Big on the NFL's Demand for CBD Therapies"

"Collect the Profit Harvest From America's Hemp Basket"




You'll receive a FREE one-year subscription to The Crow's Nest so I can keep you updated on these opportunities and more...
You're Always in Control
Put These Reports to Work Completely Risk-Free for 6 Months
I'll rush you all three reports today.
And then you'll receive a FREE subscription to The Crow's Nest for an entire year, so I can keep you up to date on this opportunity as it grows and develops.
PLUS — I'm also going to guarantee your satisfaction.
If you're not completely satisfied with everything I'm offering, then I'll give you your money back.
You have six full months to use these reports and my Crow's Nest recommendations without any risk at all!
But I think you'll find that The Crow's Nest delivers research nobody else can.
We're just a few weeks away from potentially life-changing gains.
All the lucrative details are in your report package...
Simply fill out the form below to get started.
Or if you'd prefer to join by telephone, please dial (toll-free) 855-496-0830, Monday-Friday, 9:00AM-5:00PM ET.
Godspeed,

Jimmy Mengel
Investment Director, The Crow's Nest