CLICK HERE TO JUMP TO THE ORDER FORM NOW
Fellow Investor,
It's time to act.
As I just explained, China has made literally thousands of laser attacks on U.S. soldiers, many resulting in damage and injuries.
It's gotten so bad that even The Wall Street Journal published a story about how China is using low-powered lasers to harass military planes...
And now China is taking the fight to the next level with "magic crystals" that can produce high-powered lasers unlike anything we've ever seen before.
In short, China has built a "Death Star."
The only way we can counter it is with laser weapons of our own...
As I've explained in detail, Congress has authorized $317 million for lasers — the largest amount in history.
And this laser defense firm is the only company capable of producing the necessary technology to compete:
This firm will be able to sell and market non-secret developments discovered from the secret research.


Due to the sensitive nature of its government work, this firm is required to carry minimal debt. Uncle Sam has made sure this firm is fiscally sound — eliminating the need to worry about bad financial moves.


Firms in this elite area of research are essentially "Too Secret To Fail." For obvious reasons, the government won't allow companies like this to go under or get into financially compromising situations where vital secrets can be sold, stolen, or lost.
Let me be clear...
This is an emergency situation and it won't wait for anyone — you need to act now or miss it completely.
It's all here, laid out in front of you in this free report.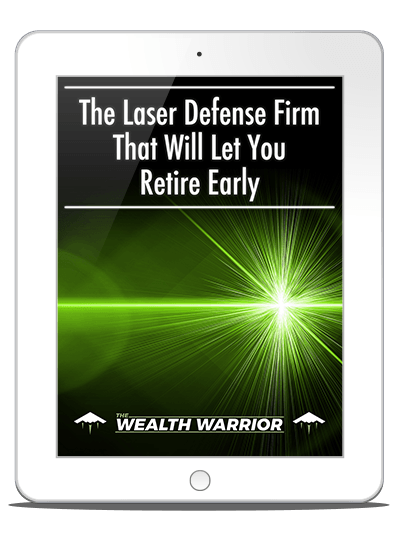 "The Laser Defense Firm That Will Let You Retire Early" includes:
The name and ticker symbol of this laser defense firm
A complete financial report and market overview
A full explanation of this laser technology
It's the same kind of research that's led my readers to say:
I took what was left of an ailing IRA and bought 150,000 shares for $93K. Yesterday, that account closed out above $1 million.
— Martin W.
And I'm ready to email you a copy of this report right now so you can get started right away, all you have to do is accept a risk- and obligation-free trial of my extremely popular advisory service, The Wealth Warrior.
Here's Everything You'll Receive Today With Your Membership to
The Wealth Warrior
All of my valuable research

— You'll get complete access to the world's most lucrative opportunities. My premium-level monthly newsletter provides you with market insights you won't find anywhere else.
Breaking news updates

— I'll send you a "Flash Alert" the moment there's a significant change. You can relax, because I'll make sure you never miss any important news.
Exclusive 24/7 website access

— You'll receive a private login to the Wealth Warrior website, putting a wealth of articles, research tables, and videos right at your fingertips.
BONUS GIFT #1: "'Victory Checks': Collect a

6-Figure Salary for Life" — a $49 Value, Yours FREE!
BONUS GIFT #2: "The 5G Mega-War: Profit From the $12 Trillion Race for Wireless Dominance"

— a $49 Value, Yours FREE!
Carefully chosen VIP "insider" opportunities

— I never stop searching for the next opportunity… I've recently made 137%, 329%, and 661%. You'll be the first to receive my latest research.
Special bonus reports

— Every quarter, I'll be adding NEW special reports to the archives... reports that could make a substantial difference in the ways you save, invest, and maintain your personal freedoms. These special bonus reports are yours FREE as a subscriber to The Wealth Warrior.
Free subscriptions

— to the daily e-Letter Outsider Club and our special offer letter Outsider Club's VIP Reserve.
Best of all, you're risking nothing by giving my service a try...
Test-Drive The Wealth Warrior With ZERO Risk for a Full Six Months!
I believe you should thoroughly vet anyone you take financial advice from — and I'm no different.
That's why I want to give you the opportunity to review EVERYTHING I publish for the next six months... without making any financial commitment whatsoever.
I'm so confident that your trial subscription to The Wealth Warrior will be worth every penny of that $99, I want to offer you the strongest money-back guarantee possible...
If you aren't completely satisfied with my research, I'll send you a full, 100% refund of your subscription cost — no strings attached.
Just call our friendly customer service department during normal business hours and they'll gladly refund your money.
Remember, the small laser defense firm I told you about is the only company capable of producing the necessary technology to compete with Beijing's Death Star.
Its crystal diode is the only technology that even comes close to competing with China's Magic Crystals.
That's why the biggest defense contractors in the world, companies like Northrop Grumman and Lockheed Martin, are lining up to enlist its services.
This is your chance to join the fight first — and then retire early.
If you're not comfortable committing online and would like to join by telephone, dial (toll-free) 855-877-8623, Monday-Friday, 9:30AM-4:30PM ET, to secure your membership.
Fight on,
Jason Simpkins
Investment Director, The Wealth Warrior