"Yes, I Want To Earn 25,000% Gains On the 8th Continent Gold Rush!"
It's never been easier to hit the mother lode.
We are witnessing an epic race for riches... one that will mint all-new millionaires.
The 8th Continent's resources are the richest on the planet.
I'm talking about the world's biggest energy and metals discoveries, totaling $30 TRILLION in untapped wealth.
To put that in perspective...
The crypto market is worth $400 billion.
The legal pot market is worth $31 billion.
In other words, it's worth 70x more than the crypto and marijuana markets... COMBINED.
And it's just now getting started...
On December 28, Trump green lighted a new rush for 8th Continent riches...
Russia and China are already claiming their stakes in the territory.
The big gold and energy plays are putting down fortunes...
And a new wave of 8th Continent miners is exploding for 10-bagger gains.
One, Garibaldi, surged 3,646% in five months.
Another, Metallis, surged 1,333% in three months.
And these 10-bagger gains are just the beginning...
Mark my words:
Nothing else in 2018 will return bigger gains than 8th Continent miners!
And thanks to my mining industry connections, I've identified the biggest winner of all:
A $0.30 miner with ownership of a dozen of the most profitable 8th Continent properties.
Already, it's surged 200%. But that's just the beginning...
In the summer of 2018, its real gold riches will be revealed for the first time ever.
When this happens, shares will go absolutely parabolic.
This is why some of the biggest billionaires in the mining sector are buying up stakes now!
You'll need to move quickly if you want to buy in, too, at $0.30 a share, instead of later at $30 or higher.
To get you started, I've put together a comprehensive report for you with full details on this fast-moving opportunity, including…
Why the 8th Continent is the richest discovery in history

The dozen hottest gold properties discovered and their real wealth potential.

The name and ticker symbol of the $0.30-a-share company with complete ownership of windfalls.

Why the summer of 2018 will be the catalyst that launches its shares to unprecedented heights.

And much more!
It's called "The 8th Continent Gold Rush: Get Rich on the $30 Trillion Arctic Mining Boom," and you'll have it as soon as you complete this form.
By putting it to work for you, you could soon be like these guys who are already using my research to cash in:
"Thank you, Nick! On your information I did very well on two picks with a profit of $26,989!"
— Donald M.
"Thanks, Nick! Excellent update as always. Your service is head and shoulders above any other I have used. I am 100% up on the year thanks to you!"
— David S.
These kinds of windfall profits happen all the time, and you could put yourself on the path to collecting that type of money today.
To get started, simply accept a risk- and obligation-free trial of my extremely popular weekly advisory service, Early Advantage.
You'll not only get 50% OFF this incredible research, but you'll also have the chance to get in early on stocks that will shortly mint new millionaires.
When you become part of Early Advantage, you'll receive a constant, ongoing stream of opportunities I've specifically chosen for you in the most lucrative segments of the investing world.
I'm talking about giving you a realistic chance at major "home run" wins like 1,667%, 437%, 619%, 306% — even 530% in just 60 days, like I've recently shown my readers.
These are real-world examples from among the 280 double-, triple-, and even quadruple-digit wins I've led my readers to since 2006.
In fact, over the last 10 years, Early Advantage has posted a stunning 83% win ratio. This means, year in and year out, no matter what the economy is doing, we've brought in over 8 winners out of 10.
Everything You'll Get With Your 100% Risk-Free Membership to Early Advantage
When you agree to take advantage of the Early Advantage offer I'm making you today, you'll receive an incredible bundle of wealth-building tips and tools.
In addition to your profit report, "The 8th Continent Gold Rush: Get Rich on the $30 Trillion Arctic Mining Boom," the minute you become a member, you'll have access to:
Bonus Report #1: "The Craft Liquor Boom: 25 Seconds to a 14-Bagger"
Bonus Report #2: "The FDA-Mandated Device: Earn 12,500% on The Technology That Ends Outbreaks"

Bonus Report #3: "Trump's 'Nuclear Codes': How to Grab 33,798% Profits on the Coming Uranium Boom"
Private Access to the Early Advantage Members-Only Website — You'll have password-protected access to all of my special reports, alerts, and my entire portfolio.

Free subscriptions — to the daily e-Letter Outsider Club and our special offer letter Outsider Club's VIP Reserve


Unlimited Access to Our VIP Support Desk — Our VIP support desk professionals are always ready to answer your questions. Call any time during our regular business hours of 8:30AM and 5PM EST.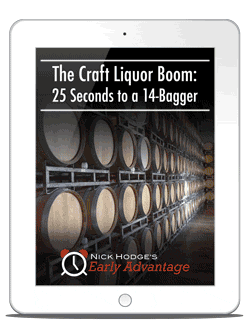 But that's not all you'll receive...
Charter Member Pricing
Since you're an invited member, I'm prepared to offer you the entire Early Advantage subscription for just a fraction of the cost...
In fact, you'll pay 35% less than sticker price and pay only $1,299 for 12 months of Early Advantage.
That's a HUGE discount off the normal price!
Simply fill out the form below to lock in this discount today.
My Ironclad Guarantee
At Early Advantage, I'm keenly aware that more and more individual investors like you are taking control of their investments.
I firmly believe individual investors can do better than mutual fund managers and financial advisors — MUCH better.
And I want to prove it to you. I want to show you just how much Early Advantage has helped folks all over the world make money (and keep making money).
"Hi Nick, Early Advantage has been the most profitable service in 10 years of trading. Pure and Simple. Three picks have already been triple-digit winners for me!"
— Anthony R.
So I've made sure there's absolutely no risk or obligation for you today.
Simply become a member today, and give Early Advantage a try for 60 full days.
Take that time to decide if it is right for you.
You'll have full membership access the entire time, so you can log into the private members' site, check out all the special reports, and view every update I've posted.
If you find Early Advantage isn't what you thought, just let me know, and I'll refund every penny you spent on the membership — no questions asked.
Any information, reports, and, of course, any profits you received courtesy of my service are yours to keep.
But once you see how easy it is to profit from penny resource stocks, I'm confident you'll realize just how valuable Early Advantage will be to you.
Remember, you could pocket hundreds of thousands of percent from the first recommendation alone... and there's no telling how much you could make in the coming years. Maybe enough to turn you into a millionaire like member Todd S.:
"Thanks to Early Advantage, I'm planning to retire a multi-millionaire!"
— Todd S.
YES! ACTIVATE MY MEMBERSHIP
RIGHT AWAY!
Please fill out the short acceptance form below, and you'll immediately receive everything you need to know in order to start profiting from the 8th Continent boom.
You'll also receive everything I mentioned above, including members-only access, private alerts, and "charter member" pricing.
If you're not comfortable committing online and would like to join by telephone, dial 1-844-539-7664 Monday-Friday, 8:30AM-5PM EST, to secure your membership with the Outsider Club's VIP support desk.
Call it like you see it,
Nick Hodge
Editor and Creator, Early Advantage